Listening #126 PTP Follow-Up
Follow-Up from December 2015 (Vol.38 No.12):
The 1960s were my formative years—an accident of birth, I assure you—and to this day I spend a lot of my time listening to records made during that decade. I do so by playing them on a turntable made in the '60s. Through electronics containing vacuum tubes made in the '60s. Driving a pair of speakers made in the '60s.
Yet although I began buying records in the '60s, the vast majority of my favorites from that era weren't even on my radar at the time of their release—and wouldn't be for decades to come. And because no one in my extended family or circle of friends had any interest in hi-fi equipment, I turned a deaf eye to those things, too. I didn't even see a Thorens turntable until I was 19, when I took a part-time job in a small-town hi-fi shop. Tubes were things I associated only with visits from the TV repairman (who was also the produce manager in the supermarket where my father worked).
So nostalgia has nothing to do with my appreciation for vintage and vintage-inspired gear: It's all about the sound—and, to a lesser extent, the looks—of such things as my late-'60s Altec Valencia speakers, and my ca 1961 Thorens TD 124 turntable. Notwithstanding my admiration for many contemporary audio products, that Thorens in particular does some things—momentum, force, and the ability to present sonic colors and textures as a single quality, as if the two were melded like dye in wool—in a way that today's gear utterly misses. I wish that all who love LP playback as much as I do could hear a Thorens TD 124 or Garrard 301 or EMT 930 in their systems, but those products are subject to the vagaries of supply and demand: They are rare and pricey. What's worse, none was ever plug-and-play to begin with—the Thorens and Garrard require the user to provide and install a suitable plinth—and each requires painstaking maintenance and occasional repairs.
But, as noted by Peter Reinders, of PTP Audio (footnote 1), the design elements most associated with the uniquely good sounds of those vintage turntables—idler-wheel drive systems and high-torque motors—are abundant in the distinctly less-expensive 1960s turntables from the Swiss company Lenco AG, now defunct. In fact, vintage Lenco turntables are themselves abundant, which goes a long way toward explaining the whole affordability thing.
Working from his shop in the Netherlands, Reinders harvests from a seemingly endless supply of Lenco turntables their most essential parts—motors, motor pulleys, idler wheels, platter bearings, platters—reconditions them, then mates them with Corian plinths and stainless-steel top plates of his own design. Those top plates are especially important, as they contribute degrees of precision, rigidity, and isolation of platter from motor that the original Lencos lacked. The plates also figure in the name of Reinders's company, which began as a part-time, accessories-only business: PTP stands for Peter's Top Plates.
In my "Listening" column in the www.stereophile.com/content/listening-126">June 2013 issue, I wrote about PTP Audio's Solid 12 turntable, named for its outsize plinth (21.75" wide by 17.75" deep), which can accommodate a 12" tonearm. (There's also a Solid 9, for use with tonearms of more conventional length.) The Solid 12 delivered the idler-drive goods and then some, providing excellent force, drive, and musical momentum, with a fine tonal balance and good if less-than-Garrard-301 levels of bass extension. I wrote that the Solid 12 was "as close to a plug-and-play idler-wheel turntable as you're likely to find," an observation that was itself as close to understatement as one is likely to find in an audio-review magazine.
Earlier this year, Reinders got in touch to describe two new refinements of the Solid 12—adjustable feet for the plinth and a proprietary platter bearing—and to see if I'd like to spend a few days with a recent production sample. A customer in the US volunteered to let his new Solid 12 take a detour to my home on the way to its final destination, and I made the most of his generosity.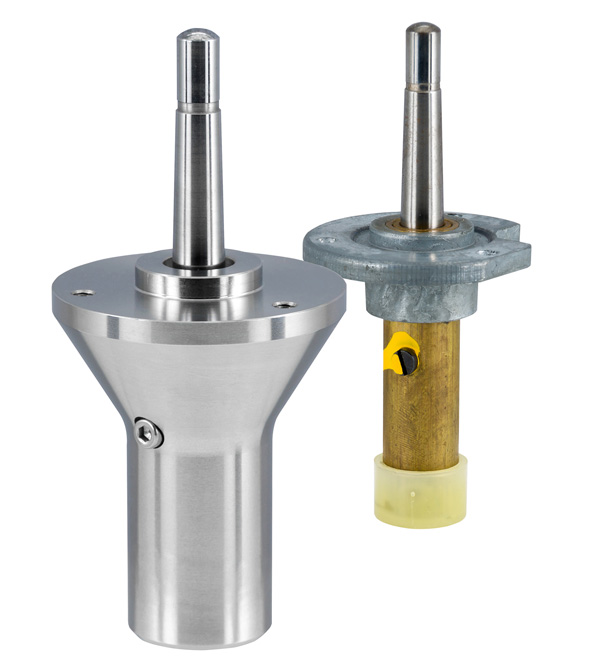 While waiting for the Solid 12 to arrive, I researched PTP's new bearing and updated price list. In early 2013, the Solid 12 sold for €2450, tax included and shipping not (footnote 2). The new price is €2750 plus shipping, for a turntable configured like the one I reviewed in 2013, with an original Lenco platter bearing (cleaned and refitted, of course). Now, for an additional €250, you can have the PTP Solid Bearing, whose precision-machined, stainless-steel housing is fitted with self-lubricating bushings of sintered bronze and a thrust plate of polyoxymethylene (POM), a slick, hard polymer. The original Lenco spindle is retained, but now it rests on a ruby thrust ball of reportedly perfect sphericity. A small amount of low-viscosity oil completes the Solid Bearing, for which Reinders claims a much lower noise floor.
The new sample arrived. While unpacking it, I received an e-mail from Reinders reminding me that this latest version of the Solid 12 was equipped with an additional upgrade: a set of support feet, made by the German firm SSC (www.hifi-ssc.de), for which PTP Audio charges an extra €150. Of the stock Solid 12 feet I remember only that there were three, and that they supported the plinth without actually being fastened to it; the new feet also come in threes, and also allow the plinth to perch on their top surfaces, which are covered with felt. But each new foot comprises two aluminum-alloy parts threaded together in a manner that allows the foot's height to be adjusted, and those parts are machined sufficiently well that I was able to adjust them even when they were supporting the turntable's considerable total weight of 55 lbs (of which I would guess that the plinth accounts for more than half).
A few words are due the Solid 12's interchangeable armboard: a circular slab of Corian, about 5.5" in diameter, that fastens to a cutout in the plinth by means of four machine screws. PTP makes boards for a variety of tonearms, including the Thomas Schick, which I and, apparently, hundreds of other PTP customers use. (Indeed, the soon-to-be owner of my review sample had ordered it for use with his own Schick arm: The correct mounting collet had even been bolted into place.) My tonearm slipped easily into place, and exhibited the precise spindle-to-pivot distance prescribed by Thomas Schick. With the plinth perched on its trio of felt-topped feet and the arm in place, my only other chores were to: remove two transit bolts that hold in place the spring-loaded motor suspension; remove a cable tie that secures the idler-wheel carrier; slip the aluminum-alloy platter onto the bearing spindle; and plug a bog-standard AC cord (not included) into the IEC socket on the rear edge of the plinth. The cartridges I used were my own Denon DL-103 and a sample of the Tzar DST, both installed in the Schick's optional graphite headshell.
Idler Wild: As I've come to expect from the best idler-drive turntables of the 1960s, the new PTP Solid 12 did a remarkably good job of communicating the touch and force of well-recorded instrumental music. What I didn't expect was the PTP-Schick combination surpassing, in that regard, my reference combo of Garrard 301 turntable and EMT 997 tonearm. Yet while the two players were close, and while there remained some records with which the 301 seemed to have the edge, others sounded punchier when played on the Solid 12. One such was a reissue of the Ornette Coleman Trio's At the "Golden Circle" Stockholm, Volume One (LP, Blue Note ST-84224): Everything on the record sounded vibrant and human and immediate, but when played on the Solid 12, Charles Moffett's drumming, especially in "Faces and Places," had a level of impact I'd never before heard from my system.
That Coleman album was, I think, the second or third LP I played on the new Solid 12. From that moment forward, there was no doubt in my mind: As much as I enjoyed the previous version of Peter Reinders's turntable, this one was even better—very apparently so.
Nor were the new Solid 12's talents limited to sheer force (not that there would have been anything wrong with that): It also rivaled my reference in its ability to preserve and present music's color, texture, and substance. For instance: At the beginning of the Allegretto of Beethoven's Symphony 7, from Herbert von Karajan and the Berlin Philharmonic's 1961–62 cycle of Beethoven's symphonies (8 LPs, Deutsche Grammophon/Speakers Corner 104301/8), the listener emerges from the introductory A-minor chord into a thick, darkly colored forest of cellos and double basses. In terms of scale and touch and, again, combined texture and color, the Solid 12 made more of this powerful moment than either my Garrard or my Thorens. Its sound was indeed solid—and huge, and almost uncannily textured—and, by dint of these qualities, the PTP permitted this performance a greater degree of gravitas. It sounded so magically dense, I had to lift the needle and play the beginning of the movement all over again.
Musically—in terms of melodic flow and momentum, and of sheer rhythmic rightness—to hear that record reproduced so well was to make the case, even to this fan of Mengelberg and Furtwängler and Fricsay, for the effectiveness of Karajan's Beethoven. Before sending the Solid 12 on to its rightful owner, I played a few more recordings from that set, and found them just as satisfying. Repeating one of them, the first movement of Symphony 9, on my Garrard-EMT combination provided much the same satisfaction, but I nonetheless felt that the PTP player was more up-front in presenting these recordings' strengths.
A couple of quibbles: Although the Solid 12 offers 331/3 and 45rpm playback—combined with the luxury of a mechanical speed control for fine tuning—its platter cannot be made to spin at 78rpm. This might be a deal-breaker for some; at the very least, it would force the shellacophile to maintain a separate rig for 78s. A lesser concern: As I mentioned in that June 2013 review, I wish that PTP's rubbery record mat were of slightly smaller diameter. I found it difficult to remove discs from the platter without lifting that darned mat with them.
But in describing those complaints, I'm reminded of something at which the Solid 12 and Schick excelled, something I don't recall noticing with the earlier version: The combination was less susceptible than my Garrard to mechanical disturbances from footfalls and the like; in fact, it was pretty darn imperturbable. Perhaps I have those new SSC feet to thank?
As for the Solid 12's new bearing, I'm tempted to conclude, however unscientifically, that it has made a difference for the better. Collectors of vintage products in any field have a not-entirely-unreasonable tendency to regard change as bad, and to always consider the oldest, rarest version of anything to be the best. (Q: How many vintage-audio enthusiasts does it take to change a light bulb? A: One to change the bulb, and four to moan about how much better the old one was.) But the PTP Solid Bearing seems to be one case of new being actually better: To paraphrase David Grisman's famous assessment of mandolinist Frank Wakefield, it sounds to me as though Peter Reinders has split the Lenco atom.
The true test of PTP Audio's revised Solid 12: Every LP I played on it sounded big, colorful, well textured, forceful, and endowed with the sort of momentum that led me to believe that the players and singers whose performances are preserved in those grooves had leaned into every musical curve. The original Solid 12 impressed me; this new version was a knockout. To suggest that vintage-savvy but DIYphobic phonophiles give more than passing consideration to the full-Monty Solid 12 is perhaps the easiest recommendation I've ever made: I'd be delighted to live with one of these.—Art Dudley
---
Footnote 1: PTP Audio, Amsterdam, The Netherlands. Web: www.ptpaudio.com.
Footnote 2: Peter Reinders estimates the cost of shipping a Solid 12 to the US as €175–€200.