Listening #109 Page 2
Here's how Fi's simplest amplifier works: The input impedance is set with a 250k ohm resistor, and the input signal travels from the input jack—Garber generally prefers the nice rhodium-plated phono jacks from Kimber Kable—to the signal grid of half of a 6SL7, a high-transconductance dual-triode tube with a common heater. The voltage-amplified signal is coupled, through a 0.1µF capacitor, to the signal grid of half of the 421A dual-triode; the anode of that tube half is connected to the primary (2.5k ohms impedance) of a Magnequest DS-025 output transformer. And there you are.
The 6SL7 and 421A dual-triodes get their plate voltage from a 5Y3 full-wave rectifier, a tube that Don Garber also uses with the SET amps he builds around the RCA 45 output triode. That tube's output is smoothed by a frame-type inductor and a trio of modestly sized capacitors. The B+ voltage for the 421A output tube is specified as just under 290V.
All of this is put together with the care and characteristic artistry of every Fi amp and preamp I've seen. It bears repeating that Garber is an accomplished painter as well as an electronics manufacturer, and his background as an artist has obviously determined the styling of Fi's commercial gear. But a closer look reveals how the physical and electronic aspects of his designs relate to one another. While some builders experiment endlessly with different brands of capacitors and resistors, Garber applies his time to auditioning every parts layout imaginable: Multiple chassis layers increase his options, and offer the advantage of keeping signal paths as short as possible.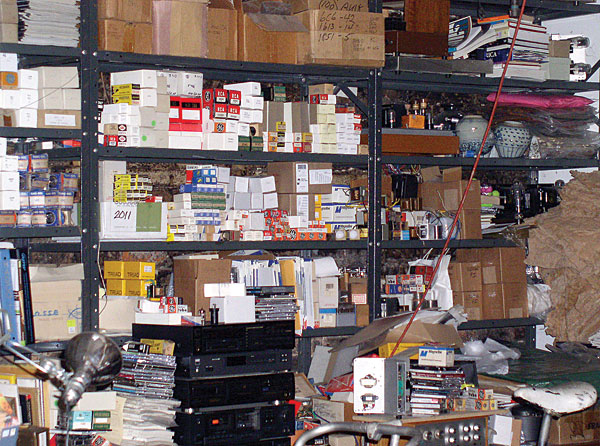 That said, the quality of parts used in the Fi 421A is in keeping with Garber's own perfectionist agenda. Connectors are Kimber and Cardas (they get along fine), and Garber's coupling capacitor of choice for this model is a Rel-Cap polypropylene film capacitor. "It's a very good cap," he said, "and it's not too expensive. I could try something else, but it would drive the price up, and I'm happy with the amp as it is." Garber has a reputation for keeping prices almost crazy-low, given the materials and workmanship on tap, and that carries through to the Fi 421A. If priced in accordance with the industry's usual five-to-one ratio of retail price to manufacturing cost, the Magnequest output transformers alone for this model would set the consumer back over $2000—and that's not counting the mains transformer, choke, new-old-stock tubes, and casework.
And then there's the sound
I'm as shallow, unthinking, and self-consciously perverse as the next guy. Whenever I'm confronted with a very low-power amplifier, my first itch is to try it with a big recording of big music, just to see what happens. So it was with the Fi 421A and its 4Wpc maximum output—which I used to drive my high-sensitivity Audio Note AN-E SPe loudspeakers. (Call me unadventurous, but I'm still in no big hurry to try the Fi with my Quad ESLs.)
Within minutes I'd ditched the power-music idea, having realized that my newly made Fi needed some running-in time: Straight out of the box it sounded slightly thin, and strangely (for a stereo amp with a single output device) bereft of center-fill. That would all change for the better—drastically so, almost comically so—but for now it was obvious that playing orchestral music during the Fi's first week in my home wouldn't tell me anything about anything. I sneaked up on the bigger stuff during the Fi's early days by limiting my fare to early Dylan, early Peter, Paul & Mary, early records by the late, great Bert Jansch, and Nathan Milstein's recording of J.S. Bach's Sonatas and Partitas for Violin Solo (LP, Deutsche Grammophon 2721087). During those soft days I noted that the Fi 421A was dead quiet when there was no signal present: I had to strain to hear even the faintest ghost of hum during idle. And all of those records sounded open, clear, compelling, and lovely—especially the Dylan and the Peter, Paul & Mary. Much has been made of SET amplifiers' knack for reproducing solo lines with greater-than-average presence, and with the Fi 421A that was especially true of human voices.
When the time was right, I graduated to large-scale music, including my enduring favorite recording of Mahler's Symphony 3, by Jascha Horenstein and the London Symphony Orchestra, on an LP made in 1970, a time when even classical-record artwork got the same pseudo-cerebral treatment as the pop jackets of the day (Nonesuch HB-73023). Sure enough, the many drum crashes and orchestra tuttis throughout the first movement were thoroughly satisfying, as long as I didn't turn the volume knob too far to the right. In fact, double basses, cellos, timpani, and orchestral bass drums had exceptional weight and timbral richness through the Fi 421A: In my system, the single-tube Fi sounded warmer than the 2A3 Stereo, with slightly more bass weight. More important, the Fi 421A proved almost mesmerizingly musical in the most basic sense: It was freer from timing and pitch distortion than any other tube amp of my experience. Each of the simple, beguiling melodies in the third movement of the Mahler 3, What the animals in the woods tell me, was played with startling musical clarity. The posthorn solo in particular was riveting and impossible to ignore, as were the trumpet lines toward the end of the movement, and contralto Norma Procter's solo in the following Misterioso.
Popular music benefited from the same qualities. The percussive sounds and electronic pulses throughout Andrew Bird's weirdly beautiful "Not a Robot, But a Ghost," from a rip of Noble Beast (AIFF file from CD, Fat Possum FP1124), were as tangible as the woodwinds in its opening bars were colorful and lovely. Every song on Roxy Music's Avalon (SACD/CD, Virgin 5 83871 2) sounded fine through the Fi, with spacious, colorful keyboard washes, appropriately tight, deep bass, and the sort of low-level clarity that made even the subtlest details—such as the extra words in the chorus of "True to Life"—easier to enjoy.
But this great, simple amplifier shone most brightly with simpler recordings—of which there's no better example than the recent album Sleep with One Eye Open, by Chris Thile and Michael Daves (AIFF file from CD, Nonesuch 527603-2). This is a collection of mostly old bluegrass standards—three of the songs were written by the late Lester Flatt—performed by two young, musically adventurous, and very high-energy singers and players. The Fi 421A was well suited to this material, not only in its clear, organically textured, and altogether natural reproduction of instrumental and vocal sounds, but also in its spatial performance. Though the 421A didn't offer the largest sense of scale I've heard at home, it nevertheless allowed Thile's ancient Gibson mandolin to sound eerily present in the gentle instrumental "Ookpik Waltz" (a 20th-century fiddle tune by Canadian fiddler Frankie Rodgers). Listening carefully, I could hear and almost see the wooden surfaces of the instrument's body radiating in the studio—joined moments later by the larger presence of Daves's steel-string guitar. This wasn't the sort of plasticky, gimmicky, altogether dreary stereo-imaging sound of most high-performance gear, but a musically realistic enhancement of a listening experience that was already clean, open, warm, and realistically colorful. Nice.
Simpler Fi
Something distasteful has happened in perfectionist audio, and it's not my fault. As I mentioned in my column about the Voxativ Ampeggio loudspeaker (August 2011), original samples of the Western Electric 421A tube have long enjoyed a reputation for being fairly priced—$100 to $200 a pop, on average—and reasonably easy to find, if not quite as common as stones. But in a recent conversation, Don Garber gave me the bad news: "Good 421A tubes are getting hard to find, and they're now $300 and up." This apparently began to happen even before the aforementioned column was published, so I'm pretty much off the hook.
Another new development: Fi is no longer the only company making an amp with a single 421A output tube. As Garber put it, "There's a guy somewhere making a knockoff of mine. The only thing that bugs me is, it's ugly." I pressed him for a more sensational quote, but he wouldn't take the bait. "If you're going to plagiarize my stuff, I don't care—go ahead," he declared. "But make it good!"
Don Garber may no longer have the 421A market to himself, and I have yet to hear the copycat—but the aesthetic value of the original Fi endures. The vast majority of audio amplifiers would look silly if placed on a nice piece of furniture, next to a vase or a few books or a photo of a loved one. Garber's amps are among the very few exceptions. (My own list of exceptions would include the 47 Lab Gaincard, the first two Naim NAITs, the Pass Aleph 5, and both versions of the Shindo Haut-Brion. And I once saw a picture of a very nice Audio Note Ongaku installation, but that was a crazy-big shelf.) I'll leave it to others to judge whether a Fi amplifier qualifies as a work of audible art, but I have my own opinion on the matter. And my 421A amplifier, after being here for scarcely two months, has already earned its status as an heirloom.
Just as this issue was going to press, Don Garber alerted us to an impending price increase on the Fi 421A, owing to a change in parts suppliers. I'll follow up in a future "Listening" column.