CES Begins with Hi-Res Revelations from MQA, Qobuz, and More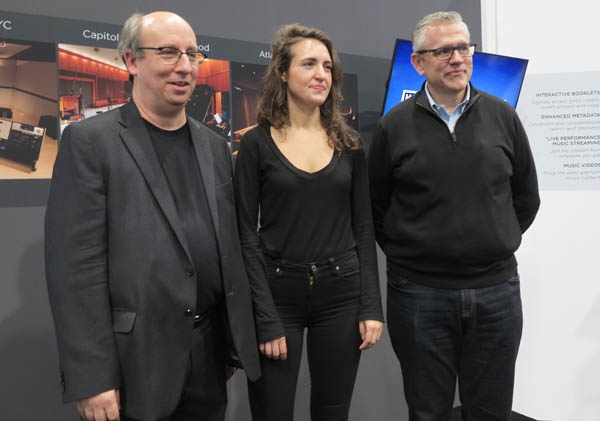 For John Atkinson and me, CES began with a trip to the Hi-Res Pavilion in the Las Vegas Convention Center's enormous Central Hall. John must have been a dog in a past lifetime, because his ability to find
the
booth in the middle of that huge glittering morass, which could be euphemistically characterized as high tech on steroids, smacked of a sixth sense.
Marc Finer (left in photo), President of the Digital Entertainment Group and Executive Producer of the Hi-Res Pavilion, began a well-attended press conference by declaring, "This isn't about Hollywood; it's about music, and the emotional connection to music…Hi-Res has achieved some major milestones." Detailed in a report issued last fall by the NPD, US sales of hi-resolution devices in dollars increased 77% since 2014, and unit sales increased by 118%. Nearly 11 million consumers were expected to shop for a hi-rez music player during the 2017 holiday season.
With phones considered the gateway device to high-resolution audio, Finer touted new, MQA-enabled mobile devices from LG and Sony. He also pointed to a Revel-equipped Lincoln Continental, which was introduced by Jim Buczskowski (right in photo), a Henry Ford Technical Fellow and Director of Research and Advanced Engineering for Ford Motor Company. Since cars serve as the main listening environment for many people, the Lincoln Continental is now equipped to stream music from Tidal and other partners.
Lest you consider streaming to be a millennial/post-millennial phenomenon, 60% of all baby boomers get their music from streaming. According to a recent MusicWatch survey, 30 million streaming customers are potential consumers of "studio quality" premium services that stream high-resolution audio.
Next, Oana Ruxandra (center in photo), Senior VP Digital Strategy and Partnerships, Universal Music Group, pointed out that younger listeners may not be audiophiles, but they definitely want deeper engagement with the artists they love. Hi-Res, she said, was the means to achieve that.
Flanking the stage of the Hi-Res Pavilion were exhibits from hi-resolution providers MQA Ltd., Astell&Kern, Audeze, AudioQuest, Audio-Technica, Bluesound, dCS, Definitive Technology, DTS, Elac, Kimber Kable, LG, Marantz, Mytek Digital, Pioneer, Onkyo, and Sony. Tidal and Qobuz, the latter being the biggest streaming service in Europe, were also on display.
Of special interest was Qobuz's revelation that they have entered the US market, and will begin streaming 1 million hi-resolution tracks (up to 24/192 FLAC) by the middle of the year. The company offers various prices for its streaming tiers, with $350/year for high-resolution and $220/year for CD quality, and includes liner notes plus their own commentary. While MQA is not yet part of their streaming plan, they do offer WAV, FLAC, and AIF downloads for the same cost that other services offer MP3 downloads. Qobuz can currently be accessed via Audirvana Plus and Android UPnP.
While I couldn't stay for any of the Hi-Res Pavilion events—panel discussions that were sponsored by the Recording Academy Producers and Engineers Wing, executive roundtables sponsored by the RIAA and MQA, and special appearances by artists—I did have a chance to cover some of the new products on display. Those reports appear elsewhere here on Stereophile.com.