Thinksound On1 & On2 headphones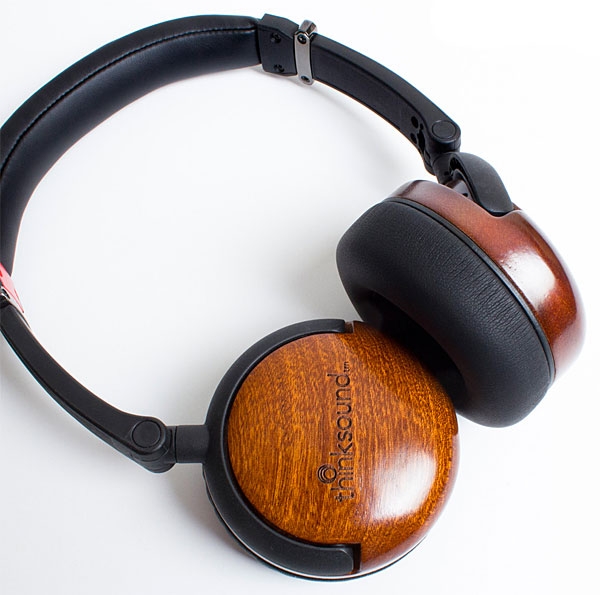 Before he left
Stereophile
for AudioQuest at the end of March 2014, Stephen Meijas asked Thinksound to send me the On1 closed-back heaphones. He thought I might like them.
Cool beans, Stephen. I do. These are among the nicest 'phones I've come across lately. List price is $299.99, but the street price—sometimes directly from Thinksound—is usually $249.99. You save an imaginary $50. That's $50 of your savings that you can share with me in Bitcoins.
Thinksound is a new company founded by Aaron Fournier and Mike Tunney. Fournier earned his BS in Audio Engineering from the University of Hartford, and went on to work for Consumer Reports. (I laugh my evil laugh.) Tom DeVesto hired him to work at Tivoli Audio, where he met Tunney.
The On1s' earcups are made of wood: sapele (or sapelli), to be precise. It's the same wood that Chinese factories use to produce furniture. If you want to see sapele wood, go to Bob's Discount Furniture and look at bedposts. (While you're there, get some free ice cream.) Thinksound's Chinese supplier turns scraps of leftover wood into headphones. Thrift! The earpads are made of memory foam (like the stuff they stuff into pillows and mattress covers), covered with faux leather. More scraps from the furniture factory?
The idea is to create comfortable, cool-looking headphones that do a better-than-average job of "passive noise reduction." As opposed to active. I told Aaron Fournier that I dislike active noise cancellation.
"It's not a natural sound," he replied. "You're listening to a rebroadcast of the sound itself with the undesired frequencies deleted. The sound is clinical, technical."
The On1s sounded full-bodied, warm, and rich in the bass. As J. Gordon Holt used to say, "Down with flat!" Most consumer headphones aren't flat anyway. Almost all have some bass boost. The On1s seem to have a tad more boost than others.
For me, that makes them ideal for jazz on the go—I can really hear the bass player. For classical recordings, pianos are especially well served. Bass boost need not mean bass bloat.
The On1s come in a plain, unbleached cardboard box, cradled in what looks like an egg carton. The carry pouch is made of unbleached cotton that a monk might wear. Very appealing, actually. Two cords are supplied: one with a microphone, the other without. Fournier said the mike works with most smartphones.
Bass-rich, full-bodied, nonfatiguing, comfortable to wear, reasonably well isolating—if you buy these, you'll still want them.—Sam Tellig
John Atkinson reviewed the Thinksound On2 headphones in April 2017 (Vol.40 No.4):
Erstwhile Stereophile columnist Sam Tellig praised the closed-back Thinksound On1s when he reviewed them in July 2014. The On1 has now been replaced by the On2, which keeps the over-ear enclosures (of sapele, a mahogany-like wood) and the memory-foam earpads covered in faux leather. However, according to Thinksound's Aaron Fournier, the 40mm-diameter drive-units have been enhanced, the plastic headband now has a more durable faux-leather finish, and the earpads have an improved sewn construction. As with the On1, two 56"-long cords are supplied, one with a microphone, one without, along with a carry pouch of unbleached cotton. Each end of each cord is terminated with a 3.5mm jack, one of which is plugged into the right earcup. Whereas the On1s had a list price of $299.99, the On2s cost a more affordable $199.99.
ST wrote that the On1s were comfortable to wear, and, with their closed-back construction, reasonably well isolating. Regarding their sound quality, he felt they were nonfatiguing and sounded "full-bodied, warm, and rich in the bass," adding that "almost all [consumer headphones] have some bass boost. The On1s seem to have a tad more boost than others," but "bass boost need not mean bass bloat." (Headphone designers often exaggerate the low frequencies to compensate for the fact that cans can't energize the listener's chest cavity, as loudspeakers and live sounds do.)
Aaron Fournier sent me a pair of On2s to audition, but before I did so I measured their impedance with the headphones over my ears. The impedance averaged 50 ohms (fig.1), with some small discontinuities in the treble and a rise above 10kHz, the latter due to the voice-coil inductance. This fairly high impedance means that the On2s will be compatible with smartphones. Certainly they worked well with my iPhone 6S, playing sufficiently loud with the iPhone's volume control set to about 75% of full. And while the isolation from external sounds didn't approach that of my Ultimate Ears in-ear monitors, it was adequate. My only non–sound-related criticism is that the On2's cable was more acoustically noisy that I would have liked when it rubbed against my clothes.
The voices of Elton John and the late Lesley Duncan in Duncan's "Love Song" (256kbps AAC file, from Tumbleweed Connection) sounded natural and uncolored, as did the Portland State Chamber Choir in Erick Lichte's rough mix of my recording of Eriks Esenvalds' "Rivers of Light" (320kbps MP3 file, to be released by Naxos on CD later in 2017), though the mid-treble sounded a touch bright. At the other end of the audio spectrum, the bass in the Smashing Pumpkins' "Bullet with Butterfly Wings" (256kbps MP3 file, from Greatest Hits: Rotten Apples) sounded forceful without booming. The lows certainly didn't sound exaggerated.
Turning to my high-end headphone rig—MacBook Pro running Pure Music 3.0, PS Audio DirectStream DAC, and Pass Labs HPA-1 headphone amp—I could listen to the On2s for at least an hour without experiencing fatigue, sweaty ears, or any other discomfort. And again, I was impressed by the natural-sounding mids and the clarity of the lows. (The On2's bass extended cleanly down to below 40Hz.)
Against the more expensive, open-back, over-ear AudioQuest NightHawks (ca $500 from online retailers), the Thinksounds sounded more lightweight in the bass, more forward in the mid-treble, but with more top-octave air. Judging soundstage depth with cans can be a frustrating exercise; overall, however, the On2s presented images more within the head than did the NightHawks. The image of the orchestra in George Vachhnadze's performance of Rachmaninoff's Piano Concerto 2, with Jansug Kakhidze conducting the Tbilisi Symphony Orchestra (16/44.1 ALAC rip from CD, Sony Classical Infinity Digital 62294), was set a little farther behind the line joining my ears with the AudioQuests.
However, this is a minor criticism. With the Thinksound On2s priced at a penny under $200, I can confidently recommend them.—John Atkinson