Last Trip To Other Music
It's half past seven on a drizzly Friday night in New York City. I'm a little bit of a mess; soggy from the sporadic downpour, weakened by a full day's work, and still regretting the sub-par pork and chive dumplings I wolfed down earlier. All day long I've been fighting off the urge to inject myself with cold beers (preferably Guinness) and binge watch Wong Kar Wai films. It's one of those days.
I'm with my friend Brian Li and we're walking in the East Village. Our destination: Other Music.
Pause. Allow me to back track and offer you, reader, some potentially relevant background information.
About me: I currently own a pair of Technics SL1200 Mk.2s with Shure M44-7 cartridges, Technics headshells, and Dr. Suzuki x Technics slipmats. Their primary function is to manipulate (dare I even whisper the word "scratch" on Stereophile.com) digital Serato vinyl for DJ'ing purposes. I live for beauteous $2 record bins and my most frequented "record stores" to date are a homeless man on 7th Avenue, and bulk surprise lots on eBay. (Michael Fremer—I sure hope you aren't reading this, but if you are, I'm sorry.)
About Brian: Brian is an electronic music designer who does Broadway and Off-Broadway shows, national tours, and live theatrical productions. His extensive resume includes Lion King, Aladdin, Newsies, Finding Neverland, and he's just accepted the long-term programmer position for La Rêve at the Wynn Las Vegas. He is a diehard music fanatic in his work life and home life, but he does not own a turntable. Yet.
About Other Music: An iconic, legendary New York record shop known for their esoteric selection, highly qualified staff, and influential role in helping indie labels grow. OM's been thriving for over two decades, but just last week, they announced to the world that they'd be closing up shop come June 25: The reason being none other than . . . the change in the times. Apparently, it's not forcing them to close instantly, but they're being cautious and closing down before the situation gets any worse. Smart move.
Un-Pause. So here we are, perhaps most appropriately finding ourselves in the category "other people," as I assume that cheap-o pedestrian listeners like me and turntable-less vinyl shoppers like Brian are not the norm. Other people entering Other Music.
We enter and are greeted by Stephen Mejias and Michael Lavorgna, whom we had made plans with to mourn OM's passing. (And to shop for records before word fully travels and selection runs thin.) We then go our own ways and immerse ourselves in the hunt. I—all of a sudden—feel uplifted, and immediately look for a record I've been wanting for a little while now, Bibio's A Mineral Love, only to learn that it is currently out of stock. Sigh.
I then begin to look for albums that I know and love. The idea of paying more than $20 on an LP isn't a totally foreign concept to me, but it is not something that I, personally have done more than once or twice in my life. Because of this, I'm not feeling especially frisky and am reluctant to purchase unfamiliar albums—even if they are in the sale bin. So here's what ended up purchasing: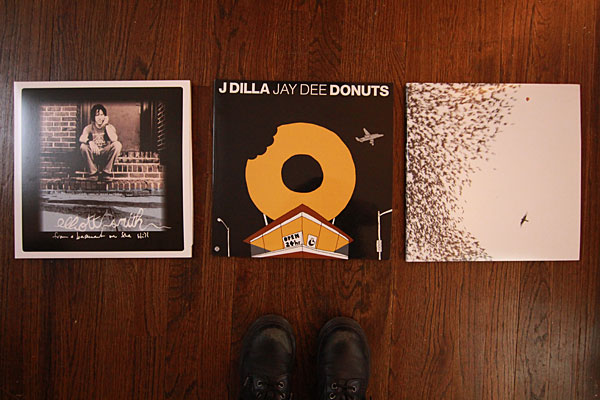 Elliott Smith: From a Basement on the Hill ($21.99)
I love everything Elliott Smith ever did. For me, nothing can top that scratchy VHS tape upload of Elliott and Brad Mehldau on the Jon Brion show that resurfaced a few years ago, but all his albums are deeply meaningful for me.
J Dilla: Donuts ($21.99)
My go-to party album and the first Dilla I ever heard. Tasty samples and chill beats for days.
Wilco: Sky Blue Sky ($26.99; came with a CD)
I'm a massive Wilco fan. And Nels Cline fan. OM also had Star Wars and A Ghost is Born available, but Sky Blue Sky is the Wilco album that I've listened to the most on repeat. I've probably devoted entire weeks of my life to this album.
All together, this single visit to OM cost me more than the rest of my current record collection combined, totaling up to $77.27 with tax. But in a way, this single visit was also more enriching than any other LP purchasing experience I've ever had.
It almost felt like a visit to the hospital to see a distant relative with little time left in the world. I felt saddened, but knew that I could not possibly feel the full impact that someone closer would experience. Or in this case, the way that Stephen, one of many frequent OM shoppers, would feel about the shop's closing. In being reminded of mortality, I desperately cling to fading life while simultaneously reminding myself of the many joys that my own life holds.
Once I heard the news about OM, I was reminded of the unfortunate economic truths of today. I then frantically tried to learn more, and was suddenly ready and willing to invest in brand new LPs. A huge step for me. It makes me wonder if there are other $2-bin Jana Dagdagans and currently turntable-less Brian Lis out there inspired by the life changing OMs of the world.
The key is, of course, to never let this feeling die down. To not let this fire fade along with OM's impending expiration. To constantly feel reinvigorated without need for reminder—in life and in vinyl hunting.