Graham Nash Visits Ayre Acoustics in the Venetian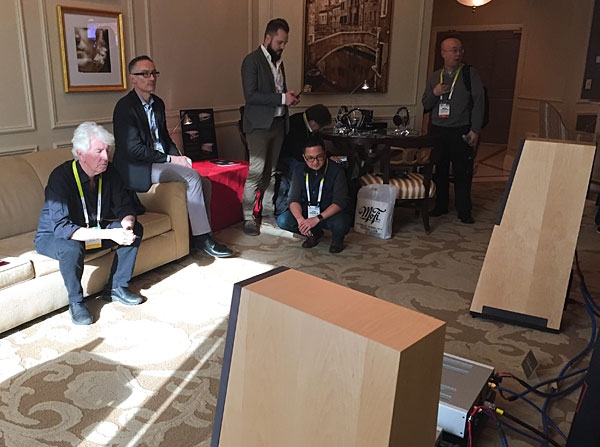 [Note: click here for background on this project and here for how we set up the equipment.]
Graham Nash seemed to know right away that these were the guys that provided the guts for his buddy Neil Young's Pono player and wanted to know all about it. After all, there is a version with Nash's signature on it.
Nash is one of the most curious people I know, so is always asking questions. In fact, pretty much every time I've met up with him (or Stephen Stills and David Crosby for that matter) the question pops up about how the market is reacting to Pono and what is the long term prognosis. And I always have to say, it's going to be tough for Pono to succeed in spite of Young's evangelism and in spite of the fact that the player represents real sound quality value.
And sadly, I don't recall any evidence of Pono anywhere at the show this year, except when Graham mentioned he will be releasing his album through the Pono music store (in addition to HDTracks and others). Bringing quality sound to the masses is always a hard nut to crack.
We then settled down to focus on the system at hand, hit play on the laptop connected to the Codex (review pending), and listened to several selections from This Path Tonight. Considering the somewhat odd layout of the room, I thought it sounded intimate and wonderful.
Nash: "As usual with these high end systems, they're putting me closer to the music. You know, we're shortening the distance between the listener and that guy or girl that actually made the music. And the closer we can get, it's better for the music."
I asked Graham why he started adjusting the volume up and down at one point, during an acoustic number from his album, something I've seen recording and mix engineers often do in the studio.
"I wanted to see how these systems played. It's okay to blast it out on big speakers, but how does the sound translate at low volume. Does the balance and feel of the song change? And it impressed me. My voice sounded right."
In a previous entry in this series, reader Anton commented that "I sense that all the systems are going to sound great to Graham, in different diplomatically couched ways." And certainly that was the case here.
To be sure, every system we heard did sound good on Thursday, partly because I had checked in on each room the day before just to make sure that was the case. Why waste our time if a company was having trouble with their suite when there is so much great audio at CES?
And if we agree that there is more than one path to successfully reproducing music in a room, we'd be wrong to assume that there would have to be clear winners and losers at an event where so many participants are experts at getting maximum musical enjoyment out of their products.
All that said, there was no guarantee that Graham would like high-end audio sound, but it turns out he does.
Equipment List (used for demo):
Ayre Codex DAC $1,795
Ayre AX-5 Twenty integrated amp $12,950
Ayre L-5xe AC power filter $1,500
Vandersteen Quatros $13,900
Harmonic Resolution Systems stands
Cardas Clear cables