Friday + Holiday = Packed
An hour after High End 2015 opened in Munich on Friday May 15, the stairways to the second floor were packed. Multiply this mob scene by 7, and you have an idea of how many consumers and dealers were eager to fill the corridors, halls, and rooms at the show.
When I initially encountered Rosso Fiorentino loudspeakers at the first AXPONA in Jacksonville, I was so blown away by how well they handled full-range symphonic material that I encouraged Darren Censullo of Avatar Acoustics to import them into the US. Four years later, designer Francesco Rubenni, whose sporty outfit leaves no question as to his Italian pedigree, has introduced the most basic-looking and inexpensive floorstander in the company's eye-catching line, the Elba (approx. $2800/pair).
Due in a few weeks, this 2.5-way has a woofer that cuts out at an unusually low 60Hz, and an overall frequency response of 45Hz–30kHz –3dB. Fiorentino says he restricts the woofer's upward range to retain the quality of the speaker's mid-bass. I'm eager to hear these babies sooner rather than later.
Joe Kubala was eager to display his latest Kubala-Sosna reference cable, the Realization USB cable ($3500/1m). At the top of a USB line that also includes Sensation ($2200/1m), Emotion ($1200/1m), and Temptation ($600/1m), Realization may be joined by a new, supremely realized Ethernet cable in Newport Beach. The clock is ticking as I type.
Kubala says that the very well shielded Realization USB contains two internal jackets, one carrying power, and the other carrying data. Naturally, it has the finest stranding and best shielding of his USB line. Contacts are gold-plated, and the wire itself, I believe, is silver-coated copper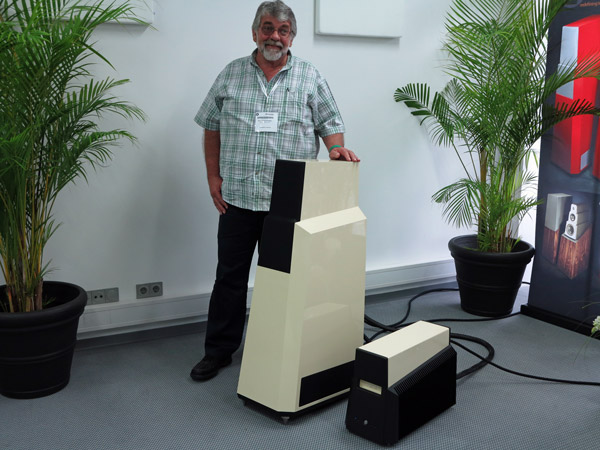 Now in final form, both Vandersteen Audio's new flagship loudspeaker, the Model Seven Mk II, and the M7-HPA monoblock amps that thoroughly impressed John Atkinson at CES had their formal coming out at Munich 2015. Both are available in any automotive color of your choice. Richard Vandersteen (shown) says the final production models offer significant more refinement, power line conditioning on the amps (which are meant to be plugged directly into the wall), and better circuit boards.
Both will be active in THE Show in Newport Beach. If you attend on the first day, Richard will be there to answer questions.
"We're pretty much the only ones who do it this way," Shahin Al Rashid of EMM Labs told me while discussing EMM Labs' forthcoming DAC flagship, the DA2 converter ($25,000–$30,000, depending upon finish). Pictured above EMM Labs' TSDX CD/SACD transport ($17,000), the DA2 employs real-time transient filtering on every change of waveform. That means that the unit automatically changes filters in real time.
Due in August or September, Ed Meitner's next generation player includes new, redone-from-scratch analog circuits, redone DSP, support for both DXD and DSD128, and arbitrary upsampling to DSD128. The unit contains Meitner's own discrete DACs; there are no off-the-shelf components.
Meitner also has new MTRX 220 lb, class-A/B, monoblock amplifiers in production ($130,000/pair). Expect a debut in Newport Beach in the room Meitner will be sharing with Ray Kimber's IsoMike. The amps will output 1500 watts into 4 ohms, and 3000W into 2. A stereo version is coming.
It was at lunchtime on Friday that I snapped this photo of Atrium 4.1. Those little round meeting spaces front and center were reserved for business meetings with PMC, Wilson Audio, and other companies. Behind them you can see people congregating for lunch. Note that this entire Atrium was ringed, left and right, by hallways filled with rooms. Above the exhibit spaces ringing the Atrium are the displays of Atrium 4.2, which could be accessed from the top floor of the MOC. Atrium 3.1 looked very similar to this one. If the show continues to grow, I suppose that Atrium 3.2 will be populated next.
The first of two Magico loudspeaker rooms I visited offered not only one of the best sounds I heard at the show, but also the debut of several Soulution products. The Soulution 755 phono preamplifier ($59,000), which US distributor Arturo A. Manzano declares is "designed for hardcore vinyl heads," allows the user to hook up three different turntables, two of which can have MC cartridges, and the third MM.
Boasting a high-precision, passive, analog volume control that blocks any switching peaks that arise during volume changes, and which may be hazardous to power amplifiers, the volume adjusts in 1dB increments with no clicks. The unit includes a reference output stage that enables you to send signals directly to an amp without use of a line stage. If a line stage is employed, however, the volume control may be completely switched out of the signal path. The 755 has two dedicated power supplies, one for audio stages and another for digital circuits.
Also new in Soulution's 7 reference series is the 760 DAC ($59,000). Their first stand-alone DAC, its new quartz clocking system runs on the 3rd harmonic rather than the 1st, with the goal of achieving much better phase/noise behavior. The clock, which operates in the digital domain, is decoupled from the unit's analog side. A SHARC DSP performs 8x oversampling to 24/352.8 or 24/384, depending upon the source. To quote the website, "As we consider the PCM conversion technology as superior, the DSD signals get converted before its final D/A conversion."
I wasn't shown Soulution's 746 power supply, which is intended for the 746 SACD player, but it, too, is new.
With Alon Wolf as my guide and DJ, I had a first listen to Magico's new top-of-the-S-line S7 loudspeaker ($58,000–$64,000/pair, depending upon finish). The speaker features a diamond-coated beryllium tweeter, new carbon-fiber refined midrange, and new bass drivers. Claiming 91dB sensitivity into 4 ohms, the speaker is only as deep as the S5, which makes it easier to place in a room. That is, as long as you put it on sliders, given that it weighs 300 lbs.
Driven by Constellation electronics, the system sounded quite good, albeit plagued by the grayness I encountered frequently in rooms in the MOC. Nonetheless, its ability to convey emotion was so refined that I was easily able to hear that the tenor in a recording of Dvorak's Stabat Mater was scared out of his wits and trying far too hard to sound like he thought he should sound.
Powering the system was Constellation's Centaur II amplifier ($40,000 in stereo or $80,000/monoblock pair). Housed in a bigger chassis than its predecessor, it outputs 250Wpc in stereo or 500W total in monoblock configuration. According to Peter Madnick, it incorporates some of the more expensive Hercules' technology to boost its power capacitance by a factor of 10. With more isolation and a lower noise floor, it claims not only more bass, but also better bass at low volume levels.
Not pictured are two new products, Constellation's new Virgo III preamp ($30,000) and Cygnus media player/DAC ($35,000). The Virgo III has a new volume control and display, and is ready to play immediately once it's turned on. Its remote control censor is located in a much better place, ie, sensible, than that of its predecessor. The Signus, in turn, is a two-box system. The top contains a Linux computer with USB, LAN ports and more; the bottom, linked to it by a supplied I2S cable, is the power supply. Because of the clock configuration, Madnick claims minimal jitter. There are four DAC chips, one for each phase of each channel (!); a proprietary DSP filter; and an analog stage similar to that in the Virgo preamp.
Holger Stein of Stein Music has released two new products, a Signature upgrade to his Harmonizer (price TBD-the new Harmonizers by themselves are $2395/2 including either wall or floor stands), and the Blue Sun ($750 each). The former creates a different force field than did the original Harmonizer to generate what Stein calls "an even more organic and expressive sound. It has the same large soundstage, but there is more expression. It sounds more real." I can't wait to try this upgrade in my own Harmonizers, which await installation in our brand new reference system music room.
The Blue Sun is a passive device that works in conjunction with the Harmonizer system. Based on crystals that get energized by "a quantum approach," Stein recommends putting one behind the speakers about 1.6m/62" high, with the exact position affecting the height of the soundstage. Four others are suggested for the side walls, the back wall directly behind the sweet spot, and on the ceiling. If you already have Stein's Blue Diamonds, they can be affixed upon the Blue Suns for even greater effect.
Audio Alchemy is back! The brand, which made a splash over a decade ago with its small box, affordable approach and ahead-of-the-curve anti-jitter engine, has been revived by Peter Madnick, now of Constellation fame. Those who've been around the block, and around the block with Audio Alchemy and its successor, know that Madnick was VP of Engineering at Audio Alchemy, and was responsible for product design, development and production.
Auditioned in a system that included the big TAD monitors, the Audio Alchemy gear produced very nice sound and a massive soundstage. Colors were tinged with some gray, but that was the case with most systems at the show.
Heard were the DDP-1 ($1995), a digital decoding, fully analog discrete preamp. It includes a full-featured DAC that can handle up to 24/192 PCM and DSD64, a headphone amp, and a real analog motorized volume control. Inputs include AES/EBU, Toslink, USB, I2S, and RCA. Yes, there's even a wall wart power supply, which means that someone is going to come out with a better power supply upgrade. In fact, Madnick has, in the form of the optional Audio Alchemy PS-5 power supply ($595). You know it's going to make a major difference.
The third Audio Alchemy product is the DPA-1 digital power amp ($1995). With a discrete class-A front end and Hypex class-D output, the fully balanced amp produces 150Wpc into 8 ohms and 250 into 4. If you switch the gain, you get 400Wpc into 8 ohms, and 600 into 4.
Audio Physic celebrates its 30th anniversary with the release of the latest iteration of its time-honored Avanti loudspeaker ($8000/pair and up, depending upon finish). A completely new design, it has an 8" woofer on its bottom that fires through ceramic foam. The cabinet, too, contains an extremely strong ceramic foam interior which braces it on the inside. With MDF outside, an air gap is intentionally created between the layers. The proprietary drivers are new, and include a dual-basket design midrange. Both midrange and tweeter have an anodized ceramic coating on their aluminum to prevent ringing.
Friday evening ended with a press dinner in the burbs sponsored by Wilson Audio. Amidst a lot of food, wine, and chatter, folks relaxed to music playing through an entire range of Wilson loudspeakers that included the new Sabrina (pictured) and, at the other end of the size and price spectrum, the Alexandria XLF. Being that this was some much-welcome down time, I let go of taking notes, and simply enjoyed the ambience. Hey, there were still two more days to go.