Day 3: High End 2015 Hits Its Stride
Many European audiophiles must have decided to take advantage of the three-day holiday weekend and avoid Saturday's crowds, because Saturday's show attendance, while still huge, was actually lower than Friday's. Then again, the decision to avoid Saturday may have been because so much of Munich saves Saturday for indulging in Bavaria's favorite gut-expanding passion, drinking beer. From audiophile nirvana to drunken oblivion in the span of 24 hours, to the tune of Ella and Satchmo singing, "Isn't it a Lovely Day."
While Saturday was packed by American show standards, getting an early start enabled me to spend a lot of time in one of the best sounding rooms at High End 2015. Tucked into a low ceilinged inner sanctum in Hall 2 of the MOC stood the world premiere of Stenheim of Switzerland's imposing four-tower Reference Statement loudspeaker system (approx. $400,000, above). Consisting of two Reference full range speakers ($180,000/pair) and two just-released Reference sub towers—that makes for a total of 24 independent closed chambers housed in four extremely large aluminum cabinets—the system claims a hard-to-beat frequency response of 10Hz to 100kHz.
Although the subs were only minimally engaged, the size of the low ceilinged room having rendered the bass of the Reference towers sufficient, they came equipped with three internal monoblock amplifiers that together output an impressive 3600Wpc. Add to that a claimed sensitivity of 96dB and a maximum SPL of 122dB, and you had a loudspeaker system that, when blasted, might have been capable of waking the dead and leaving exhibitors on the floor above pretty damn pissed.
Thanks to an Audio Consulting Revolution Minima direct drive battery-powered turntable (35,000 euros), equipped with Thales Easy arm and Zyx Universe Silver cartridge; Audio Consulting Silver Rock battery-powered phono preamp; CH Precision electronics that consisted of L1 dual mono solid-state preamp (25,000–28,000 euros), M1 dual-mono power amp (80,000 euros), and X1 external power supply; Stenheim's two active monaural crossovers; and ZenSati Silver cabling (200,000 euros), this premium-priced system exhibited beautiful warmth and smoothness. Colors were not only saturated, but also extremely delicious.
On Ben Webster Meets Oscar Peterson, I experienced a mildly euphonic and thoroughly enjoyable presentation where highs seemed true and brass had requisite bite. The system sounded absolutely marvelous reproducing trained operatic voices and full orchestra, and nailed huge percussive thwacks like nobody's business. It was just the kind of warm sound that many audiophiles relish, except that it also had the slam and bite of the best systems. Word has it that the channels were inexplicably reversed until the last day of the show, but that didn't stop this set-up from sounding fantastic.
This shot of Dave Brubeck Drive in Hall 4 gives you an idea of the number of attendees on Saturday. Hall 1 began with Tina Turner Street, with avenues in Hall 4 culminating in Via Antonio Vivaldi. Exhibits numbered in the hundreds.
For Merging Technologies' 25th anniversary, the company that goes by the name "Merging" emerged with their new Merging NADAC ($8900 stereo, $9900 multi-channel). The very first audiophile offering from a company whose pro recording and editing gear is used by studios worldwide—the bulk of DSD downloads currently available were recorded on Merging Technologies equipment—the NADAC (Network Attached DAC) came about because a host of recording engineers who rely on Merging's recording technology asked them to enable end users to hear the same sound that the engineers sign off on in the studio. (Jack Vad, the feted Recording Engineer for San Francisco Symphony, was one of many who made such a request.)
Claude Cellier, the Merging President and CEO who invented the term "DXD," told me that the NADAC has "essentially the same circuitry" as in their pro gear, except refined for audiophiles. The NADAC can decode both DXD and up to DSD256 (quad rate DSD), has unbalanced outputs, multi-zone playback capability, and an additional DAC chip just for headphone listening. Its inputs are AES/EBU (up to 192kHz), Toslink (up to 96kHz), S/PDIF coaxial RCA (up to 96kHz), and Ravenna/AES67 on an RJ45 connector (all the way to 384kHz and DSD256) rather than USB, because folks in the pro world need the greater bandwidth that Ethernet rather than USB provides. Merging also uses Ravenna Pro Audio software to enable all devices on a network to be clocked together by a single, including an external clock. (Merging is considering making one of their own, à la dCS).
Of course you want to know how it sounded. So do I. Merging was unable to get a suitable exhibit room in one of the Atriums, and thus settled on the hall. Even with close-back headphones, the intrusive noise level made attempts to listen at anything less than ear-splitting volume farcical. Those attending the Newport Show can take a listen in the IsoMike room or, if you wish to audition amidst inebriated chatter, the Positive Feedback Hospitality Suite.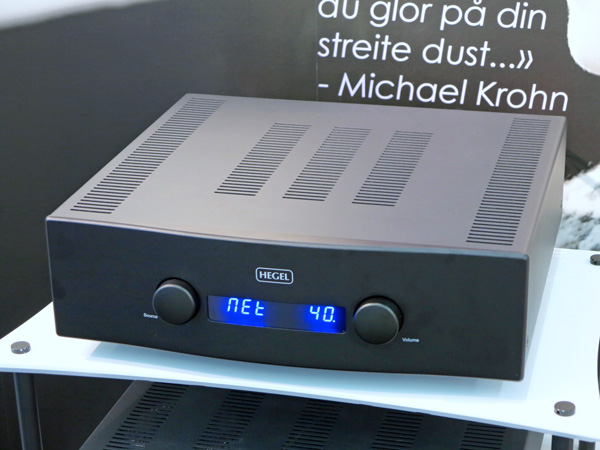 Hegel's H360 integrated/DAC ($5700), a replacement for their H300 ($5500), reaches retail outlets on September 1. The 250Wpc baby has all brand new circuit boards; uses the same output transistors as in their reference H30 plus two transformers, with one reserved solely for the DAC board; works with Airplay and DNLA; boasts more and better voltage regulators with more local control; and utilizes Hegel's Sound Engine 2, a new implementation that increases the damping factor by 4 and lowers distortion.
The unit can process up to 24/192 or DSD128 via drivers installed on your computer, or 24/96 with plug and play. Hegel claims that the jitter recovery circuits in the unit's DAC are the best they've ever issued, and that when Airplay runs through their jitter recovery circuit, the H360 yields quality "close to" CD.
Josh Meredith of Cardas happily displays the company's new entry-level speaker cable, the aptly titled Speaker 101 ($175/1.5m pair when terminated by Cardas). Also available unterminated in bulk at $6.75/ft, the cable consists of two 14-gauge conductors with Cardas Golden Ratio copper stranding, but lacks the enamel coating common to the company's higher level cabling. Soft and flexible, it also transmits what Meredith calls "the Cardas warmth and musicality."
KR Audio of Czechoslovakia has released new tubes that claim a virtually pure, "almost perfect" vacuum thanks to the substitution of zirconium metal powder for the standard black graphite coating on the tube's nickel-based plates. According to Eunice Kron, company head and devoted mother of the KR clan, this results in longer life, greater reliability, and better yield. The price remains unchanged. Slowly, KR plans to substitute zirconium for graphite in all their tubes, starting with the KR300B.
Forthcoming, perhaps as early as September or October, is the VA200 dual monoblock amplifier. Claimed as the "end-all of tube application," the amp is neither push-pull nor single-ended, and reportedly runs "very hot." It will use eight KR842 tubes, and employ no global feedback.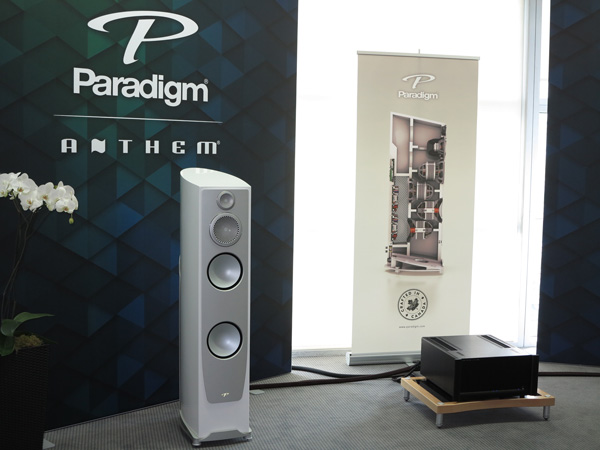 Paradigm showed a prototype of its Concept 4F loudspeaker. While I'm told that the design may change a bit—there is no target release date as yet, since the company is still tooling up for production—the Concept 4F represents an entirely new direction for Paradigm.
A hybrid design, the speaker has been 5 years in the making. Its bottom half is active, and houses two 700W Anthem amps per channel. In each speaker, these amps drive two front-firing bass drivers and two more in the rear.
As far as I can tell from the scribble that is my notes—two people were talking to me at once in most amusing fashion—bass drivers are aluminum, while both midrange and tweeter are composed of beryllium. The perforated phase-aligning lenses shown in the photo protect the drivers, act as would a phase plug and correct phase anomalies, and, not accidentally, give the speaker its unusual look. Designed and manufactured in Canada, the speaker includes Anthem room correction, with microphone and software included as part of the package.
In a brief listen, the Concept 4F's bass was indeed impressive. So was the huge dynamic range I heard on a Bach organ piece. The colors weren't the most saturated and brilliant I've ever experienced, but everything was extremely well controlled. Amplification was courtesy of the Anthem P2, and AudioQuest Earth and Redwood cables held everything together.
Tidal (pronounced Tee-Dahl, in part to differentiate it from the streaming company, and in part because the company is based in Germany) has just released its Akira loudspeaker (168,000 euros—US price TBD). The baby brother of the company's La Assoluta, the speaker sports a pure diamond midrange and tweeter. Its woofer is 5" with a 7mm excursion.
"Diamonds are so stupidly expensive and hard that we can only produce 4–6 diaphragms per month," Tidal's Jörn Janczak told me. "We wanted to see how far we could go."
The speaker, which has a frequency response of 25Hz to over 60kHz, is claimed to be perfectly linear, with a perfect step response. This is due in part to a diamond tweeter that is said to be perfectly time-aligned.
Also shown were the Tidal Assoluta monoblocks (140,000 euros/pair) and Camira DAC (32,000 euros). The amps utilize pure silver transformers and pure silver bypass transformers to generate ripple-free current and voltage. The intentionally non-oversampling ladder DAC uses no chips, and reportedly has unique isolation re-clock technology that makes for extremely low jitter. Its external power supply provides 10 different voltages for different parts of the DAC.
Alas, my listening session was an exercise in frustration. Even before chatting with Janczak in the hallway, I tried to audition two of John Atkinson's recordings. The first was a brand-new take of the Portland State Chamber Choir singing Barber, which JA had recorded just the day before and DropBoxed to me. The other, which I know quite well, was an unreleased hi-rez version of a track from the PSCC's R2D4 CD, Into Unknown Worlds.
Played from one of the many USB sticks I bring to shows, they didn't sound very good at all. Only later did I learn that the Aurender server that was in use sounds considerably better when playing from its internal drive rather than from a USB stick.
After my long chat in the hallway, I returned to the room and asked to hear some music that was already on the server. The first track was an assemblage of totally uninspired, patently inane, instrumental doodlings that dared pass as music on some company's audiophile sampler; the second was pure, unadulterated bubble-gum music. A lot of companies were waiting for a visit from "the guy from Stereophile," and I had already spent 12–15 minutes attempting to listen and an equal amount of time gathering information. It was time to move on.
I spent some time speaking with Dr. Ronald Gauder of Gauder Akoustik about the company's new Berlina RC 7 Mk.II 3-way loudspeaker ($170,000/pair). The speaker is one model down from the Berliner RC 9, which Gauder says Audio, Germany's biggest audio magazine, said was the best speaker they had ever heard.
Gauder said so many manufacturers lie about their frequency response and sensitivity that he refuses to publish his figures. That way, he would not be playing into the false assumption that if one speaker goes lower than another, it must ipso facto be better.
"I make it very differently than all the others in the world, using very new mathematics on a computer at German University in Stuttgart, he said. "We work cooperatively with the university on vibration propagation and control. It was on their computers that we determined the best shape for the loudspeaker."
Gauder, who started his company in 1989, says that all his speakers employ the same technology. The ribs in the cabinet are separated by dampers, whose thickness varies to minimize resonance. The outer curve is totally smooth, and differs in shape from the speaker's inner curve.
As is crucial in a three-way loudspeaker—the RC 9 is a four-way—the filters in the crossover are specially designed to ensure that the speaker's Accuton ceramic and diamond drivers only emit sounds in the frequency range for which they were intended, without overlap. There are 48 components in the frequency crossover alone.
Unable to audition the RC 7 Mk.II, which was only on static display, I moved into the next room for a listen to the RC 9. Alas, the classical music was played much too soft, and the jazz far too loud. When I moved my seat closer to the center of the soundstage, what I could hear over the talking sounded tight, with very nice colors, but it didn't grab me. A bit of my well-recorded CD of Murray Perahia playing Handel and Scarlatti, again auditioned at an inappropriately low volume level, suggested that the system was short-changing the music's bass foundation.
It felt very strange to receive a Vivid rap from anyone other than Philip O'Hanlon of the company's US distributor, On a Higher Note. But with Philip occupied elsewhere, I learned that the gorgeous, limited edition Vivid Oval B1 ($28,000/pair) was created especially for the company's 10th anniversary. Set to go into production in the fall, delivery is slated for November for the first pre-orders.
The loudspeaker's cabinet is made from the same Balsa-cored quadraxial glass composite sandwich material used in the flagship Giya, and the woofer magnet is also identical to that used in the Giya. "The sound is more like the larger Giya4," I was told, with more bass drive. There is also a new midrange driver, which necessitated a new, better performing crossover. I'll bet this speaker is on many a reviewer's priority list.