Into the Home Stretch at High End Munich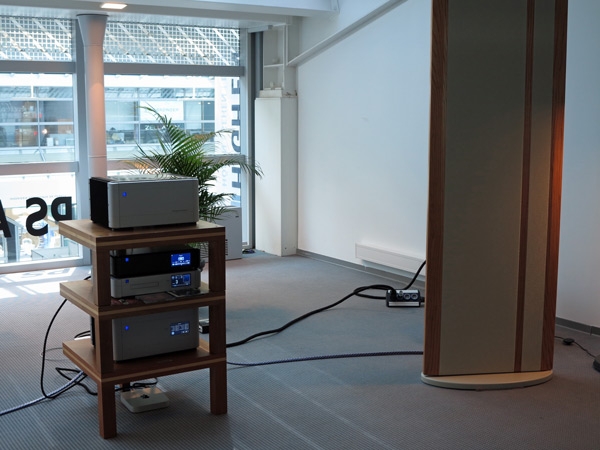 Just two weeks before PS Audio premieres the BHK Signature 300 mono amps at Newport Beach, the company showcased its BHK Signature 250 stereo amplifier ($7499) in Munich. This was my first opportunity to hear this Bascom H. King specialty in the context of an all-PS Audio system, and despite the sub-optimal room acoustics, it did not disappoint. In the context of PS Audio's DirectStream DAC ($6000), PerfectWave transport, P10 Power Plant, and power cables, the BHK Signature 250 joined Magneplanar 20.7 loudspeakers, a REL subwoofer, and Analysis Plus interconnects and speaker cable to project a marvelous sense of space on a track from Channel Classics'
Perla Barocca
. The system didn't nail the last iota of delicacy from the harpsichord, which could sound a little glassy, but it was very musical.
Toward the end of the session, Paul McGowan (Mr. PS Audio) played me a track from David Chesky's children's ballet, The Zephyrtine. The freshness of its harmonies and frequent sparks of invention were like a vital breath of fresh air at a show where virtually everything else I heard seemed to share the dismayingly same harmonic vocabulary. Bravo, Paul and David.
The 250 features a triode front end and all-MOSFET output circuitry, and is the first product from PS Audio to include vacuum tubes. When McGowan commissioned veteran designer King to create the amp, he basically asked him to come up with a statement product, regardless of cost. I've yet to hear the Signature 250 in a room that allows all of its qualities to emerge unfettered, but what I have heard is very, very impressive.
Speaking of room, the photo provides an opportunity to see a bit of the raked ceilings in some of the rooms in the hallways of Atrium 4.2. There were vertical steel beams hanging down from the ceiling in key places before it leveled out, which further disrupted the flow of sound and caused all sorts of problems.
I'm afraid I needed an AudioQuest Jitterbug ($49) for my camera, because my photo of it and the AudioQuest Beetle ($149) Toslink-Bluetooth-USB DAC was anything but in focus. (My photo of the Beetle solo, above came out better, albeit far from great.) Not that the Jitterbug is intended for anything other than audio. A USB noise and power filter, the Jitterbug plugs into your computer's USB bus to filter both data and voltage. A second unit can be used in parallel to greater effect, though AudioQuest recommends no more than two JitterBugs per USB bus. This little baby, which seems like the perfect birthday gift for someone into computer audio, quite convincingly lowered the noise floor and improved sound in a short demo.
The Beetle, which has a 3.5mm mini-headphone output and an optional power supply for those who don't plug it into a computer that can supply power, connects with a micro type B terminated USB cable. It was designed specifically for TVs that lack good analog outputs, Apple TV, Sonos Connect, iPhones, and other devices, and can handle up to 24/96. It also reportedly has a lower noise floor and lower power requirement than the AQ Dragonfly USB DAC, which is certainly a good thing.
Timbres in the Absolare room were absolutely beautiful. I didn't write down what music we listened to, but the depiction of a horn was spot on. Even over ridiculously loud bass pumping up from below, I could sense the smoothness and quiet of the system.
Absolare introduced two eagerly anticipated products. The Absolare Passion 845 push-pull amplifier ($40,000), created with the goal of marrying the power of push-pull with the finesse of single-ended triode, outputs 85Wpc, a substantial amount of which is in class-A. Using zero feedback, it has both single-ended and balanced inputs.
Absolare's first phono stage, the Absolare Passion ($33,000), is a two-box design with separate power supply. An all-tube baby that does not use a step-up transformer, it has nine tubes total.
Doing the rest of the honors were Rockport Avior loudspeakers ($33,000/pair), an MSB Diamond DAC IV with PowerBase ($34,000), ReQuest The Beast with Galaxy clock server ($38,000), Steve Dobbins Kodo the Beat Signature turntable ($34,000) with Frank Schroeder tonearm ($10,000) and Lyra Atlas cartridge ($10,000), Echole Omnia cabling, a Torus Power Isolation transformer ($6000), Absolare Bybee Speaker Bullets ($5950/set of four), and Stabilian resonance control. One of many very serious systems that put music first at High End 2015.
The new product in this room was not the eye-catching TuneAudio loudspeakers, but rather Knut P. Skogrand's latest iteration of his handmade mono-crystal copper cables. Manufactured in a small shop in the mountains of Norway, the cables have distinctive custom option white silk with gold and silver brocade exteriors that look a bit like my mother's friend's upholstery. Skogrand claims that his cables have the only 100% air dielectric in the world, which allows the signal to travel very close to the speed of light.
"Our goal is as clean and fast as possible," said Skogrand before handing me a price sheet that I simply cannot find. But I can tell you that the terminations are custom-designed, rhodium-plated copper for the most expensive cables, and gold over copper for the rest.
In a system that also included products from VPI and ModWright, I greatly enjoyed the top end and inner detail on Artur Pizarro's performance of a Beethoven piano sonata. Despite room-associated problems, the flow was very good. But when I asked to hear Maria Callas' irreplaceable analog recording of Gluck's "J'ai perdu mon Eurydice," I discovered that the system was overemphasizing the middle of Callas' ever-distinctive voice, and exaggerating the range breaks that were growing more pronounced during her decline. My educated guess points the finger at the loudspeakers. Frankly, the YouTube version of the aria, which I also have as a 24/96 download from HDTracks, sounds more truthful to Callas' voice over a little Audioengine A2+/Transparent Audio USB combo than it did in this room.
This beautiful-looking system from Wilson Audio, Nagra, and Transparent delivered extremely natural sound on voices. In yet another room where no one was afraid to play opera, these folks were in the midst of enjoying some delightful fluff from Offenbach when I entered. It definitely provided one of the top two musical delights of the show, as well as some of the best sound I encountered.
The genuinely big news in this room was the official launch of the Nagra Classic high-power, solid-state stereo amplifier. A successor to the MSA, it was first seen as an unadorned aluminum cube at CES 2015, where its absolute control impressed the hell out of me. The unit operates in pure class-A "over a very large power band"—15W, I am told—before switching to class-AB. There is only a single pair of MOSFET transistors per channel. Nagra claims stability "irrespective of the loads placed upon it." It can be used in a bridged configuration, as shown here, to deliver 200Wpc; otherwise, it supplies 100Wpc into 8 ohms.
Nagra's HDAMP will debut at RMAF, with an HD preamplifier expected by the end of the year.
Alexander Vitus Mogensen of Alluxity (as in luxury) was showing two new products: the Media One media server (approx. $11,000), whose built-in DAC can process up to PCM 384 and DSD256; and the class-AB Integrated One, which outputs 200Wpc into 8 ohms. Everything in the integrated is discrete and fully balanced, and can be controlled through the Media One.
You can't tell from the rather placid photo, but the Vitus Audio room was rockin' away both at the end of the show on Saturday and again at show's end on Sunday. Given that their door was wide open, people in surrounding rooms must have been pulling their hair out, but a helluva lot of attendees were having a ball.
Since folks were partying, and it was impossible to talk in the room, I was handed a piece of literature in the hallway by someone who really wasn't equipped to go into detail. It's really hard to figure out exactly what was playing besides the SS-025 stereo power amplifier ($21,000). What I can tell you, however, is that the Gauder Akustik RC7 Mk.II loudspeakers were sounding much better than in the company's own room, and exhibited great control on the loud, demanding dance music that served to draw my four days at High End 2015 to a close.
So there I am waiting for the shuttle bus to return me to the Park Inn Redizen (Radisson), when David Solomon of Tidal comes into view. I figure the only way that David managed to look as fresh as and younger than springtime after four days hawking Tidal is that everyone except those who can't get over the fact that Jay Z has bought the company is realizing how much CD-quality music they can access for a monthly fee equal to the cost of one or two CDs.