Trade Day—Let's Go on with the Show!
One of the major entertainment attractions at High End 2015 was US jazz vocalist (jazz-sängerin) Lyn Stanley. Performing twice daily in the room of her sponsors, Purist Audio Design, Stanley sang live into a microphone to recorded accompaniment, and then invited people to compare the amplified results to the playback of the same track on her LP (using Purist cabling, of course).
Stanley's deliciously deep voice sounded fantastic on Day 1, but technical snafus got in the way. Reverb on her mike was of outer space proportions—I'm told it got much better on subsequent days—rendering any comparison to the more natural sound of her recording preposterous. The person running the equipment also had a hard time starting and stopping Stanley's back-up track in appropriate places. I hate to think how many pops and clicks and skips there were on her LP by the last day.
Ever the trooper, the gifted Stanley soldiered on, much to the delight of her fast-growing international fan base. Count me amongst them.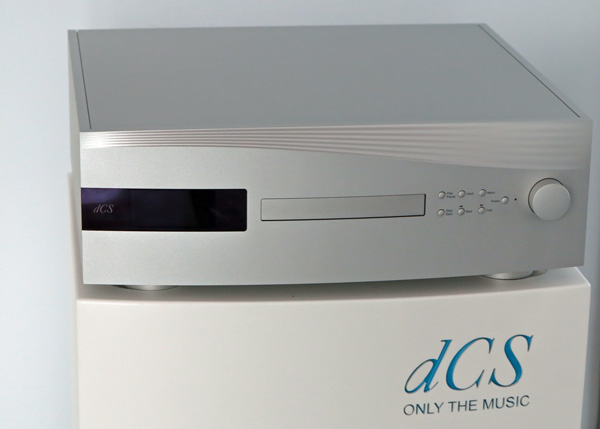 dCS has announced that, in mid-July, it will release the new Rossini DAC ($22,499) and Rossini network player ($26,999). Both units, which contain the same DAC as in the top-of-the line Vivaldi, are capable of decoding both DXD and up to 2xDSD (DSD128). Both will also upsample all sources to DXD unless upsampling to DSD is chosen by the user. Finally, both units can stream music from both NAS drives and streaming services (eg, Tidal, Spotify, and Deezer) over Ethernet, from Apple devices via Airplay, and audio via USB, AES/EBU and S/PDIF digital inputs. Both feature dual power supplies which isolate analog, digital, and clock circuitry, as well as an extensive selection of DSD and DSP filters.
The Rossini player, which one can purchase instead of the DAC, adds to the DAC's features a high quality CD transport. Those who wish to play SACD can do so via the dual AES output from the already-released Vivaldi, Scarlatti, or Paganini transports.
Both units feature an enhanced digital volume control that enables the unit to serve as both a digital preamp with a variable output that can feed a power amplifier, and as a fixed level source component All firmware is upgradable, and a newly-designed, modular central processing platform offers more flexibility accommodating possible hardware upgrades in the future than previous designs.
Finally, the Rossini units utilize a brand new user interface, plus a custom app to control the units and allow direct streaming from Tidal, Spotify, Internet radio, and the kitchens of the great Rossini singers of present and past. An optional forthcoming Rossini clock, not yet priced, will probably be released at the same time as the other units. As with dCS units in the past, adding the Rossini clock will improve performance.
VTL has released its new TL6.5 series line stage, a one-box version of the TL7.5 that includes VTL's Series 3 circuitry. Also new is the TL2.5i line stage. As was the case with many new components introduced in Munich, the units were only on static display. Hopefully they'll be on active display in Newport Beach, the California Audio Show in Burlingame, or, come fall, RMAF in Denver.
Naim and Focal could have learned more than a thing or two about press presentations from Devialet. For their joint press conference, the companies squeezed everyone into a tightly packed room where everyone sat on the same level. This short, copiously spritzing blogger was unable to raise his camera high enough above his head to snap photos without including the heads of the giants in front of him.
Every seat in the room's wide, multiple rows was filled, with any number of press people forced to stand in the back and along the sides. Once the door was closed, the temperature rose to what felt like 80–85°. A fun time was not had by one and all.
Equally dismaying, none of the presenters was amplified, which resulted in requests to "speak up." To add to the insult, one of the PowerPoint presentations simply repeated, virtually word for word, what the presenters were saying. Although it did help convey words that were otherwise lost in space, it did not enliven the presentation.
Steve Sells, Chief Engineer of Naim, aided by slides that I could barely see, told us that Naim has now incorporated its Statement high power DR (discrete regulator) technology and NA009 output transistors into three of its four re-engineered classic amplifiers (NAP 200 DR, NAP 250 DR, NAP 300 DR, and NAP 500 DR). Discrete regulator technology results in products 30 times quieter than before, as well a lower dynamic impedance to keep current to the speakers constant. The new transistors eliminate all ferrous materials to further minimize vibration-caused smear. Aluminum-oxide ceramics (ALO) thermally couple and electrically isolate transistors from the heatsink, resulting in excellent thermal transfer and significantly lower stray capacitance.
Only the NAP 200 lacks the new NA009 transistors. It also lacks regulated rails for its power amplifier section. Obviously, if you've got the dough, the 250, 300, and 500 models are the way to go.
Christophe Sicaud, CEO of the Vervent Audio Group, announced that Focal has opened new cabinet manufacturing facilities. The result, in part, is the new compact Sopra loudspeaker series, the Sopra No.1 monitor and No.2 floor stander. Both have new mid-bass drivers with tuned mass damper suspension and neutral inductance circuits, and infinite horn loading beryllium tweeters that have a graduated rear horn to avoid any return energy effect that can cause distortion. All drivers are developed and manufactured in France.
Of course, at a big press event that introduces a new speaker, one expects to take a listen. Gérard Chretien (pictured), "Brand Ambassador" for Focal-JMLab, did the honors. But the Focal speakers were so low to the floor that they were very hard to see, hear, and photograph from the back rows. And when the listening opportunity finally came to pass, the majority of press people had had enough, and moved on.
Taking advantage of the exodus, I moved front and center to be able to hear. It was then that I discovered, while attempting to listen to the time-honored "Isn't it a Lovely Day" from Ella and Louis that I only heard three more times at the show, that the speakers had not been broken in, and were performing sub-optimally.
My third time-consuming press conference of the day—fourth if you include the official High End 2015 press conference that I mostly missed—took place in the blue-lit Auralic room. With Stein Harmonizers and Blue Suns clearly in view, Xuanqian Wang, one of the partners in Auralic, reviewed the history of the company's products, starting with the first DAC to decode DSD128, the Vega DAC. He also compared the unit to two DACs he claims have similar functions, the MSB Diamond IV and dCS Debussy.
Since the release of the Aries network bridge in July 2014 (and reviewed by Micahel Lavorgna in January 2015), over 3000 units have already sold. Calling it "the most popular hi-rez streaming device we've ever had," Wang said that all software is now designed in-house. The company's team of 14 engineers, mainly young, is expected to grow to 22. There have been 12 firmware upgrades since last July.
Both the Aries and Vega can now play DSD256. Updates for the Aries' firmware and Vega's driver are now available. While release of the company's Lighting DS multi-room streaming control software has been delayed, a full-function version for Android/smart phone optimization may be available as you read this. Lighting DS 2.0 for iPad is due next month, complete with a new search function.
In a comparison of the Aries Mini wireless streaming node ($399) to the Vega DAC, both had a huge soundstage—the Stein devices helped with this—but the Mini sounded more hifi-ish, with less air, transparency, and color saturation. It should be available in the US by September.
Nordost, all of whose cables, power products, and accessories are manufactured in their Massachusetts facility, announced several eagerly awaited new products. First and foremost was the Odin 2 line, which replaces Odin as the company's Supreme Reference cabling. Odin 2 prices are $16,999.99/1.25m power cord; $22,499.99/1m analog interconnect; $10,999.99/1.25m 75 ohm digital cable (BNC with RCA adaptors) or 110 Ohm AES/EBU digital cable, $11,999.99/1.25m tonearm cable; and $29,999/1m pair speaker cable. Odin 2 speaker terminal jumpers are $6,999.99/ 3.5" pair.
Also announced, but not auditioned in the room, are the Heimdall 2 4K UHD cable ($599.99/1m), the Valhalla 2 4K UHD cable ($2999.99/1m), and, at the other end of the price spectrum from Odin, the entry-level Purple Flare USB 2.0 ($199.99/1m). There is, as yet, no word of an Odin 2 USB or 4K UHD cable.
As the undisputed King of Cable Comparisons, Nordost did not disappoint. In a system that included Audio Physic Cardeas Plus loudspeakers on Nordost Sort Füt supports, Jeff Rowland's forthcoming multi-function Daemon (see blog that follows), and a Moon CD player, Rune Skov (pictured) and Bjorn Bengtsson systematically switched between Odin 2 and Odin. First they changed the power cable to the CD player; second, the sole interconnect in the system; and, lastly, the speaker cable.
As someone quite familiar with the extremely transparent, open, and extended sound of Odin, I only expected to hear subtle differences between it and Odin 2. How wrong I was. Odin 2 conveyed significantly more midrange richness, solidity, and depth. It also granted a far more solid foundation to the presentation, regardless of musical genre, and greater dynamic range.
The improvements were especially audible in a 24/176 file of the Dallas performance of Rachmaninoff's Symphonic Dances. To be honest, this is a performance that I have hated (as in, "Must you really play that awful performance that makes an orchestra sound like a malnourished chamber ensemble, and that starts so slowly that a woman could get pregnant and give birth before the first theme comes to an end?") until, with Odin 2, it finally sounded like more than 5 instruments were playing at a time. I still can't believe that I actually liked it.
On a track from Fink's Hard Believer, I was especially aware that I could hear additional layers to the guitar accompaniment and more harmonics with Odin 2. Similarly, on a Marc Minkowski recording of Rameau, I heard far more depth to the drum, and a more substantial orchestral presentation.
What are the differences between Odin and Odin 2? Odin 2 power cables and interconnects now sport Nordost's own Holo:Plug terminations, with cold-plated solid core pins, vibration control, total shielding, and 360° contact mating. I am told that these new terminations have a lot to do with the improvement in performance. Similarly Odin 2 speaker cables are terminated with Holo:Spades, which replace Odin's rhodium-plated spades with solid-core copper plated with gold.
In terms of gauge and other parameters, power cables have gone from 15 AWG to 14 AWG, and, like all Odin 2 products, are shielded from Holo:Plug to Holo:Plug. (The shielding stopped at the terminations in Odin.) Odin 2 speaker cable has two additional conductors, plus black and white plastic stripes that control cable resonance and transmit more harmonics. I could list other differences, but the most important thing is to find the opportunity to take a listen. The differences are startling.
Active in the great-sounding Nordost system, but also shown in static display, the Jeff Rowland Daemon integrated ($38,800) was a definite eye-catcher. A 1500Wpc into 8 ohm, class-D beauty with a built-in DAC, it is due in the fourth quarter of 2015.
The Jeff Rowland Daemon includes a custom design interface with full touch screen control. It can also be used with a stand-alone preamp if desired. A modular design, with optional modules and replacement modules available for easy upgrades, the model auditioned contained an optional streaming unit that currently works with Airplay and will soon work with all platforms. Jeff Rowland's goal is to achieve wireless transmission with no loss of musical content or quality. That I'm eager to hear.