A First Look at Marantz's Reference 10 Series at D+M's Euro HQ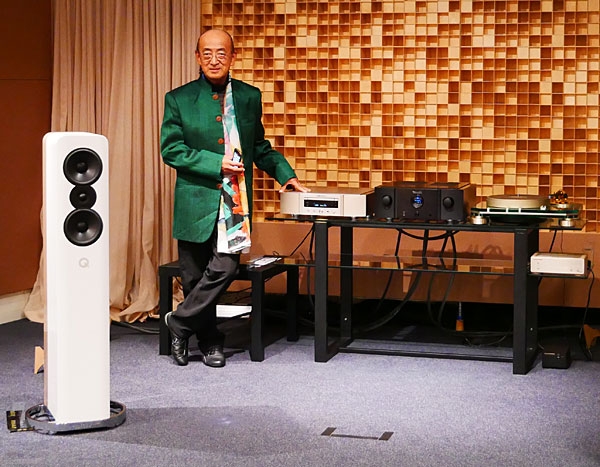 Last week, Paul Messenger and I represented
Stereophile
at a Marantz press conference announcing the New Reference Series: the SA-10 SACD player/DAC and the PM-10 amplifier. The conference was held at D+M's European Headquarters located in Eindhoven, The Netherlands (footnote 1). Josh Bizar of Music Direct, Andy Quint of
The Absolute Sound
, and I were the only Americans present at this session. (And naturally, the most severely jetlagged.) We were joined by nearly two-dozen international audio journalists from a handful of countries.
The day-long conference began with heaps of coffee and tech-heavy PowerPoint presentations led by Ken Ishiwata ("KI", Brand Ambassador/audio guru God), Oliver Kriete (Product Manager), and Rainer Finck (Senior Electronics Engineer). (Rainer was a Philips engineer in the late 1980s and worked on their early Bitstream converters.)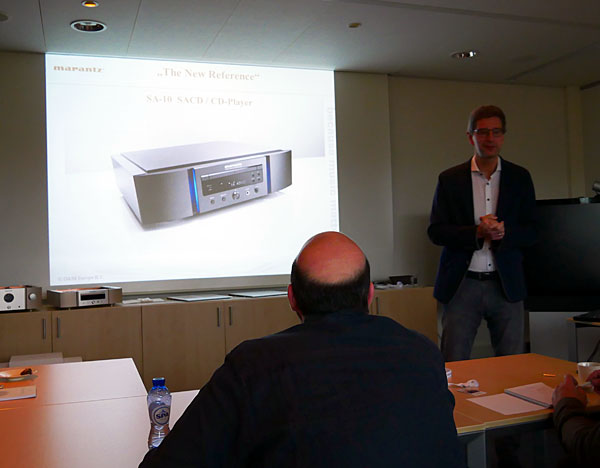 They offered us a recap of Marantz's history, legacy, and technical background. The SA-10 SACD player DAC supposedly replaces the SA-7, Marantz's previous Reference disc player, while the PM-10 replaces the SC-7/MA-9, the previous Reference amplifier. This was then followed by an introduction to the SA-10 and PM-10 with intensive, in-depth explanations of technological features.
The SA-10 SACD player/DAC utilizes Marantz's new "SACD-M3" technology, which allows it to play hi-rez audio stored on data CDs and DVDs in addition to playing CDs and SACDs. Yes, hi-rez audio! As of right now, this technology is only available on the SA-10 because we were told that it is too costly to incorporate into Marantz's more affordable CD players. Though I know many will be unaffected by this feature, I find this incredibly useful, since I rarely listen to SACDs but have so frequently encountered the unplayable hi-rez data disc dilemma.
The second major thing to take note of with the SA-10 is the new "Marantz Musical Mastering" (MMM) process. There are two parts to the process: "MMM-Conversion" and "MMM-Stream." In MMM-Conversion the SA-10 up-converts hi-rez PCM files to DSD256—the output result is a streams of bits—and in MMM-Stream, that signal is then converted to analog. Marantz claims "it's the first player/USB converter without a DAC—it doesn't need one!" and while, indeed, it does not treat signals like conventional mainstream players/DACs do, it is, at the most basic level, still performing the basic functions of a DAC. That which we call a DAC/by any other name would sound as sweet—as they say. No DAC stigma here.
The PM-10 amplifier is a wild card: it's an integrated amp, containing a preamp and a pair of switching monoblock power amps in a single unit. The SC-7/MA-9 was also a pre/power amplifier combination, but offering 400Wpc, this one is that one's bigger, better, brother. The PM-10's preamp and each of the power amp channels use separate power supplies, and there's a dedicated supply for the microprocessor which controls volume adjustment and input selection, among other functions. Other features worth noting: The layout is fully balanced, the preamp uses Marantz's Hyper-Dynamic Amplifier Modules (HDAMs) rather than op-amp chips, and there's also an option to work in "Purest Mode" which deactivates superfluous circuits to guarantee the cleanest signal path. And, analog junkies, don't fret! the PM-10 is equipped with an all-discrete phono stage for both MC and MM cartridges. They've covered all their bases.
This could be the ultimate audiophile-approved compromise to standards of diminishing living spaces. Not to mention—a relatively more eco- and energy-friendly option. Brilliant. But mad gutsy as hell! And (potentially) quite polarizing. (Am I being melodramatic in thinking so?) Way to go, Marantz. I'm curious to see how audiophiles will react.
After the presentation, we split into two groups: one to remain in the conference room for Q&A, and the other to head downstairs into KI's listening room.
After a brief break for lunch my group then eagerly (read: frantically, leaving no survivors behind) headed downstairs to listen. On our way there, we passed through a short hallway with vintage Marantz components out on display. What beauties.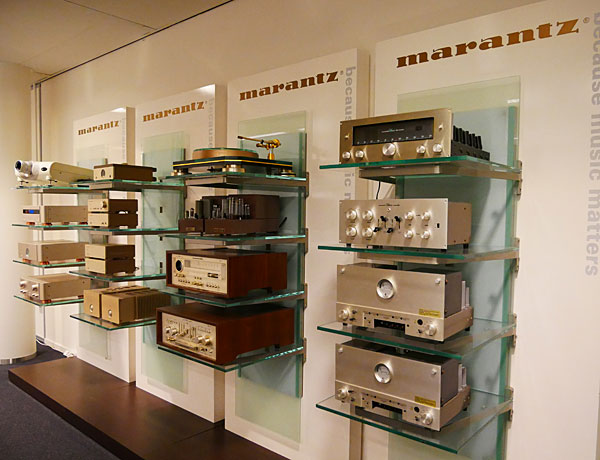 KI's listening room, born in 2007, was built with the intent to diffuse sound waves rather than damp them. The goal is to produce life-like sound by introducing random, diffuse reflections rather than absorption.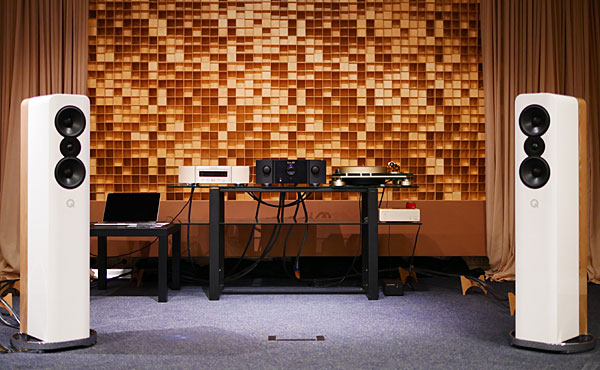 The SA-10 and the PM-10 played through a pair of new (but burned in) Q Acoustics Concept 500 speakers. (You may have heard a prototype of these if you attended Munich 2016.) We listened to excerpts of various audiophiley-vibe tracks (none of which I can name) chosen by KI, played via his connected MacBook. (The SA-10 has an asynchronous USB-B input.)
It seemed I was in unfamiliar territory with every single factor possible, but I thoroughly enjoyed every second of it. Funnily enough, this time around, it was not I who requested Aphex Twin, but another audio journalist with good taste: Michael Borzenkov, who is Editor-in-Chief of the Russian edition of the UK's What HiFi magazine. Our group listened to excerpts of the first couple tracks from Aphex Twin's CD Cheetah.
The rich, liquid audiophiley-vibe track lingerings immediately crawled back into the walls (where they belong!), and Richard D. James' lush rhythmic pulses saturated KI's space. I found the bass to be more round and powerful than defined. The amount of power that emanated from all these compact speakers was remarkable!
Let's put it this way. It was a much-needed palate cleanser from—dare I say—what I heard at November's NYAS 2016.
Following a listening session filled with competing requests, I met up with KI for a previously scheduled one-on-one chat. (I'll be posting my Industry Profile piece on Ishiwata-san next week.) While I was completely taken by Marantz's New Reference series, the undeniable highlight of my European minute was meeting the great legend that is Ken Ishiwata. Our conversation alone would have made the 48-hour trip worthwhile. (In total, I was only away from New York for about 63 hours.) You'll rarely hear me say phrases like "he had a very good energy," but here it is: KI truly exudes energy and positivity. It's in the way he speaks, in the way he carries himself, and especially in the way he controls a listening room full of audio journalists. It is no coincidence that his initials read "ki."
---
Footnote 1: For reference, the D+M Group is a global company that owns the Marantz, Denon, and Boston Acoustics brands.