The Fifth Element #74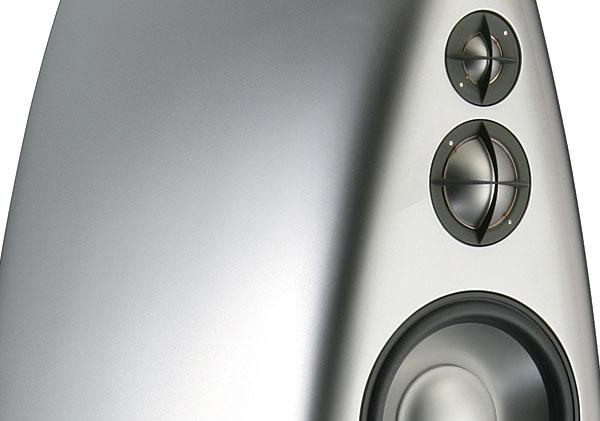 I've had Vivid Audio's Oval K1 loudspeaker here for several months. Over many years, the only other speaker brands I've written about as much as I have Vivid have been Wilson Benesch and Shahinian Acoustics, whose speakers I still revere and can recommend without reservation—to the right listener. But Vivid's high-tech sorcery has raised the bar. The Vivids I've had here are among the best loudspeakers I've ever heard, and that's a consensus that seems headed in the direction of critical mass.
Vivid's designer, Laurence Dickie, is an alumnus of another British speaker manufacturer, Bowers & Wilkins, and was the chief designer of B&W's flagship model, the Nautilus. Dickie's designs for Vivid aim to achieve extraordinary performance by minimizing cabinet resonances and diffraction through the use of unique cabinet shapes and high-tech materials and fabrication techniques. He also aims to achieve uncolored, distortion-free sound by making all drivers from the same proprietary alloy, and by keeping driver behavior as pistonic as possible through careful driver and crossover design. (For more details of Vivid's backstory, see Wes Phillips's review of Vivid's range-topping Giya G1 in the July 2010 Stereophile, and my coverage of their entry-level Oval V1.5 in my October 2010 column)
I was curious as to what Vivid would offer in the model above the wonderful Oval B1, which John Atkinson extensively reviewed and measured in the October 2011 issue. The B1 costs $15,000/pair, the K1 $25,000/pair. The only apparent differences are that the K1 has two woofers each on its front and rear panels (the B1 has single woofers fore and aft), and its cabinet extends lower to accommodate them. Correspondingly, the K1's integral pedestal is shorter than the B1's, its cabinet taller. The two models have identical tweeter and midrange drivers.
I expected to report that the K1 is just like the B1, but with more bass. While that's true as far as it goes, it's less than the whole story. I was taken aback by how much more I liked the K1's midrange than the B1's—and I liked the B1's midrange a lot.
One track I've listened to often over the past 25 years when evaluating equipment but don't believe I've mentioned in print—perhaps because it begins well, then suffers from overproduction—is the poignant ballad "Arrow," from Cheryl Wheeler's eponymous debut album (LP/CD, North Star W0001), in which she expresses the wish "to give myself as truly as an arrow flies / In windless skies." Very nice.
A little more than the usual moon-and-June is going on here. "I'd fool myself and gladly, just to feel I was / In love," the singer admits, as well as "Maybe love is not as gentle as my memory / Maybe time and wishful half-remembered fantasy are the greatest part." In short, "Arrow" is that rare commodity: an adult song about love.
The track begins well, with two well-recorded acoustic guitars delivering both a heartbeat-like rhythmic pulse and a web of counterpoint to Wheeler's pensively undemonstrative, folkie singing. All of which the Oval K1s just reveled in. However, perhaps out of concern that that arrangement would grow monotonous over the course of three verses, the producer ordered up some synthesizer and drum-machine effects that might have been with-it in 1986, when Cheryl Wheeler was released, but that have not aged well. Even at the time, some persons of discernment and taste were unsmiling. If memory serves, Michael Fremer, writing in The Abso!ute Sound, likened the result to doggie diarrhea. I wouldn't go that far; I still listen to the track, loving the first half, then wincing a bit when the production loses confidence in the song and the artist. Wheeler must have thought so too; she remixed "Arrow" for her third album. In that arrangement, Mark O'Connor contributes a violin solo. (Mary Chapin Carpenter contributed backup vocals to other tracks on Cheryl Wheeler.)
Wheeler's career as a performer never achieved critical mass; she remains a minority enthusiasm. Perhaps that was because, by the time Wheeler got a record contract, "confessional" singer-songwriters of the James Taylor/Joni Mitchell school were no longer the height of musical fashion; popular taste was moving toward bands whose music had more propulsion and surface sheen, and less angst; from Pet Shop Boys to Duran Duran.
However, the quality of Wheeler's songwriting attracted enough interest that there were some noteworthy covers, the most successful of which was Dan Seals's cover of "Addicted" (also from Cheryl Wheeler), which reached No.1 on Billboard's Country chart. There's a lovely live performance by Wheeler of "Arrow" on YouTube, introduced by Chet Atkins, with a backing band that includes O'Connor.
North Star Records has closed its doors, but Cheryl Wheeler is available on the used market, and her third album, Circles and Arrows, can be found in the iTunes Store; its remix of "Arrow" is available as an MP3 single.
Another favorite female-vocal disc that showed off the Oval K1's midrange magic—and one that I have previously recommended—is Mary Black's No Frontiers (CD, Gift Horse G2-10002; I haven't heard the LP). Black is more of a singer than Wheeler, in a broader range of styles. The title song and the eerie "Columbus" are excellent examples of her approach, while her cover of Bacharach and David's "I'll Say a Little Prayer" may strike you as charming or as off the mark. Regardless, No Frontiers, released in 1989, has aged well.
A belated new discovery for me is Charlie Haden and Pat Metheny's Beyond the Missouri Sky (Short Stories), from 1997 (CD, Verve 314 537 130). I became aware of this wonderful recording while listening to Pandora.com, which I think of more as an interactive jukebox than an Internet radio station. I asked Pandora to create a "Bill Evans and Jim Hall" station. Because Evans and Hall recorded only two albums together, Pandora's algorithms set about choosing music of the same vibe, which I'd characterize as "pensive but not necessarily depressive." In short order I was captivated by Metheny and Haden's restrained acoustic-guitar-and-double-bass treatment of Ennio Morricone's "Love Theme" from the film Cinema Paradiso. I sure hope there's overdubbing on this track, because I can't comprehend one guitarist's being able to sustain all those lines using only 10 fingers and six strings. The guitar sound had enviable bloom through the K1s, while the bass had very solid presence, with no trace of boom or hangover.
When I listened to Annar Follesø's SACD of Ole Bull's violin concertos, with Ole Kristian Ruud conducting the Norwegian Radio Orchestra (SACD/CD and Blu-ray, 2L 67), played on the Luxman D-05 universal player, the way Follesø's violin "decoupled" from the midrange drivers and the tweeters to float in space reminded me of recent generations of Quad electrostatic loudspeakers. Seeing as I'd placed the K1s exactly where the B1s had been and used the same associated equipment, I found this a bit puzzling.