EgglestonWorks Viginti loudspeaker Page 2
While I always have to let my ears and brain adjust to the new, after a few days it was clear that moving the Vigintis a bit farther from the front wall might be worth trying. A friend and I moved them
slightly
forward. That did the trick.
With the speakers driven by my reference darTZeel NHB-458 monoblocks, the Viginti's bottom-end sound was sprung somewhat looser than the Alexx's, which gave it a richer, more visceral, more tactile bottom—an area in which the Alexx itself is not exactly shy. But it was way looser in the lower midbass, where it still sounded somewhat bloomy, even after we'd inched it forward.
One evening, I played my original UK pressing of the Who's Tommy. In this case, "original" means Track Records 613 013 with a flat label (later Track pressings had a raised rim under the label), with a bright blue, laminated album jacket. I bought this copy 49 years ago, in spring 1969, and have been playing it ever since—you can be sure that for those first few years I played it incessantly. I saw the Who perform Tommy twice in concert: at the Boston Tea Party in fall 1969, in front of a few hundred people (the band wasn't all that popular at that point), and again in winter 1970, at Boston's Commonwealth Armory, from a seat in the front row. But this night I wanted to hear Tommy, and how the Vigintis might deliver whatever of Keith Moon's drums and John Entwistle's bass were left on my well-worn, half-century-old LPs.
I cranked up Tommy, expecting to like the IBC studio drum sound as I always have. But, texturally and physically, this was probably the best I'd ever heard Moon's drums—elastic, well textured, gut-punching. His tom fills were so slammingly perfect and believable that the only thing to do was to turn up the volume until it was at the level of live drums. Moon's cymbal splashes shimmered and rang convincingly—they don't on any of the many digital versions of Tommy I own—and the attacks of Townshend's strummed acoustic guitar and the following sustains were as perfectly natural, satisfying, and physically impactful as I've ever heard them.
I knew it was coming, as it has a hundred or more times, but this time when Townshend let loose with "Captain Walker didn't come home, his unborn child will never know him," it startled me enough to make me jump and start my adrenalin flowing. Yet his voice wasn't harsh or bright. It was just sounded more spectacularly transparent and real than I'd ever heard it. Which was why I jumped. That 49-year-old LP's top end was entirely intact. It had never sounded as round and three-dimensional as it did that night through the Vigintis. I played all four sides of Tommy and went to bed with a smile on my face, 100% satisfied and transported.
That experience made me a believer in two things: 1) Records properly cared for and properly played do not wear out, even after a hundred or more plays; and 2) The EgglestonWorks Viginti may be the most enjoyable, most-fun-to-listen-to full-range speaker I have ever reviewed.
I ended up loving the Viginti's unabashed bottom-end swagger and out-of-the-box slam and drive, even as I conceded that part of what I liked may have been some lower-midbass bloom that probably wasn't strictly "accurate." But you know what? If you sit down, listen, and the best you can do is scratch your chin and say, "Hmmm. This is damn . . . accurate," then you're not having too good a time. But when you say, "Wow! Crank it up and take me somewhere!," you're having fun. This hobby is about fun.
Yes—in my room, at least, there's still a bit of a lower-midbass bump, but even after switching to the Simaudio Moon 888 monoblocks (review in the works), I heard it only with some recordings that probably have an excess in that region to begin with—and it may still have been room-related anyway.
If the Viginti could effectively deliver singer Johnny Hartman's baritone from his Once in Every Life without sounding congested (LP, Bee Hive/Analogue Productions AAPJ-105)—an album I've been playing since 1981, when the original edition was released—it would pass the test. It did. What's more, Joe Wilder's horn in "Easy Living" has never sounded less like a trumpet and more like the flugelhorn it actually is.
The Viginti's response from above that lower-midbass bump to the very top of the audioband was liquid-smooth. The midrange was precisely as Wayne Prather advertised: "the 'Transmission Line' midrange porting design delivers midrange detail and purity."
Out of the blue, someone sent me two new XRCD24 releases, one of which was cellist Jacqueline Du Pré performing Dvorák's Cello Concerto with her husband, Daniel Barenboim, conducting the Chicago Symphony Orchestra (Associated Recordings Company ARCXRCD806). I have the same performance on a 1989 reissue (3 CDs, EMI) and wanted to hear any differences. I began with the XRCD. The sound of Du Pré's cello was so texturally and tonally enticing, the orchestra so lush and compelling, that I lost interest in comparisons and played the disc all the way through.
But when I did compare the new XRCD with the 1989 EMI, the Vigintis did not disappoint! The strings on the EMI set were as thin, metallic, and wiry as I'd remembered, and when things got loud, I wanted to leave the room. It was good to hear that the EgglestonWorks didn't "lush over" or homogenize the differences in the midrange.
I then spent another evening in the digital domain, this time with both 16-bit/44.1kHz and high-resolution files playing both fine and awful recordings of music I like. Again, though with great recordings the Vigintis delivered pleasing smoothness and artifact-free liquidity, when the recordings got rough, so did the speakers.
Those who think that all metal-dome tweeters sound bright and/or hard should spend some time listening to the Viginti's smooth, sweet, yet airy sound. They'll eat their words.
Nothing's Perfect
For all the EgglestonWorks Viginti's supple, full-range strengths, unquestionable long-term listenability, musical generosity, and ability to produce slam-bang dynamic swings, it won't satisfy everyone.
The speaker's overall tonal balance was on the warm side. Its bass tuning produced a skosh more boom that might be too much for those who prefer lean, tight bass. Nor was the Viginti the last word in top-end air or retrieval of detail. Its reproduction of transients was ever so slightly smoothed over—if you like really sharp, fast transients and are willing to put up with really bad recordings to get everything out of the few great ones, you might not be satisfied.
If you like pinpoint, finely rendered images on vast, three-dimensional stages, the Vigintis give you some but not all of that. I'm spoiled by what the Wilson Alexxes do in those regards—in my experience, no flat-baffled speaker has ever managed it.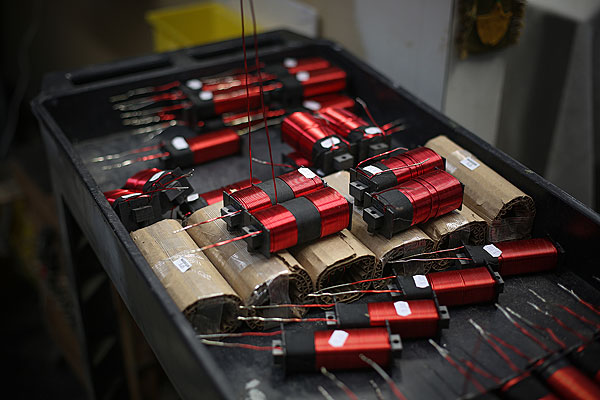 Early on, I occasionally heard an upper-midrange coloration that may or may not have been related to the quasi-transmission-line output that emanates from the back of the Viginti. It's also possible that this will be a nonissue in rooms in which the Vigintis aren't placed so close to the side and front walls. But those are my only criticisms of the Viginti, and I had to go looking for them.
Conclusions
I didn't ask, nor was I told, the price of the EgglestonWorks Viginti, and I deliberately kept myself ignorant of it for almost all of my listening—but I figured it was high. After all, the Viginti is almost a true full-range loudspeaker—I'd be surprised if its response in my room was anything less than 25Hz-20kHz. (EgglestonWorks claims "usable output" of 20Hz–40kHz.) Finally, just before I asked, I guessed: $60,000/pair?
Nope. A pair of Vigintis costs $38,995. In the world of high-performance audio, that price is ridiculously low for what you get. The Viginti has been thoughtfully and methodically designed, and is beautifully built of high-quality components. It produced a hypnotically lush yet honest midrange, and despite its generally warm overall balance, it was equally satisfying playing the Ramones from CD, The Clash from original vinyl, a new vinyl reissue of Cocteau Twins' Head Over Heels (4AD/Beggars Banquet CAD 3709, after which I played the original all the way through to compare), a mono edition of Bob Dylan's lumpiest record, John Wesley Harding, male and female jazz singers, and, of course orchestral music.
Every time I thought of a recording or musical genre that might not work well with the Viginti, it surprised me. I thought its slightly soft transients would make Julian Bream's lute recordings sound too soft, but damned if I didn't sit through every note of the Julian Bream Consort's An Evening of Elizabethan Music (RCA Victor Soria LDS-2655) and enjoy every pluck.
Of all the speakers I've reviewed, few, if any, have come close to matching the Viginti's long-term listenability. It is both a relaxing speaker and an exciting one—it lets me lie back and just enjoy the music, and engages me fully when that's appropriate. I guess you could say I like the EgglestonWorks Viginti.