EAR Acute Classic CD player
In
Stereophile
's January 2016 issue, I began a series of reviews of $10,000 CD players and transport-DAC combinations: an informal and serial survey, the goal of which was to gather, over time, the likeliest candidates for one's Last CD Player Ever. My choice of $10,000 as the target price was more or less arbitrary, although, in retrospect, that's about what I've invested in my go-to combination of turntable, tonearm, and pickup head—so, who knows? Maybe my subconscious was acting out.
Although the review that follows won't be the last of the survey, this seemed a good time for a recap, which I'll get around to a couple of thousand words from now: something to look forward to. (But no peeking: As John Atkinson once wrote to a former subscriber who vowed to never again read Stereophile on account of a political opinion stated by one of our contributors (footnote 1), We will know if you do. Astoundingly, said correspondent, a self-described executive for a music-publishing firm, wrote back to say that he couldn't tell if JA was kidding or not.)
That bit of housekeeping out of the way, it's on to the EAR Acute Classic ($6795), a CD player that was offered for review by its distributor, EAR USA/Sound Advice, as opposed to being selected on the basis of price: a distinction from the other models I've covered, but one with the potential to reveal the Acute Classic as a cat among the pigeons, value-wise.
Description
The Acute Classic's predecessor was a CD player introduced in 2008 and called, simply, the EAR Acute. Based on an Arcam player of the day—although the chassis, power supply, analog filters, and output stage were all original to EAR—the Acute sold for $5495, and had at its heart a Wolfson DAC that delivered 24-bit/96kHz performance. Notably, it did not include a USB input.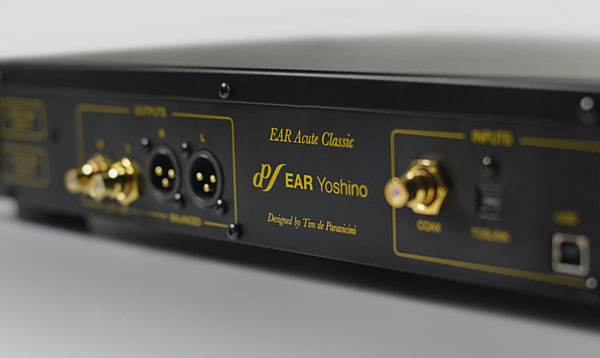 In 2012, changes to the Arcam base unit precipitated a new EAR model, the Acute 3—a curious name of which EAR USA's Dan Meinwald says, "Don't ask us, we're British." It sold for $6095 and did have a USB input.
Measuring 11.2" wide by 12" deep (including knobs and connectors) and 2.6" high, the Acute Classic—designed by EAR founder Tim de Paravicini—is built on a nicely painted steel chassis covered with a removable aluminum wrap well finished in semigloss black. Inside, a toroidal transformer is concealed by a polished-metal enclosure, presumably for shielding, next to which a power-supply board is home to voltage regulators—heatsinked to the rear of the chassis—and some especially robust-looking resistors and other bits. On a separate digital-input board are the player's Wolfson WM8741 DAC chip, which can process signals of up 24/192 resolution, and USB and S/PDIF receiver chips, among various supporting ICs and passive parts.
The largest of the Acute Classic's various subassemblies is its analog output board, which contains a stereo pair of custom-wound output transformers, as well as an upright subboard containing two ceramic tube sockets—and the ECC88 (6DJ8) dual-triode tubes used to amplify the output signal. EAR's manual describes these tubes as not being replaceable by the user, notwithstanding the relative ease of removing the case: "Replacing valves yourself will void your warranty."
In keeping with EAR tradition, the Acute Classic's front panel is chromed and polished to a mirror finish. On the panel's right-hand side are an LED screen—it displays track information and, for the digital inputs, playback resolution—and a sizable volume knob, also chromed: EAR suggests that their new player can be used to directly drive a power amplifier. One assumes that those output transformers play a major role in buffering the player's analog output signal for such installations.
On the left side of the front panel are a ¼" stereo headphone jack, the disc tray, and the five buttons found on most CD players: Open/Close, Stop, Play/Pause, Previous Track, Next Track. A sixth button toggles between CD playback and the digital inputs: USB (24/192), S/PDIF coaxial (24/192), and S/PDIF optical (24/88.2), respectively addressable by the rear panel's USB Type-B, RCA, and TosLink jacks. Also on the rear panel are one pair each of single-ended (RCA) and balanced (XLR) output jacks. (I used only the former.) An aluminum-and-plastic remote-control handset duplicates the front-panel controls.
Installation and setup
Notwithstanding EAR's suggestion that the Acute Classic can drive the user's power amplifier(s), I began by using the player in place of my well-worn and slightly crotchety Sony SCD-777ES SACD/CD player, in my usual system of Shindo Laboratory Masseto preamp and Haut-Brion power amp, driving Auditorium 23's Hommage Cinema as well as my vintage Altec Flamenco loudspeakers. Speaker cables were Auditorium 23, interconnects were Shindo and Audio Note, and power cords were Luna Cables and the manufacturers' own stock cords.
To test the Acute Classic's USB-addressable DAC, I used an AudioQuest Carbon USB link to connect the EAR to my Apple iMac (running OS 10.7.5). I then used the sound-output utility of my Apple iMac to select the EAR as a streaming destination; my iMac recognized the Acute Classic as "xCORE USB Audio 2.0 Output."
When I used the Acute Classic with appropriate playback software (in this case, Audirvana v.1.5.12), its display accurately reported the resolutions of every file I tried: eg, selections from the high-resolution download of the Rolling Stones' Out of our Heads showed up as 176.4kHz (ABKCO); the (slightly less) hi-rez download of Valentina Lisitsa Plays Philip Glass showed up as 96kHz (Decca 002277502); bog-standard "Red Book" files showed up as 44.1kHz.
---
Footnote 1: Oh, all right—it was mine.