Constellation Comes Nearer to You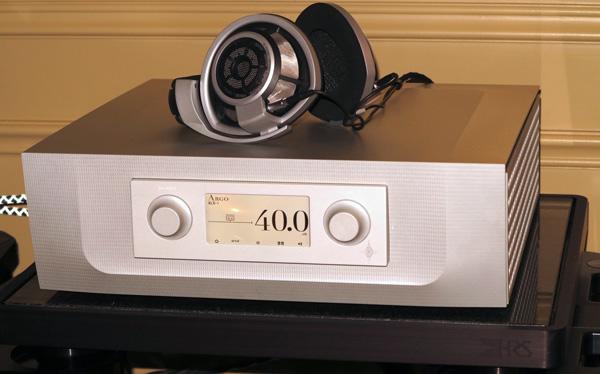 Trickle-down theory may not work on the economic front, but it sure seems to apply to Constellation Audio's prestigious products. After a very high priced launch, the company has slowly introduced lower-priced products. Most exciting is the arrival of the Argo 125Wpc integrated amplifier ($20,000, above), whose price is one-third that of the Virgo preamp and Centaur amp. With four inputs (two balanced), a preamp output that can run headphones, and two slots in back for optional, not-yet-available phono and DAC cards, the Argo will ship by February.
With Constellation Audio's Cygnus Media player and new Argo driving Magico S5 loudspeakers via Wireworld Equinox series speaker cables and Platinum Eclipse interconnects, the Constellation system delivered maximally neutral, engaging sound on the "Zither Carol" from the well-worn Cantate Domino recording. (I know there's good new classical music and jazz out there; it's time we heard more of it.) After far too many systems that exhibited overly sweet, unnaturally euphonic sound, I took a deep breath and settled in to the music with fear of sudden insulin spikes. What a relief!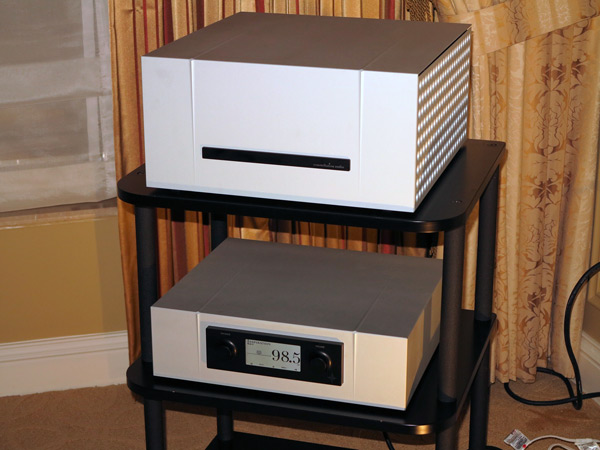 In the company's adjacent "back room," members of the press were offered a tantalizing preview of Constellation's forthcoming entry-level Inspiration line. Product names are TBD, and the two-tone finish shown above is not the anodized silver finish expected to appear in the U.S., but the $7500 price tags for the Inspiration amplifier (top) and preamplifier (bottom) are welcome news indeed.
"These have almost exactly the same circuitry as the far more expensive Virgo and Centaur, but distilled—not diluted, distilled—down to the essence," says the company's Peter Madnick. "They sound amazing." Expect production units at the Munich Show in May. Anyone have a spare airplane ticket to Germany so I can learn if they sound as amazing as the higher-priced Constellation products I've already heard?