Coincident Speaker Technology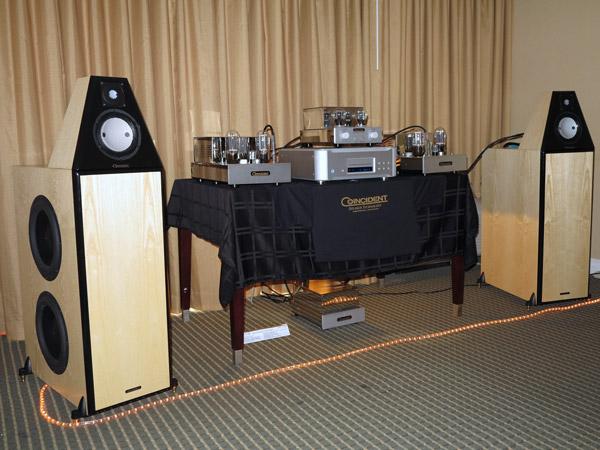 Finally, after encountering Israel Blume and his wife in the gym at several shows, I got a change to hear the Coincident speakers and electronics that have garnered so much praise in multiple publications. Although I may not have heard the system at its best—a discussion with Israel during a serious morning workout revealed that his tube sound was fluctuating from clear to soft, depending upon where the Hilton's voltage was at any particular moment—I found the sound a bit warm and opaque, but remarkably extended on the low end.
"Coincident's sound is light years ahead of the sound of a lot of the lower-priced components I've heard," I wrote in my notes. I only wish I could have returned to the room when the electricity was allowing the equipment to perform at its peak.
Doing the honors were the Coincident Speaker Technology Statement line stage preamp ($5499), Dragon Mk.II 211PP monoblock amplifiers ($10,999/pair), Frankenstein M300B monoblock amplifiers, and Pure Reference Extreme speakers ($26,800/pair). Also on hand was an Esoteric K01 CD/SACD player ($21,000). Note that Coincident's Pure Reference Extreme loudspeakers have a claimed 94dB sensitivity, and a frequency range of 20Hz–35kHz.