Changes at Thiel
Following the
sale of Thiel
and the departure of the Kentucky company's cofounder Kathy Gornik at the end of November 2012, the Thiel display at the Sands Convention Center was packed. It was also reassuring to see many of the company's long-term employees on hand, confirming the new CEO Bill Thomas's commitment to preserving the brand's ethos.
In the dem room, I auditioned the new CS2.7, which combines the coaxial HF/MF unit from the well-regarded CS3.7 with a hard-anodized woofer loaded with an elliptical passive radiator. Run full-range, but assisted below 35Hz with a pair of SS-2 subwoofers and driven by Bryston amplification and the Canadian company's new BDA-2 media server, the sound on a Bill Frisell recording was rich and clean. The distinction between the similarly pitched electric bass and double bass on one of Brian Bromberg's tributes to Jaco Pastorius was well-preserved.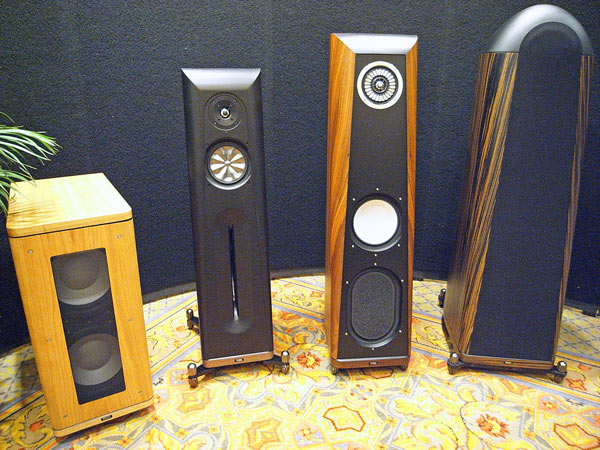 Shown in the photo are Thiel's current high-performance line-up (from left to right): The SS-2 powered subwoofer, the new CS1.7 ($5490/pair), the CS2.7 ($8900/pair), and the CS3.7 ($13,900/pair). The CS1.7 is scheduled to ship in February, and combines a version of Thiel's "wobbly-web" woofer, loaded with a slot-shaped port, with a 1" metal-dome tweeter.