Capital Audiofest—Day Two Early Afternoon
Lunch and live music both over, it was time to head back to the exhibits. First stop on the third floor was one of the rooms from Metro Washington DC retailer Command AV, featuring DeVore Fidelity's Orangutan/96 speakers ($12,000/pair). Combining the unorthodox coupling of a 1" silk-dome tweeter with a 10" paper-cone woofer in a stunningly finished, wider-than-it-is deep enclosure, the O/96 offers a equally stunningly high sensitivity of 96dB/W/m. I had heard the O/96s at Artie Dudley's a couple of weeks back and was impressed by how the O/96 matched the midrange magic of vintage speakers while adding things I deem essential, like highs and lows. The speakers sounded as good at CAF as they had in upstate NY, both speakers and room stepping out of the way of the music on the Ray Brown/Duke Ellington duo LP
This One's For Blanton
.
It was only after the LP had ended and I was commenting on the excellent reproduction of Brown's double bass, regarding both power and response, that Tone Imports' Jonathan Halpern revealed that the Line Magnetic 2101A integrated amplifier driving the DeVores offered all of 7Wpc from its single-ended 300B output tubes! The rest of the system included a VPI Classic 3 turntable with an Ortofon Cadenza cartridge, a Leben phono preamp, and Auditorium 23 cables.
Swap Meet Audio is the name of a new NY retailer, which aims to maximize on customer service. Their room at CAF featured the Australian Lenehan Audio S2R speakers ($3450/pair), driven by Arion amplification, both brands new to me. The sound in this room was more spacious than I had anticipated—then I saw the BSG Signal Completion Stage ($3995). I wrote about this analog-domain device in my report from June's Newport Beach Show and I refer you to that report for my thoughts. The first evening of the Show I got an email from BSG's Larry Kay to let me know that review sample had been shipped to me. We shall see how it fares in my own listening room.
Art Dudley had been impressed by the Robert Lighton Audio speakers ($20,000/pair) at April's New York Show, which use reclaimed teak or West Indian Mahogany enclosures and a 1" fabric-dome tweeter and 10" paper-cone woofer. I hadn't heard these high-sensitivity speakers in New York, so I made a point of going in their room at CAF. With the speakers driven by AudioNote electronics, and front end a Thorens TD-124 turntable, Ella Fitzgerald's voice sounded darker than I am used to. Rich and creamy, yes, but too rich and too creamy.
Okay, I knew ahead of time that going into the Mapleshade room, I was going to be presented with things beyond my understanding. But CAF 2011 hadn't prepared me for what I would see and hear at CAF 2012: a pair of Gallo speakers "deconstructed," with cables suspended everywhere and the woofer modules pointing away from the listener. Initially I was sitting to the right of the center seat and I was bothered by what sounded interference from the next room. There was a double bass playing but it didn't have any connection with what I was hearing mostly from the right speaker. Then I took over the center seat and darned if the double bass interference was actually coming from the left channel! This system offered so little correlation between the two channels that it was almost as if you were listening to two different recordings played at the same time.
I know Mapleshade's Pierre Sprey to be a careful listener who pays fanatical attention to detail both in his recordings and in his system set-up. And I have always said that the proof of crazy-looking tweaks is in the listening. But in this case the listening let the tweaks down. I desperately needed something more conventional to listen to, so I headed down the corridor to the first of the two rooms set-up by Pennsylvania dealer The Voice That Is.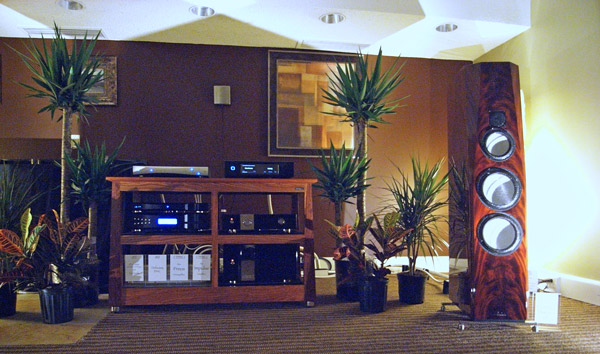 There, in a system featuring Tidal Contriva Diacera SE speakers ($58,190/pair) driven by Tidal Impulse solid-state amplifiers ($32,990/pair), a Tidal Preos full-function preamp ($28,990) via Argento Flow and Flowmaster Reference cables, with source an Aurender S-10 music server ($6995) and a dCS Debussy DAC ($11,499), I heard a presentation more in line with what I expect from a high-end audio system: an even balance from the deep lows to the top audio octave, with a stable, well-defined soundstage, a tonal and spatial coloration-free view into the recording. Nina Simone was in the room with me, wrenching the pathos from "Nobody." José Carreras came in to sing Misa Criola. Mel Tormé joined us. This is what I am talking about! No tweaks, no audiophile craziness, just the music, as big and deep and wide as the performers intended it to be.
The Voice That Is's second room pulled off the same trick, this time with Audio Power Laboratories' new 50TNT tube monoblocks ($47,500/pair) driving the smaller Tidal Piano Diacera speakers ($37,690/pair), again with a dCS/Aurender source, but now with a Purity Audio Design "Silver Statement" preamp ($19,995) and Purist Audio 25th Anniversary cables. (Though there was a Bricasti M-1 D/A processor in the room, it wasn't in use during my visit.)
Moving on down the third floor's corridor, I went into the AudioNote UK room, this idiosyncratic brand almost always managing to make music at Shows. CAF was no exception, the corner-mounted AN-E SPE/HE speakers ($9500/pair) working with the room rather than against it. Whereas the double bass in the Mapleshade room had sounded disembodied and phasey, the same instrument in this room sounded physically present.
The AudioNote speakers were being powered by this Meishu Phono Silver Signature integrated amplifier, which uses 300B output tubes and is priced from $8000 to $20,000, depending on options. Source was the AudioNote CD4.1x CD player that caused my measurement eyebrows to raise in the July issue.
Going back into the corridor, I was drawn by the sound of a familiar recording, the Istvan Kertesz performance of Dvorak's "New World" Symphony on Decca/London emanating from the second Command AV room. This featured Joseph Audio Perspective floorstanders ($11,800/pair), the bigger brother to the Pulsar bookshelf that had so impressed Michael Fremer in our June 2012 issue. Driven by Bel Canto Ref500 monoblocks, with the source a Bel Canto e.One DAC3.5 hooked up to a prototype of a new Bel Canto high-resolution USB interface, with XLO Ref 3 cables throughout and with power conditioned by a new Audience AdeptResponse, the sound in this room was all I could wish for. No audiophile tom-foolery, just solid audio engineering in the service of the music.
There were flyers all over the hotel for GT Audio Works' GTA 2 speaker ($2995/pair including two powered subwoofers). "Handcrafted in Stockholm, New Jersey," this speaker combines a ribbon tweeter with a planar-magnetic midrange and two 8" dynamic woofers in a sealed enclosure. Demmed with Bryston CD player and amplification, the sound was promising, but I suspect the design needs some more fine-tuning before it is ready for prime time.
The combination of high-sensitivity Sonist Concerto 4 speakers ($5895/pair) and the 5Wpc Glow Audio Amp One integrated tube amp ($648) has produced good sounds at earlier shows and CAF was no exception, hooked up with Snake River cables and fed from a Cary CD306 player and a deHavilland tubed preamp. The illumination of the amp's volume control changes color according to the signal level, which could be a bit disconcerting, but the sound of a cello and piano CD sounded plenty dynamic.
The Snake River Audio cables come from Idaho and feature a hybrid recipe of 24K gold, pure silver, and oxygen-free, high-density copper. Although my photo doesn't do the speaker cables justice, they are also stunning-looking, shimmering in purple and blue.