BorderPatrol Digital to Analogue Converter SE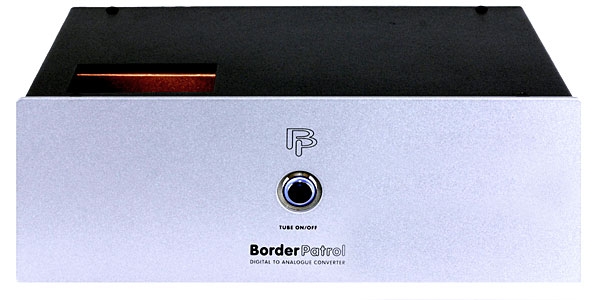 The trouble with a classicist he looks at the sky
He doesn't ask why, he just paints a sky
—John Cale and Lou Reed, "Trouble with Classicists," from
Songs for Drella
Left brain/right brain, yin/yang, male/female, Apollonian/Dionysian, classical/romantic, painterly/linear, dark/light, hard/soft, warm/cool...I use these contrasting adjectives in my reviews because I feel some confidence in their ability to convey the nature of what I experience while listening to recordings with whatever new audio box sits before me in the listening studio.
I also use: accurate (I hate that word), neutral (what's that?), colored, clean, transparent, open, musical. Sadly, I have little confidence in their ability to describe my experiences.
The best I can do is tell you where the review component directed my attention, what it sounded like, and what thoughts and feelings occurred as I listened to my music.
If one of these is right...
Today I'll need every good metaphor and precise adjective I can think of to describe BorderPatrol Audio Electronics' fully optioned Digital to Analogue Converter SE ($1850). The BP DAC is an outlier: a 16-bit, R-2R, non-oversampling (NOS), DAC designed around the ancient and discontinued Philips TDA1543 converter chip—which, I can assure you, is unlikely to earn high marks on John Atkinson's test bench. (I asked JA not to say "broken" or "obsolete"—he must think of a kinder word.)
The BP DAC is at the opposite end of the spectrum of engineering and audio beliefs from such contemporary sigma-delta (eg, ESS Sabre ES9028PRO)–based machines as Benchmark's DAC3 HGC ($2195), which received JA's highest praise: "Benchmark's DAC3 HGC offers state-of-the-art measured performance. All I can say is 'Wow!'"
Well-heeled fans of Benchmark's rigorous measurements-oriented design favor such loudspeakers as TAD's Compact Reference CR1 ($37,000/pair; matching stands, $3600/pair), of which JA said: "Summing up the measured performance of the TAD Compact Reference CR1 is easy: This is textbook behavior!"
Well-heeled fans of BorderPatrol DACs are more likely to purchase Volti Audio's fully horn-loaded Vittora loudspeaker ($25,750/pair), or Volti's more affordable horn-bass reflex hybrid, the Rival ($7900/pair), which caused John to throw up his arms in despair: "I hate it when an audio writer says, 'Listen for yourself'—but in the case of the Rival, that's all I can say."
BorderPatrol's founder, a tall, British-born contrarian named Gary Dews, designed the DAC and manufactures it in Waldorf, Maryland. He says his goal is to make "a refined human sounding converter."
Description
To make his "human-sounding converter," Gary Dews chose a simple, two-channel, 16-bit TDA1543 chip created by Philips in the 1980s for use in their lower-priced CD players. In the 1990s, Mission, Arcam, 47 Laboratory, and Audio Note, among others, used this chip in their in upmarket DACs. The TDA1543's eight-pinned simplicity makes it a longtime favorite with DIYers and small audio manufacturers predisposed to creating affordable, low-parts-count products capable of natural, unaffected sound.
The BorderPatrol DAC has no digital filters, oversampling, or upsampling. Its output is taken directly from the chip via Uptone Audio discrete film and foil capacitors, with no buffering. The DAC's output impedance is thus relatively high and should be used with preamplifiers having an input impedance of at least 20k ohms. The BP's USB input is asynchronous and uses a C-Media CM6631A chip. Its coaxial (RCA jack) S/PDIF input uses a Texas DIR9001 chip. The analog output is approximately 2.0V RMS.
Most DACs use generic switch-mode power supplies. For their part, Benchmark says their switch-mode supplies are quieter and therefore better than linear power supplies. In contrast, the BP DAC SE has an old-school linear supply that, uniquely, uses two power transformers (wired in parallel) to feed an EZ80/6V4 tube rectifier, paralleled with high-speed, low-noise diodes.
At this point you might want to ask why BorderPatrol chose an expensive, possibly noisy, tube-rectified, choke-filtered, linear power supply. Why not a quieter, more modern switch-mode type—like Benchmark's? I ask you to consider this because my experience of building amplifiers suggests that the overall sound character of any given audio amplification device is determined mostly by the design of its power supply.
An illuminated button on the faceplate allows the BorderPatrol's tube rectifier to be switched in and out of the circuit, thereby altering the unit's basic sound. (When the tube was switched off, the DAC sounded more solid-state stiff and firm. When the tube was switched on, soundstages were bigger and voices more breathy and colorful—like tubes.) This unusual and expensive form of rectification feeds a high-inductance choke input filter.
The BP DAC measures only 8.9" wide by 3.1" high by 6.8" deep, and except for its aluminum faceplate, its chassis is made of pure copper. Next question to consider: Why use heavy, expensive copper?
BorderPatrol's standard DAC S costs $995 and comes with the customer's choice of a USB or S/PDIF input. Supplied with both inputs, it costs $1495. For this review, I requested BorderPatrol's DAC SE, which costs $1350 with one input or $1850 with both, and has the tube rectifier, twin power-supply transformers, plus ELNA Cerafine power-supply capacitors and film and foil signal capacitors.
Setup
Because this month is all about DACs (see, elsewhere in this issue, my Follow-Up on Schiit Audio's Yggdrasil DAC with Analog 2 and Gen 5 USB upgrades), I kept my reference system constant: Each DAC fed a Pass Laboratories HPA-1 line-level preamplifier/headphone amp and XA25 power amp driving Harbeth M30.2 loudspeakers Blu-Tacked to 24"-tall Sound Anchor stands.
My Mac mini computer was connected to the DAC SE via an AudioQuest Cinnamon USB link and, toward the end of my listening, an iFi Audio iGalvanic3.0 USB isolator and Mercury3.0 USB link.
Letting synaesthetic associations occur
If your audio system reproduces opera recordings with intoxicating vocal timbres on spacious, detailed soundstages, it is definitely a high-quality system. Unfortunately, most hi-fi systems—including many expensive ones—make opera sound screechy, annoyingly flat, and fatiguing. This is why, at audio shows, you hear more Rebecca Pidgeon than Kirsten Flagstad. The BorderPatrol DAC SE was obviously designed to play opera. It let Kenneth Wilkinson's recording of Birgit Nilsson singing Beethoven's concert aria Ah, Perfido!, from Birgit Nilsson Sings German Opera, with Edward Downes conducting the Orchestra of the Royal Opera House, Covent Garden (16/44.1, Decca/Tidal HiFi), show me a vibrating universe of human expression. Through the DAC SE, German opera uplifted my spirit, my body, my senses. It delivered Nilsson's vocal tones, the sublime texture of her voice, with absolute Schönheit. The BP DAC put the bug in me: I'm still bingeing on Birgit.