BorderPatrol Digital to Analogue Converter SE Measurements
Sidebar 3: Measurements
I measured the BorderPatrol DAC SE with my Audio Precision SYS2722 system (see the January 2008 "As We See It", using both the Audio Precision's S/PDIF outputs and USB data sourced from my MacBook Pro running on battery power with Pure Music 3.0 playing WAV and AIFF test-tone files. Apple's USB Prober utility identified the DAC SE as "USB2.0 High-Speed True HD Audio\000" from "C-MEDIA Inc.\000," its serial number as "0 (none)," and confirmed that its USB port operated in the optimal isochronous asynchronous mode.
BorderPatrol specifies the DAC SE as operating with data sampled at up to 96kHz. Apple's AudioMIDI utility revealed that, via USB, the BorderPatrol DAC SE accepted 16-, 24-, or 32-bit integer data sampled at all rates up to 384kHz, and that its coaxial inputs accepted PCM datastreams with sample rates up to 192kHz. However, with sample rates greater than 96kHz, the right channel was reproduced 9dB higher than the left! Do not attempt to play high-sample-rate data with this DAC. BorderPatrol also states, correctly, that the DAC SE will play Tidal Masters streams, which are sampled at 44.1 or 48kHz and are MQA encoded. However, it will not unfold the MQA encoding.
The BorderPatrol DAC SE's maximum output level at 1kHz was 1.87V, which is 0.6dB lower than the CD standard's 2V. The output impedance was very high, at 2.3k ohms at 1 and 20kHz, rising to 5.8k ohms at 20Hz. This DAC needs to be used with a preamplifier having an input impedance of 50k ohms or higher if the low frequencies are not to sound lightweight.
The outputs inverted absolute polarity, and the BorderPatrol's impulse response with 44.1kHz was a perfect inverted pulse (fig.1; ignore the tiny amounts of pre- and post-ringing, which are due to the SYS2722's anti-aliasing filter operating at a sample rate of 200kHz). As there is no digital reconstruction filter, with white noise sampled at 44.1kHz (fig.2, magenta and red traces, footnote 1) there was a slow rolloff above the audioband, disturbed by nulls at 44.1 and 88.2kHz. Consequently, the aliased image of a 19.1kHz tone at –3dBFS (cyan and blue traces) was hardly suppressed at all. I usually use a full-scale 19.1kHz tone for this test, but the BorderPatrol DAC dumped a lot of aliased image energy into the audioband with this signal, and the noise floor was higher than expected.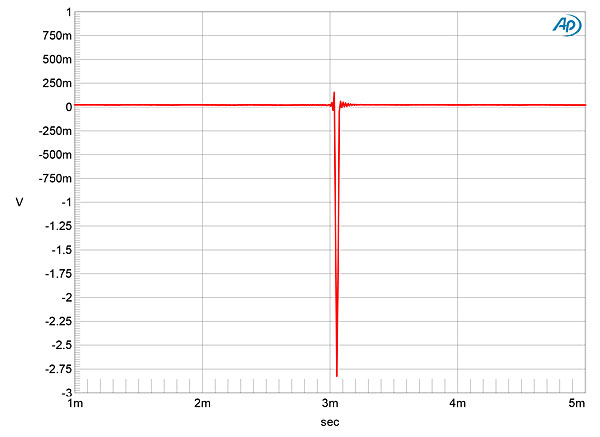 Fig.3 shows the BorderPatrol's frequency response at 44.1 and 96kHz sample rates. The output is down by 0.5dB at 12Hz and 20kHz with 44.1kHz data, and the top-octave response doesn't extend much higher in frequency with 96kHz data. The DAC SE's channel separation was disappointing, at 52dB L–R and 55dB R–L from 100Hz to 1kHz, and only slightly greater in the treble. The low-frequency noise floor was free from any power-supply–related spuriae (fig.4), but this was perhaps because the noise floor rose as the signal level approached 0dBFS (see later). This graph and the others were taken with the tube rectifier active; I repeated much of the testing with the tube bypassed using the front-panel button, but there were no significant differences.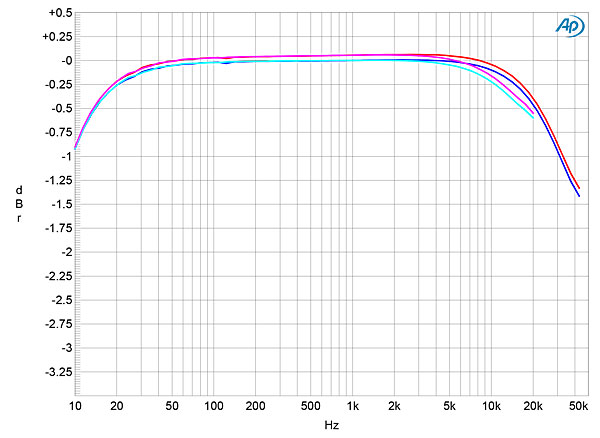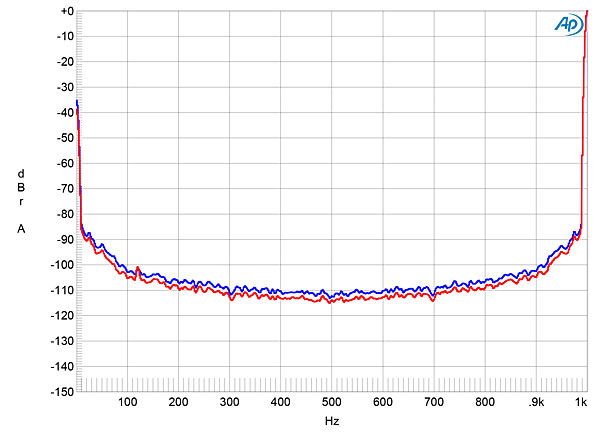 As with other non-oversampling (NOS) DACs I've measured, the 1kHz waveform on my oscilloscope was stepped rather than smooth. A relevant problem with resistor-ladder DACs is the linearity error: Will a digital signal at, say, –80dBFS be reproduced at the outputs by an analog signal the same 80dB down from full level? When I examined the BorderPatrol's linearity, the left channel (fig.5) performed significantly differently from the right channel (fig.6). As the 1kHz tone drops below –60dBFS, the right channel has an increasingly positive amplitude error; ie, the level of the reconstructed analog signal is too high, reaching +5dB at around –90dBFS. By contrast, the left channel suffers from an increasing amount of negative amplitude error as it drops below –60dBFS.
I had seen this exact behavior before. A quick search of the equipment-review archive on Stereophile's website found a product that exhibited identical measurements: the HiFiMan HM-602 digital audio player, which Stephen Mejias reviewed in May 2011. It came as no surprise to see that the HiFiMan player used the same Philips TDA1543 DAC chip. The TDA1543 is a low-cost DAC that can be powered with a 5V supply—hence its use in a portable player—and has buffered outputs rather than the usual current sources, which is why BorderPatrol can use it without a separate output stage.
The TDA1543 is a 16-bit part; while increasing the bit depth from 16 to 24 with a dithered 1kHz tone at –90dBFS lowered the noise floor by 7dB or so (fig.7), the relatively high levels of odd-order harmonics in the 24-bit traces (blue and red traces) indicate that this DAC chip truncates data with a bit depth greater than 16. This graph also confirms the differences in how the two channels handle 16-bit data: the left channel (green trace) has insufficient energy at 1kHz, the right (magenta) too much. With undithered data representing a tone at exactly –90.31dBFS (fig.8), it can be seen that the DAC starts to act as a frequency doubler at low levels. It pumps energy into a tone an octave higher (hence the high level of second-harmonic distortion in fig.7) and, as it does this, reduces the level of the fundamental.
The BorderPatrol DAC SE had problems at high levels, even into the Audio Precision's benign 100k load impedance. There were high levels of distortion with a full-scale 50Hz tone (fig.9), with the third harmonic the highest in level at an audible –43dB (0.7%, footnote 3), and significant levels of many other harmonics. Dropping the level to –3dBFS into 100k ohms (fig.10) reduced the level of the third harmonic to –67dB (0.045%), and the second harmonic is now the highest in level, at –57dB (0.14%). Further reductions of the signal level preserved the levels of the second and third harmonics. This distortion might not be audible at typical levels of recorded music (footnote 2), but peak transients will be accompanied by bursts of distortion.
The poor ultrasonic rejection visible in fig.2 resulted in a multitude of aliased images in the audioband with a full-scale mix of 19 and 20kHz tones (fig.11), and reducing the signal level by up to 6dB (fig.12) produced only a slight change in the number of images. Fortunately, music rarely has significant energy toward the top of the audioband. Figs. 11 and 12 also indicate that actual intermodulation distortion is relatively low, the 1kHz difference product lying at –64dB (0.06%).
When I tested the BorderPatrol DAC SE for its rejection of word-clock jitter using undithered 16-bit J-Test data, both the noise floor and the odd-order harmonics of the low-frequency, LSB-level squarewave were much higher than they should have been (fig.13). (The correct levels are indicated by the sloping green line.) This behavior was identical when I repeated the test using the USB input. I suspect that this behavior is due in part to noise modulation: as the signal level rises toward 0dBFS, the noise floor rises also.
The BorderPatrol Digital to Analogue Converter SE's measured performance is dominated by its use of the underperforming TDA1543 DAC chip. Google indicates that the current price of this chip is between $4 and $6, depending on the quantity purchased; I would have expected a D/A processor costing $1850 to have used a better resistor-ladder chip. However, it is fair to note that Philips's much-better-performing TDA1541 DAC, long discontinued, currently costs around $140 each for the basic version, and up to $299 for the premium S1 Crown version—prices too high for that chip to be used in BorderPatrol's DAC SE.—John Atkinson
---
Footnote 1: My thanks to Jürgen Reis of MBL for suggesting this test to me.
Footnote 2: Stereophile's Test CD 2 has tracks where you can listen for yourself how audible different amounts of second, third, and seventh harmonics are. Click here for details.