Ayre's New Preamplifiers
Shipping by the end of January, Ayre's new KX-R Twenty preamplifier ($27,500) is a complete redesign of the KX-R that was introduced in 2008. Among the new baby's features: a completely new "Ayrelock power supply" with twice the capacitance as of old, an optimized Equilock gain stage and Diamond output stage, significant part upgrades in all critical areas of the audio circuit, and, of course, "proprietary tweaks." Also playing in the system, which featured Vivid Giya G1 speakers, were the forthcoming MX-R 20 20th Anniversary monoblock amplifiers. There is as yet no retail price, as the parts are being finalized over the next two weeks.
The prototypes I heard were finished but a few hours before the show began, and were not sufficiently broken in to allow fair sonic assessment. Only the transformer and chassis remain from the old MX-R; the "Double Diamond" output stage is new, and was first seen in the AX-5 integrated amplifier, reviewed by Art Dudley in August 2013. It is claimed to generate a more neutral sound.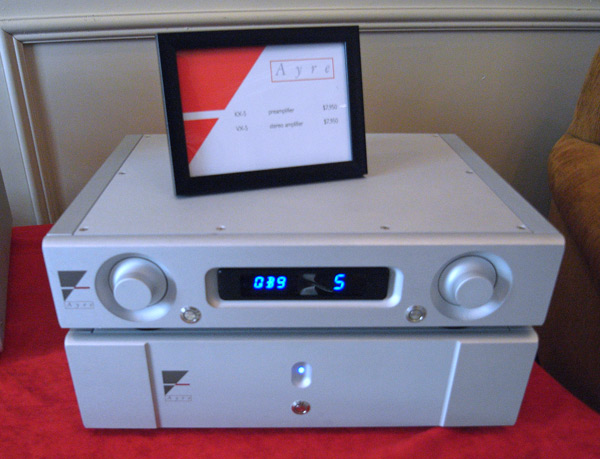 On passive display was the Colorado company's new KX-5 preamplifier (top), which matches the VX-5 amplifier (bottom), will cost the same $7950, and looks like the AX-5 ($9950).