AudioVision SF's Brand New Store
What a difference a change of location can make! What was originally a major challenge—
AudioVision SF
, one of the country's major dealerships, literally had the rug pulled out from under them by their landlord last spring, and
needed to raise money
and scurry to a new location—has turned into a major opportunity: a spanking new venue, whose main listening room sounds much—that's
much
, as in
much
—better than before.
At the store's grand opening party, held in the midst of the California Audio Show, AVSF co-owner Antonio Long (above) explained that the store's architect, Jeff Burris of Studio12 Architecture in San Francisco, placed an air gap between each wall, and floated the ceilings. He also used prime number variables to create room dimensions. Each room dimension is a prime number so it doesn't reinforce any one frequency. Jeff Burris also came up with the idea of covering hallway walls with felt in order to differentiate their acoustic from that of the rooms. "The felt idea was an ear trick," explained Burris. "The felt would collapse the acoustic space of the hall, but your soundstage would 'open' when you entered the listening rooms." Both ideas certainly worked, making possible serious listening in the midst of a buoyant, well-lubricated opening night fest.
This is not to say that the store's three listening rooms, differentiated by gold lettering that metaphorically equates the price/performance ratio of each room to a journey to sonic nirvana, are anything less than jam-packed with equipment. AVSF's infamous Avenue of the Loudspeakers remains, as do enough equipment racks and shelves of equipment to fill two stores or more. Curiously complemented by trendy steampunk décor that, during set-up, threatened to annihilate both distributor Kevin Wolff of VANA Ltd. (above) and his gear, the store makes quite a statement about how much you can possibly cram into a single space.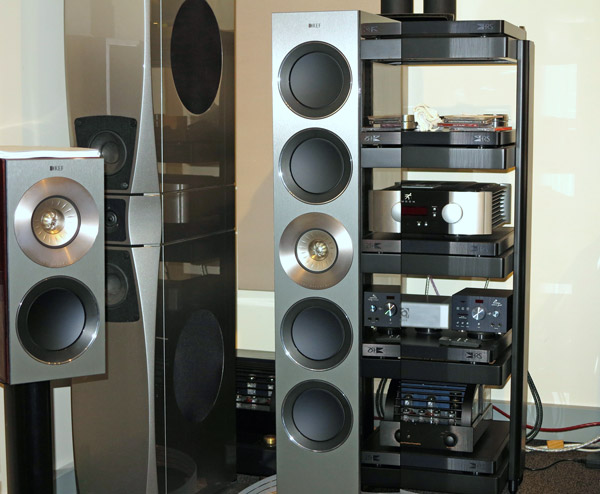 One of the highlights of the opening was the US premiere of KEF's Reference Series loudspeakers. Demmed by Phil Jackson, California sales manager for KEF and Celestion, the top-of-the-line KEF Reference 5s ($18,000/pair), with its son-of-the-Blade Uni-Q driver array, sounded mighty impressive through a warm, smooth, and shiny-sounding Devialet D-800 amplifier ($30,000), PS Audio Perfect Wave Transport, and Nordost Odin Supreme Reference cabling and power treatment. Even with little room to breathe behind and to one side, and far too close to the first row for ideal imaging, the speakers made music on tracks from Gillian Welch, Rickie Lee Jones, and the strange bedfellows duo of Conway Twitty and Sam Moore.
On more challenging music, the KEF Reference 5 gave Reference Recordings' superb version of Copland's Fanfare for the Common Man a run for its money in the percussion department. Once past the opening night festivities, when AVSF can give these speakers more room, and room tuning is complete, I expect the new Reference Series to really sing. Expect production models to ship end of September.
Beyond the store's other premieres, including the Dali Rubicon 6 loudspeakers heard at the California Audio Show a couple of weeks back, one of the evening's highlights was a spot-on presentation by Nordost rep Michael Marko. In his last West Coast appearance before shifting territory to the Midwest where he lives, Marko went far beyond the expected—"The best cable loses as little signal as possible"—to the totally subversive.
Turning on its ear everything that the anti-cable monger brigade wishes to hear, Marko declared, "Good cabling is the foundation of any system, along with proper power and ground distribution and resonance control. Without these foundation elements, you'll never get the full benefits of any component that comes after them, let alone world-class sound. Making the right connections between your components is the only way you'll get back what you paid for them. The cabling comes first." Switching to flag-waving mode, he also pointed out that Nordost uses the best dielectric possible: good old American air."
Congratulations to Long, his girlfriend, Star Roth, and AVSF co-owner Randy Johnson for taking the time to do it right. Given that the old AudioVision SF location served as the major West Coast dealership for several brands, I can only imagine that the new AVSF, with its far better sounding showrooms, will benefit audiophiles and industry alike, and raise sales to new heights.