Audioarts: Zellaton, Robert Koda, CH Precision, Trinity, and more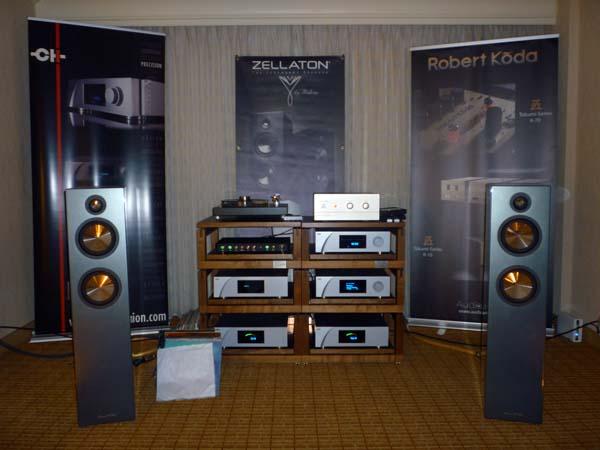 I've come to expect nothing but great and interesting music from Audioarts' Gideon Schwartz. I walked in to Dead Can Dance's
Spirit Chaser
, and, though the volume was much lower than that heard in most other rooms, the music was nevertheless engaging and in many ways more inviting: smooth and detailed, with exceptional image focus and superb stage balance.
Schwartz explained that Zellaton's new Grand "Purist Version" loudspeakers ($49,750/pair), with Dueland custom-cast passive crossovers, delivered the tightness, focus, and purity he most values in music playback, while Robert Koda's K-10 preamp ($31,000) "captures tube beauty without sacrificing solid-state speed."
Other components in the system included CH Precision A1 monoblock power amplifiers ($74,950/pair); CH Precision C1 DAC ($32,975) with Ethernet streaming board ($4950), USB input board ($3975), and X1 power supply ($14,975); CH Precision D1 CD/SACD player ($37,750); and Holborne Analog 2 MkII turntable ($13,225) with Jan Allearts MC Finish cartridge (TBA), driven by the versatile Trinity phono preamp ($34,750; and, according to Michael Fremer, one of the most dynamic-sounding phono pres he's ever heard). Cables were van den Hul and racks were Audiostrata Exclusive for Audioarts.
I exited with Wild Beasts' "Bed of Nails," which was reproduced with the most compelling combination of detail and warmth I think I've ever enjoyed.