Audio Research SP20 preamplifier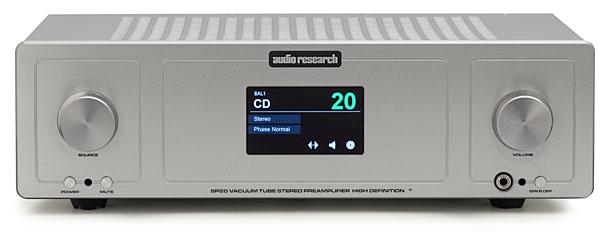 When I began my journey into audiophilia, I was in awe of the Audio Research Corporation's flagship SP preamplifiers. As I sat there in the early 1980s with my modest Apt Holman preamp, all of my friends had ARC SP6Bs. By today's standards, the SP6B was colored, did not portray a realistic soundstage, and lacked sufficient gain to amplify the low-output moving-coil cartridges of the day. But it had an intimacy in the midrange that was intoxicating. (Still considered a classic design by many, the SP6B's price on the used market has remained virtually unchanged for 30 years.) Then, still in the early '80s, ARC raised the bar with the
SP-10
($3700). It had 15 tubes and an outboard power supply, and set a new standard for delicacy, drama, and authority. (John Atkinson still has the SP10 he bought in 1984.)
I jumped into the Audio Research lake in the late '80s with the SP10's successor: the hybrid, dual-power-supply SP11 Mk.II, which I used as my reference for over five years. It had all the strengths of the SP10, but without the '10's occasional problem of tube noise when amplifying low-output MCs. In the beginning of the 21st century, as CDs replaced LPs as the primary audiophile source format, ARC focused on line stages, and began to use the SP prefix for their entry-level tubed preamps, some of which were available with $500 add-on phono stages. The message was: CD is now the primary source medium; LP capabilities are an afterthought. ARC's flagship preamps were now part of the Reference Series, and were line-stage only.
But in recent years ARC's customers, dealers, and distributors have clamored for a phono-based tube preamp a notch or two above entry level. Not only has vinyl returned as a (if not the) primary audiophile source format, but the audiophile market has moved toward simplicity. Integrated amps have become more popular, and one-box CD players have eclipsed separate disc transports and DACs as the primary component type for playing CDs.
So Audio Research set out to make the best-sounding, phono-stage–based tubed preamplifier they could cram into a single housing of standard size. They laid out on one large, main board some phono and line-stage circuits they liked, and updated those circuits with new parts, new wiring, and a new transformer.
The SP20
The result is the SP20 ($9000), a fully balanced, pure class-A preamplifier that uses no overall loop negative feedback. It has seven levels of voltage regulation, and its line and phono stages each include low-noise JFET inputs and two 6H30 output tubes. The phono stage provides 58dB of gain, which makes it compatible with most low-output MC cartridges. In addition, for the first time on a preamp, ARC has included a ¼" headphone jack. Nor is the SP20's headphone amp an afterthought—it takes advantage of the SP's entire line stage by routing the output signal through an impedance buffer into the headphone jack; a switch toggles the preamp output between the headphone output and the main speaker output.
The SP20's physical appearance combines old and new. The faceplate with two large knobs evokes the look of the classic Audio Research designs of the early 1970s. There are also controls for input selection, volume, power, mute, and the headphone/speaker toggle. Unlike the ARCs of 40 years ago, the SP20 also has a touchscreen, similar to that found on the company's flagship Reference 10 line stage ($30,000). This indicates input name, monitor input, volume, stereo or mono playback, phase, load, mute, balance, and output selection, and grants access to the settings menu. You can adjust the gain of each input to maintain a uniform output level when switching inputs, and assign to each input a different name, to be displayed when the input is selected. The Display submenu lets you adjust the display's brightness and timeout. When engaged, timeout dims the screen for a specified time period until any button is pressed.
On its rear panel, the SP20 has more inputs and outputs than I've seen on any other ARC model: one single-ended phono input, five single-ended line inputs, two balanced line inputs, one single-ended line output, two balanced line outputs, and a single-ended recording loop.
I asked Audio Research's head of marketing, Dave Gordon, how he felt the SP20's phono stage compares with ARC's separate phono and line-stage models. He said that he felt the SP20's phono stage provides the same amount of gain as and is comparable in sound quality to that of the PH8 ($7000), but is a different circuit design. He thinks the sound quality of the SP20's line stage is somewhere between those of the LS17 SE ($5500) and LS27 ($7500) line stages, but has greater bandwidth (to 220kHz) than both. It struck me—if all this is true, a preamp that can provide sound quality comparable to $13,000 or $14,000 worth of ARC separates (excluding the cost of interconnects), and that has a headphone amp and a broader range of features, would be a relative bargain at $9000. It also occurred to me that, adjusted for inflation, the SP20's price of $9000 is only slightly more than the SP10's price when it was first reviewed in Stereophile by Anthony Cordesman, in Vol.7 No.3 (1984).
In addition, there is a full-function remote control. I'm not usually a fan of remotes—my Blu-ray player aside, I don't use the remotes for any of my reference components. Most remotes I've seen are either ridiculously complicated home-theater devices with dozens of buttons, or minimalist controls with which you can do almost nothing. The SP20's remote is the most useful I've ever had, with buttons for input, balanced/single-ended, phase inversion, mono/stereo, balance, tube hours, cartridge loading, and recording monitor.
Listening
Experimenting with cartridge-loading settings was ridiculously easy. My Vendetta Research SCP-2D phono stage requires me to unplug both mono units, remove their faceplates, open both chassis, insert an ohmmeter across a pair of terminals in each, and, with a screwdriver, carefully set a potentiometer to the desired impedance setting. With the SP20, all I had to do was press the Load button on the remote until the desired impedance setting appeared on the SP20's touchscreen—and this can be done while the SP20 is on and a record is playing.
I experimented with various loadings for my Koetsu Urushi cartridge. I've used the Urushi as a reference for 25 years, and have found that it sounds best loaded with 47k ohms when used with a tubed or hybrid (tubed and solid-state) phono stage, and with 100 ohms when used with a solid-state stage, such as the Vendetta. I compared the sound of the SP20 with the Koetsu loaded with 47k ohms and 100 ohms. Although the tonal balance and resolution of detail were virtually identical at both settings, the SP20 presented a wider dynamic envelope at 47k ohms, and airier top-end sparkle. I stayed with 47k ohms for the rest of my listening.
The SP20's delectably holographic midrange made me want to play vocal recording after vocal recording, beginning near the bottom of the human voice. Johnny Hartmann's husky baritone in "Easy Living," from his Once in Every Life (LP, Bee Hive BH 7012), had the appropriate chesty quality but without any unnatural thickening. In "Get Lucky," from Daft Punk's Random Access Memories (LP, Columbia 88883716861), Pharrell Williams's bluesy tenor was silky and crystal clear. Doris Day's contralto on The Doris Day Christmas Album (CD, Columbia 5135392) bathed my listening room in her rich ambient glow on Christmas Day. And Judy Collins's upper register in "The Bells of Rhymney," from Recollections (LP, Elektra EKS-740), took on an airy and angelic quality.
The SP20's detailed, delicate, extended high frequencies were startlingly impressive with well-recorded orchestral works, not the least of which were the original scored arrangements on The Twilight Zone: The Original Television Scores, Volume One (LP, Varèse Sarabande STV81171). Tommy Tedesco's legendary Fender Telecaster riff from the opening and closing credits were clean, crisp, biting, and metallic. But I was moved even more by the silky but searing massed strings in the more densely orchestrated passages of Bernard Herrmann's "Walking Distance," from the first season (1959).
The SP20 made it very easy to hear the superiority of Chad Kassem's 45rpm reissue of the Doors' The Soft Parade (LP, Elektra/Analogue Productions APP-75005-45) over the mastering on the original Elektra pressing. In the second section of the title track, I found myself analyzing Ray Manzarek's delicate harpsichord phrasing. I was also quite taken by a rare all-acoustic track from Björk: Johnny Burke and James Van Heusen's "Like Someone in Love," from her Debut (CD, Elektra 61468-2), in which the singer is accompanied by a harp, which sounded rich and perfectly crystal clear.
The SP20's bass was beyond reproach. I enjoyed blasting electronic rock music, such as Chris Jones's dubstep classic "Midnight Sun," released under the name Overcast Radio (12" 45rpm single, Surface Tension STNSN-002). Jones's electronic bass line was tight, clean, and deep. Similarly, the bass line of "The Game of Love," from Daft Punk's Random Access Memories, was remarkably clean and tuneful. For acoustic music, I enjoyed following Cleveland Eaton's walking-bass line in "Bluesville," from the Count Basie Orchestra's 88 Basie Street (45rpm LP, Pablo/Acoustic Sounds 2310-901)—it was woody, tuneful, and rhythmically coherent. And even in the low-level passages of Psalms of Consolation and Hope, with George Guest directing the Choir of St. John's College Cambridge (LP, Argo ZRG 892), the bottom-octave pedal notes of John Scott's organ were clean and clear, with no compression or muddiness.
That same choral recording was the ideal album with which to showcase the SP20's superb resolution of detail, especially in the midrange: It was very easy to hear the layers of voices within the three separate male choirs. For Second Wind: A Tribute to the Music of Bill Evans, former Evans bassist Chuck Israels has written arrangements for a dectet—a novel approach (CD, Soulpatch 78277 22482). Through the SP20 I could hear the perfect integration of the horns within the recording venue, a coherent blend in which I was still able to easily follow each horn.
The SP20 made it very easy to pick out positive and negative artifacts of the recording process. Listening to "Sins of My Father," from Tom Waits's Real Gone (CD, Anti- 86678-2), I was able to perfectly separate Marc Ribot's crystal-clear, slightly overdriven electric guitar from the "dirt envelope" of Waits's voice. Waits recorded his voice through a very expensive microphone processed through a cheap, distorting boom box, and the SP20 made all of this very easy to hear. However, in Frank Sinatra's performance of Johnny Mercer's "Dream," from Sinatra's In the Beginning: 1943 to 1951 (2 LPs, Columbia KG 31358), I was distracted by the excessively syrupy processing of the massed strings, which sounded completely disembodied compared with Sinatra's voice through the ARC.
With well-recorded music, I was thrilled by the SP20's ability to render the full dynamic envelope, from ppp to fff, and to reproduce clean, lightning-fast transients, which further heightened my impression that I was hearing real musicians playing in real spaces. Dean Peer's duets with drummer Bret Mann on Peer's Airborne (LP, ILS ILS195909) showcase the bassist's ability to coax from his instrument the subtle and the explosive, and the SP20 reproduced the e-bass's full range of tonal colors with no trace of compression. In Daft Punk's "Get Lucky," Omar Hakim's drum kit was reproduced with uncompressed, authoritative slam, and every tinkle of Nile Rodgers's crisp phrasing on Stratocaster was crisp and clean.