Audio Research SP20 preamplifier Page 2
With really good orchestral recordings, such as Analogue Productions' new reissues of recordings by Fritz Reiner and the Chicago Symphony—Mussorgsky-Ravel's
Pictures at an Exhibition
(LP, RCA Living Stereo/Analogue Productions LSC-2201) and Rimsky-Korsakov's
Scheherazade
(LSC-2246)—the CSO was reproduced with forceful dynamics, no compression, and a vibrant, airy facsimile of the recording venue's acoustic. In both of these recordings, all instruments were perfectly delineated across a wide, deep stage. And with Penderecki's Cello Concerto 1, with soloist Siegfried Palm and the composer conducting the Polish Radio Symphony Orchestra (UK LP, EMI SLS 850), the ARC's dynamic reproduction was staggering, each instrument popping out of nowhere on a bed of air, with explosive dynamics.
Percussion recordings were stunning through the SP20. All transients in Charles Wuorinen's Ringing Changes for Percussion Ensemble, with the New Jersey Percussion Ensemble (LP, Nonesuch H-71263), were clean and crisp, with startling fortissimo passages. In the broad dynamic palette of Music for a Starry Night, from George Crumb's Music for a Summer Evening (Makrokosmos III) (LP, Nonesuch H-71311), Gilbert Kalish's and James Freeman's amplified pianos, and every instrument played by percussionists Raymond Des Roches and Richard Fitz, were involving, subtle, explosive, shimmering, shaking. Nor were dynamic subtleties mishandled by the SP20. In Christmas with Solid Brass (CD, Dorian DOR-90114), I enjoyed following each subtle microdynamic phrase of the tubas and horns.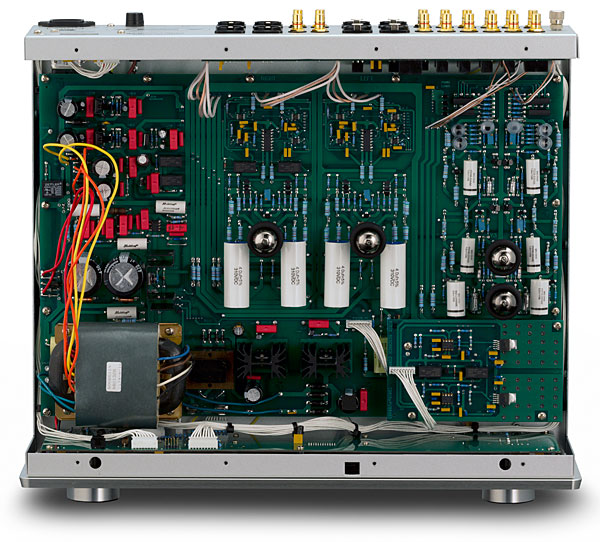 I got a kick out of the way Basie's "Bluesville" showed off the SP20's dynamic capabilities. I played piano in a jazz orchestra for four years, sitting only 15' from the brass section—their fortissimo tuttis could knock me off my bench. Similar passages in the Basie track were so explosive and realistic through the SP20 that I was transported back to that stage in the '70s, when I played those Sammy Nestico and Bill Holman charts. In fact, with the ARC in the system, "Bluesville" passed the Ellen Test—in which my wife tells me to lower the volume when high-level dynamic passages are significantly louder than mid-level passages—three times:
ELLEN: [after first fortissimo passage] Turn that down.
[BJR lowers volume]
ELLEN: [after second fortissimo passage] I said, turn that down!
[BJR lowers volume further]
ELLEN: [after third fortissimo passage] You're not listening to me.
Headphone Listening
Unless I'm listening to my iPod on a plane, or mixing or mastering one of my own recordings, I normally don't listen to headphones. Nonetheless, the intrinsic quality of the SP20's headphone amplifier inspired me to try six sets of 'phones: Grado SR125 and SR60, Sennheiser HD600, Shure 535, and Beats Solo and Powerbeats. One thing I listened to was a preliminary mix of a recording John Atkinson made in May 2013, of my jazz quartet Attention Screen performing, in concert, original jazz and classical compositions, some of them scored for pipe organ. I enjoyed listening to music through all six headphones, but the SP20 made it easy to distinguish the strengths and weaknesses of each model.
My favorites—the most neutral, musical, and detailed—were the Grado SR125s and Shure 535s. And though I usually find it a chore to listen to and analyze a recording's mix, I sat there relaxed, enjoying every minute of the entire 70-minute concert through the SP20 without missing a minute of analytical detail. The SP20's sound was as revealing and involving as through my main speakers.
Comparisons
Despite my collection of 12,000 LPs, over the last 10 years I've listened mostly to CDs, and not only for convenience's sake. Ever since I added a Lector CDP-7T CD player to my reference system, its analog-like quality has enabled me to enjoy CDs as much as I do vinyl. But for each review, I select recordings based on one criterion: whatever I feel like listening to at the moment. I was so taken by the sound of LPs through the ARC SP20 that it made me want to play more and more of them, and I ended up listening to a disproportionate amount of vinyl. That's how good the SP20's phono stage was.
But how good was the SP20 compared with my reference phono stage, the Vendetta SCP-2D ($3000 when last available, some 20 years ago)? I compared vinyl played through the SP20 with the Vendetta plugged into the SP20's line stage. For the last 25 years, I've found the Vendetta's sound to be neutral, detailed, and dynamic, and although during that time I've heard in my system a number of phono stages, both tubed and solid-state, only one has approached the Vendetta's performance: the Parasound Halo JC 3, whose circuitry is derived from John Curl's original design for the Vendetta.
The SP20's phono stage shared the Vendetta's neutrality, but I found that the ARC resolved more inner detail and ambience throughout the audioband. The SP20's dynamic range was even greater than the Vendetta's in both micro- and macrodynamics, and images were a bit more three-dimensional through the ARC. To say that the SP20's phono stage exceeded the performance of my Vendetta is to say quite a lot.
I compared the SP20 to my reference line stage, Audio Valve's Eklipse ($5799), as well as to the Zesto Leto ($7500), which I reviewed in April. To compare these line stages was to split hairs—all three sounded neutral, dynamic, and airy, resolving detail and reproducing convincing senses of air and dimensionality. The SP20 resolved more high-frequency detail than the Eklipse, and had slightly more clarity in the upper bass, but the Audio Valve had a greater sense of lower-bass slam. Finally, despite the ARC's superb performance across the dynamic spectrum, I felt that the Eklipse's high-level dynamic slam was better still for those classical recordings that test the limits of a component's ability to fully reproduce a densely orchestrated fortissimo.
The Zesto Leto's resolution of high-frequency detail equaled that of the SP20. However, I felt that the ARC's bass performance was superior—the Zesto's midbass was a bit warmer, and the ARC's lower bass extended deeper.
I wish I could have had ARC's Reference 5 SE line stage on hand to compare with the SP20, but the Ref 5SE permanently vacated my listening room a year ago. Aural memory is unreliable, but many of the strengths of the SP20 reminded me of the Ref 5SE's strong points, although the Ref 5SE's highs may have been even more delicate and airy than the SP20's.
Summing Up
With the neutral, detailed, dynamic, and flexible SP20, Audio Research has hit one out of the park. The company has provided in the SP20 a level of performance of both phono and line stage that would cost almost twice as much to match with ARC separates, when the cost of interconnects is included. ARC has included in the SP20 features derived from their flagship Reference 10 line stage, as well as a first-rate headphone amplifier. I never thought I'd call a $9000 preamp a bargain, but the SP20 is just that.