Audio Consulting Meets Scaena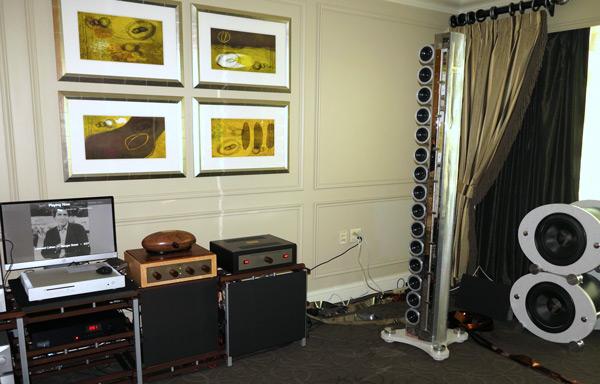 Is it any surprise Audio Consulting and Scaena, otherwise known as Switzerland meets South Florida, sounded excellent? From Audio Consulting, who were making their first show appearance since 2008, and is now sold direct from Nashville, we experienced numerous products. The first, the Audio Consulting MIPA (Mains Independent Power Amplifier) Silver Rock Toroidal amplifier, is available in stereo 30W ($45,000), mono 120W, and 30W/120W switchable ($52,000) configurations. A battery-driven, solid-state class-A switching amplifier, it has customizable inputs and outputs and is housed in a wood chassis.
Also shown were the Audio Consulting AVC (Silver Wire Inductive Volume Control) Silver Rock Meteor passive preamplifier ($32,000), which includes cryo-treated silver wire, and SWGLA Silver Wire Gain Line Amplifier active preamplifier ($22,500)—I know, the title is confusing—in a Maple-Palisander veneered natural wood chassis. Scaena supplied the Spiritus loudspeaker ($75,000), as well as the Scaena Mainframe server that Jon Iverson writes about elsewhere in this report. Bohmer Audio supplied the DAC, and Silversmith the cables.