Analog Corner # 305: Degritter record cleaner & Aidas Gala Gold LE cartridge Page 2
The illuminated right button includes multiple, real-time status displays showing remaining program time as well as a circular progress bar and a water-cooling indicator. There's even an SD card port to install downloaded software updates. This is a smartly designed machine, and it comes with a 2-year warranty.
The Degritter in use: I used the Degritter for longer than a usual review cycle because I wanted to assess its reliability. My months of use suggest that it is reliable, and it's a smooth operator: quiet, glitch-free, and a pleasure to use. Drop in a record, select the program, push the button, and you are good to go. The record oscillates slowly back and forth during the cleaning cycle and then rotates as it dries. Degritter supplies a gauge you can place against a record to help set the water level for a particular record, depending on how close to the label it's cut. A nice feature.
Almost all the records I inserted over the months came out totally dry—and sparkling clean in ways that vacuuming cannot approach. A small number of records still had a tiny water droplet or two, always on the lead-out groove area. That's "flawless" in my book.
I did not do an "A/B" test with the Audio Desk in terms of record quiet. I think that's kind of nuts. Both machines work extremely well and are essentially the same in terms of cleaning, but the Degritter, at approximately $2990, costs about $1000 less than the recently upgraded Audiodesksysteme PRO X, which sells for $500 less than the model it replaces. The Degritter is stiff competition for the originator.
I'll review the PRO X soon, but given the Degritter's host of features and its operating system and the fact that it doesn't include applicator rollers that cost $99 a set to replace, can the extra $1000 be justified? I don't have an answer. If you already own an Audiodesk that works, I don't see any reason to replace it.
One last thing: I strongly advise against putting really filthy records in any machine that recycles fluid and is intended to clean many records before each fluid change. Instead, I suggest precleaning really dirty records first using an Allsop Orbitrac 3—about $40—or a Spin-Clean or Vinyl Styl machine—both under $80. Why contaminate the tank with garage-sale sludge?
A few years ago, at a garage sale, I found sitting forlornly at the back of a milk crate—not even in a sleeve—a second UK pressing of The Pink Floyd's The Piper at the Gates of Dawn (EMI/Columbia SCX 6157). It was crud-infested, but for 50 cents? I took it. I would never put so dirty a record directly in any vat-type cleaning machine, so I first used an Orbitrac 3 to remove the baked-on dirt, pressing gently so as not to rub it in. Then I cleaned it in the Audio Desk. It's now VG+/M– and much better sounding than the most recent vinyl remaster, which sounds muted.
A few weeks later, at another sale, I found a battered, original UK jacket (yes, the spine says "The Pink Floyd") with no record inside. It was free. It wasn't a reunion because the jacket was for the mono original, which is far more valuable than the second-pressing I'd found previously. But it's still a great story if you are into vinyl bargain/conquest stories, which I still am.
The Aidas Gala Gold LE MC Cartridge
With top-shelf cartridges now costing $10,000 and more, here's a midline cartridge wound with gold coils and costing $5000, from Vira USA, a company I was unfamiliar with until recently, when I learned that someone I don't know had used my name in a business dispute between that individual and a California-based company (virausa.com). Using my name as a cudgel doesn't go over well with me, so I decided a review was in order.
The company is an international consortium that sells new and used cartridges, used records, a tangential-tracking tonearm, and a few other analog-related items (footnote 2). The extensive Aidas line of cartridges is based on what appear to be variants of a basic, familiar-looking design. The cantilever goes through an opening in the front pole piece (Alnico 5 magnet), behind which is attached to the cantilever the armature/ coil/elastomer damper assembly. A piano-wire suspension system terminates at the rear of the long cylinder, held in place by a tiny set screw. Body, stylus, and coil wire differ depending upon the model and price, which ranges from $3000 to $8500, though the prices aren't listed on the website.
In this seminude design style, the delicate coil leads are soldered to four rigid-metal channels that terminate as pins at the body's rear. In the case of the Aidas Gala Gold LE (which is named after Galina-Gala, the then–85-year-old mother of Vira USA's Victor Simakov, and limited to 85 copies), the body is made from Blue River Agate (a synthetic stone) and the stylus is Namiki's MicroRidge, attached to an "Adamant boron composite" cantilever (footnote 3) with a former wound with 99.5% (pure) Gold 0.04mm coil wire. Anyone using a microscope for SRA setting will recognize the Namiki design by the generous amount of adhesive used at the stylus-cantilever joint. If you wish to learn more about this stylus, you can do so at ad-na.com.
The cartridge's specs are weight, 11.5gm; output, 0.26mV; coil impedance, 3 ohms; recommended VTF, 1.9–2.1gm; compliance, 13µm/mN, lateral; channel separation: >30dB at 1kHz; channel balance, >1dB/1kHz; trackability at 300Hz and 2.0gm, 60µm; VTA, 20°. Suggested loading range is 100–1000 ohms, though that's high compared to the usual 10× internal impedance rule of thumb. If you'd prefer a Ruby or Sapphire cantilever, you can special-order it for the same price.
No stylus guard: Aidas is not alone in not offering a stylus guard. Just be careful installing, and if you have cats, kids, or an overzealous cleaning person, you are on your own—especially with the fully exposed cantilever.
The key to a somewhat standard, hardly innovative design like this is build quality. Setting up the Gala Gold LE was made easy because both SRA and azimuth were right on the money. The arm parallel to the record and cantilever perpendicular to the record surface produced 92° SRA and 31dB and 30dB interchannel L-R/R-L separation. Tracking the Kuzma 4Point tonearm at 2.0gm, the cartridge sailed through the 60µm Ortofon test record track. A cynic might say this sample was carefully built and tuned for the review. I can't help you there.
I ran the Aidas Gala Gold LE into both the current-sensing CH Precision P1/X1 and the voltage-amplification–based Audio Research Reference Phono 3SE (review next time), settling at 100 ohm because of the cartridge's sweet-yet-detailed, linear-sounding sonic profile with that loading, though at 200 ohms the cartridge's top end opened up a little, making the choice a matter of personal taste.
Sound Quality: Vira USA recommends 50 hours of break in, and after that the sound opened up somewhat, but straight out of the box the cartridge was a pleasing sonic winner.
The Aidas cartridge's timbral balance was neutral, particularly in the midbass and midrange, and well-extended from bottom to top with a subtle, slightly warm sonic signature (no lumps and/ or bumps). Its portrayal of both macro- and microdynamics was very good; its retrieval of detail was equally good. It did everything well and nothing poorly, which is what you should expect from a $5000 phono cartridge.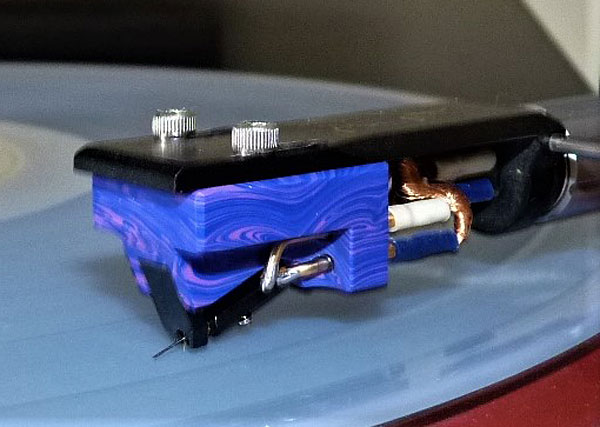 I played a recently received, newly released, double-180gm LP Specialist in All Styles by Senegalese band Orchestra Baobab (World Circuit WCV064). I was a big fan of their CD-only Pirate's Choice.
This joyful (need it now!) African/Afro-Cuban fusion record was originally released in 2002, only on CD. This year, the group celebrates its 50th anniversary. Coproducer Nick Gold and engineer Jerry Boys were also behind The Buena Vista Social Club, an audiophile fave (footnote 4). Boys recorded this album mostly in London. Buena Vista Social Club's Ibrahim Ferrer and N'Dour guest on vocals. Guy Davie cut lacquers, from 24/96 files, at Electric Mastering, where Electric Recording Company records are cut.
This record features lots of percussion (drums, congas, timbales, maracas), reverb-drenched wah-wah guitar, bass, saxophones, and multiple vocalists spread across a wide and deep soundstage. Tube mastering gives it a warm signature, but all the percussion cuts through with edges intact. The Gala Gold LE got the job done, getting out of the way, as I found this cartridge did with every record I played. I found it did well on jazz, classical—female vocals, too. If rock is your main music, you might want something with a slightly harder edge, although, after writing about "The Pink Floyd" album, I pulled it out and played it using this cartridge. That album's wide-open psychedelic top end shone through just fine. Other cartridges at this price point are probably better suited for hard rock, but they wouldn't produce this cartridge's liquidity on female voices and sheen on massed strings.
Bobby Hutcherson's 1963 recording The Kicker (Blue Note BST 21437/B0031654-01), a new Blue Note Tone Poet reissue, has never been on vinyl before because Alfred Lion passed on it for reasons not easily understood. And when Michael Cuscuna finally put it out in 1999, it was only on CD. The Kicker was very well served by this cartridge: Grant Green's guitar was properly liquid, flowing, and harmonically rich; Joe Henderson's tenor was reedy—not smoothed-over—and Hutcherson's vibes were round and mellow but with a satisfying attack.
When I played all of these records using the more-than-double-the-price Lyra Atlas Lambda SL, was the sound worth the price difference? With the right turntable and arm, yes. I'll leave it at that.
There's plenty of competition at the $5k price point, including for example Ortofon's less costly Windfeld Ti ($4390), which has a selective laser-melted body and Ortofon's detail-digging Replicant 100 stylus (not to mention a stylus guard!). The Ortofon also has outstanding build quality, but in its own way, the Aidas is fully competitive. And it sure is pretty.
---
Footnote 2: Aidas Audio, 206 Spruce St., Tehachapi, CA 93561. Tel: (310) 806-2854. Web:
aidasaudio.com
.
Footnote 3: "Adamant" is a word that describes a mythical stone of impenetrable hardness; it has at times—historically—been used as a synonym for diamond. I don't know what it means here.—Editor
Footnote 4: I was the house bass guitarist at Sawmills Recording Studio in Cornwall, England, 1975–1977. Jerry Boys was the studio's chief engineer and I will be forever in his debt: watching him choose and place microphones, edit analog tapes, and operate the studio's mixing console and outboard effects was an education in the recording art.—John Atkinson