2014 Records To Die For Page 5
---
STEPHEN MEJIAS
---
Marina Rosenfeld: P.A./Hard Love
ROOM40 RM452 (LP/CD). 2013. Marina Rosenfeld, prod., eng. DDA/DDD. TT: 32:14
Marina Rosenfeld is an experimental turntablist and sound artist with a special interest in large-scale collaborative works. Her sound installation P.A. combined live and recorded voices, field recordings, and performances by cellist Okkyung Lee. P.A./Hard Love contains recorded elements of the installation and adds original vocals by Jamaican dancehall singer Warrior Queen (Annette Henry), and more cello from Lee, who coaxes from her instrument unsettling, synth-like sounds. On the hi-fi, and especially through headphones, the album is a startling and thrilling experience. Electronics sweep across and swirl about the stage. Things crackle, beep, and buzz. There are random chatter, traffic sounds, birdsong. You might hear soaring, Jimi Hendrix–style guitar feedback and fuzz. Three minutes in, Warrior Queen's beautifully recorded voice shocks with its presence and warmth. A minute later, the music has subtly morphed from abstract sound collage to dancehall jam. Listening to P.A./Hard Love is like being briskly transported back and forth from Kingston dance floor to New York art space and, every now and then, getting to exist in both places at once. Terrifying and magical.
William Winant: Five American Percussion Pieces
William Winant, percussion
Poon Village PV007LP (LP). 1976–2013/2013. Kristin Anderson, prod.; William Winant, eng.; Bhob Rainey, mastering. AAA? TT: 35:18
Those familiar with Winant's work may be surprised to learn that this is the first album released under his own name. Those unfamiliar with his name are nevertheless likely to have heard Winant's music. He's a percussionist who's worked with the Kronos String Quartet, Sonic Youth, Oingo Boingo, Keith Jarrett, John Zorn, Yo-Yo Ma, and film directors Tim Burton and Werner Herzog, among others. Five American Percussion Pieces plays like a snapshot of Winant's life and career, the recordings taking place in various locations and spanning nearly 40 years: Michael Byron's Trackings I was recorded in 1976 at Toronto's York University, where Winant studied under James Tenney and later met John Cage; Lou Harrison's Song of Quetzalcoatl and Solo to Anthony Cirone were respectively recorded at Bay Records (1993) and at Harrison's home in Aptos, California (2002); Alvin Curran's Bang Zoom was recorded in 1995 at Mills College, in Oakland, where Winant currently teaches; and James Tenney's Having Never Written a Note for Percussion, the album's quietest and noisiest piece, was recorded this year, by Maggi Payne, also at Mills. The music is by turns bracing, startling, and hypnotic, always heartfelt, and always performed with equal measures of precision and soul. The limited-edition LP is packaged in a handmade, screen-printed jacket with a mitered-corner wood spine—a perfect match for this special music.
---
PAUL MESSENGER
---
Bob Dylan: The Bootleg Series Vol.4: Live 1966—The "Royal Albert Hall" Concert
Columbia/Legacy C2K 65759 (2 mono CDs). 1966/1998. Jeff Rosen, prod.; Vic Anesini, Steven Berkowitz, Michael Brauer, Greg Calbi, engs. AAD. TT: 95:18
As the scare quotes in the title of this two-CD set hint, the recording was actually made at the Manchester Free Trade Hall, a few days before Dylan's appearance at the Royal Albert. Disc 2 is the official version of the famous bootleg, when an electrically amplified Dylan and the Hawks came out for the concert's second half, to be greeted by the notorious "Judas" heckle. This is one of rock's seminal albums, but it would be a mistake to overlook disc 1's solo acoustic set, which I play more often than disc 2—it has the better songs, and for me, Dylan has always been, first and foremost, a songwriter. Acoustic or electric, anyone who can sandwich "It's All Over Now, Baby Blue" between "Visions of Johanna" and "Desolation Row" deserves utmost respect—and the monaural recording quality is quite delightful. (XXII-2, 9)
Grateful Dead: Anthem of the Sun
Warner Bros. WS 1749 (LP). 1968. Grateful Dead, David Hassinger, prods.; Dan Healy, Bob Matthews, engs. AAA. TT: 38:57 (2003 CD reissue with bonus tracks, TT: 75:46)
The Dead's second album is a mess, stitched together from a complex mixture of live and studio recordings. But it's a glorious mess, and one that becomes more interesting and involving with improvements in the hi-fi system. Anthem isn't pretty-pretty, American Beauty Grateful Dead. Rather, it's the apotheosis of experimental psychedelic rock, and an icon of its era. It's also, musically, a whole lot of fun. Phil Lesh's magnificent bass playing in "That's It for the Other One" is alone worth the price of the album.
---
FRED MILLS
---
Humble Pie: Performance: Rockin' the Fillmore—The Complete Recordings
Omnivore OVCD-23 (4 CDs). 1971/2013. Humble Pie, prods.; Eddie Kramer, Bob Ludwig, engs.; Peter Frampton, Jerry Shirley, reissue prods.; Ashley Shepherd, mix. AAD. TT: 4:03:40
A live album on a par with the Who's Live at Leeds, the Stones' Get Yer Ya-Ya's Out!, and the Allman Brothers' At Fillmore East, Humble Pie's two-LP set from 1971 has held up, and not just because it's a key period artifact of the hard-rockin' early '70s. As evidenced on this four-hour expanded edition, not only is the titular performance (featuring the twin-guitar assault of Steve Marriott and a pre–Comes Alive! Peter Frampton) a brawny, ballsy one, with inspired readings of songs by Dr. John, Ray Charles, and Ashford & Simpson; thanks to studio whiz Eddie Kramer, it's also an electrifying sonic artifact that places the listener squarely in the front row. You practically feel the sweat being flung from the musicians' bobbing, shaking locks. (XXXVII-1)
Seefeel: Quique
Medical MR021/Modern Classics MCR906 (2 LPs). 1993/2013. Seefeel, prods.; Adrian Harrow, Mark Clifford, Mark Van Hoen, engs. AAA. TT: 63:42
Originally released in 1993, at the tail end of the shoegaze movement, by London tastemaker label Too Pure, this low-key gem probably has more in common with ambient auteur Aphex Twin than the likes of Ride and Lush. As pure an expression of the sublime possibilities of the ambient/dub/rock intersection as they come, it frequently left my headphone-clad self slack-jawed and drooling during hemp-scented midnight listening sessions. In point of fact, the 2013 reissue (courtesy Light in the Attic imprint Modern Classics Recordings, and available on breathtakingly gorgeous splatter-blue vinyl) hasn't lost any of its mesmerizing qualities, and no chemical enhancements are needed. Ladies and gentlemen, we are floating in space.
---
ROBERT J. REINA
---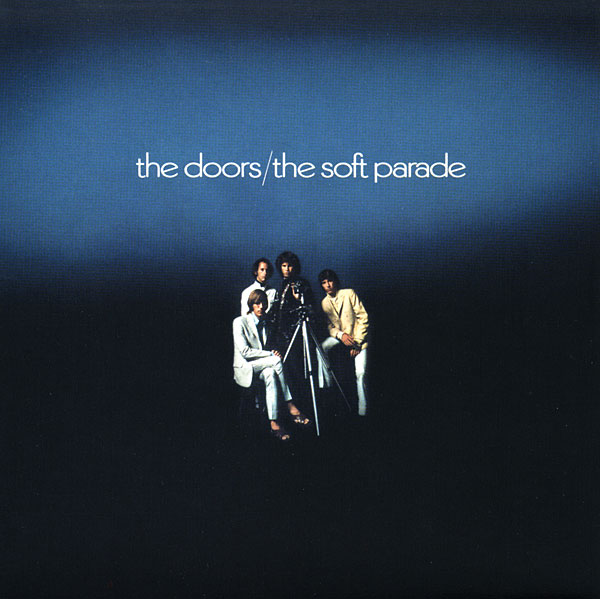 The Doors: The Soft Parade
Elektra/Analogue Productions AAPP 75005-45 (2 45rpm LPs). 1969/2012. Paul Rothchild, orig. prod.; Bruce Botnick, orig. eng.; Chad Kassem, reissue exec. prod.; Bruce Botnick, Jeff Jampol, reissue supervision. AAA. TT: 34:09
The tunes on the Doors' fourth album covered the broadest range of genres and arrangements, but the title track, a five-movement suite 8.5 minutes long, was alone worth the cost of the album. I thought it was impossible to improve on Bruce Botnick's neutral and detailed engineering on the original Elektra vinyl, but Chad Kassem's 45rpm, 200gm reissue, stamped on two discs by his own Quality Record Pressings, has more inner detail, deeper bass, more extended highs, wider dynamic range, and more delicacy. Over the last 20 years, many record companies have claimed, largely erroneously, that their "audiophile" vinyl reissues of classic jazz, rock, and classical music exceed the sound quality of the original LPs. Here, Chad Kassem has actually done it, and by a wide margin.
David Chesky: Jazz in the New Harmonic
David Chesky, piano; Javon Jackson, tenor saxophone; Jeremy Pelt, trumpet; Peter Washington, bass; Billy Drummond, drums
Chesky JD358 (CD). 2013. David Chesky, prod.; Norman Chesky, exec prod.; Nicholas Prout, prod., eng. DDD? TT: 69:15
David Chesky has written and recorded music in a wide variety of genres, and I've followed them all. I even have his first recording, Rush Hour, a big-band jazz-rock outing he recorded for Columbia when in his teens. My favorite is his Violin Concerto, but this jazz-quintet session is quite a departure from the light Latin jazz recordings he released early in his career. The original tunes have dark, angular, modal melodies and bass lines with infectious grooves, plenty of space, and room for first-rate solos by his band members. It reminds me of an amalgam of soundtrack music from 1950s films noirs, early-'60s Miles Davis, and late-'00s Liam Sillery. The airy, bloomy sound, captured in Brooklyn's Hirsch Center, envelops you like a down comforter covered in silk. Chesky continues to turn on a dime and switch genres with each release; this recording further affirms that he's capable of writing anything. (XXXVI-9)
---
KALMAN RUBINSON
---
Fauré: Requiem, Cantique de Jean Racine, Super Flumina Babylons, Pavane, Élégie
Chien Reiss, soprano; Matthias Goerne, baritone; Eric Picard, cello; l'Orchestra de Paris et Choeur, Paavo Järvi
EuroArts 2058874 (BD). 2012. Isabelle Soulard, prod.; Aurelie Messonnier, eng. DDD. TT: 72:00
From the day the disc slipped from its cellophane wrap, this lovely, evocative, thrilling concert of Fauré's music has never left my "on deck" stack of recordings. Beginning with the graceful Pavane, in the composer's orchestral version with optional chorus, and the heartfelt élégie for cello and orchestra, we hear and see Fauré's major works for chorus and orchestra in performances that equal and/or exceed any I have heard. The sound is balanced and spacious in great concordance with the visual presentation. While these performances are also available on SACD/CD (which I haven't heard), this Blu-ray is one of the few concert discs for which I rarely turn off the video display, even though the music alone more than suffices. What a great concert! I turn to it often, when I want to be transported to another world in which lyrical music and beautiful sounds shut out the cares of the day.
Strauss: Don Juan, Death and Transfiguration, Till Eulenspiegel's Merry Pranks
Manfred Honeck, Pittsburgh Symphony Orchestra
Reference fresh! FR-707SACD (SACD/CD). 2013. Dirk Subotka, prod.; Mark Donahue, Ray Clover, John Newton, engs. DDD. TT: 59:26
Audiophiles need no reminder of the many wonderful Reference Recordings, but this release is offered, quite aptly, on their new fresh! series. The recording team from SoundMirror offers us a new view of the Pittsburgh Symphony in their hall, one familiar from recordings by Command Classics, Everest, Telarc, and Exton. From the first note, one hears an immediate and direct instrumental sound, with instruments on a wide, deep soundstage that begins at the speaker plane and extends deeply. The ambience is enveloping, but less lush than what RR's Prof. Keith O. Johnson offered in his first multichannel releases. I find this startlingly close to a real concert experience, where the hall acoustics have a more subtle influence and don't intrude on the main event. The dynamics are as impressive. The low end, especially of the double basses, is as granitic as organ-pedal tones, and the bass drum, if not quite like Telarc's, has huge impact.
The performances are spectacular but not flashy. One hears the brilliance of Strauss's scoring not only in the power of the tuttis but also in the inner details. Don Juan soars and sings. Tod und VerklÑrung swells and writhes. And for all the bumptious wit of Till Eulenspiegels lustige Streiche (1894), I hear intimations of the sadness and cynicism of Stravinsky's Pétrouchka (1911). This is a thrilling disc. I look forward to hearing more from this team, and its performers on both sides of the microphones.
---
MARKUS SAUER

---
Mary Coughlan: Tired & Emotional
Mystery/WEA MRLP1 (LP), MRCD1 (CD). 1985. Erik Visser, prod. AAA/AAD? TT: 33:57
This is the 1985 debut album of Irish singer Mary Coughlan, a troubled woman—not for nothing, one may speculate, is the album's title a reference to a British euphemism for being drunk—with a great folk/blues/jazz voice. (She later recorded an album of Billie Holiday songs.) Coughlan was discovered by Dutch musician Erik Visser (Flairck), who produced Tired & Emotional. The end result has probably a bit too much Visser, and the synths sound pretty dated today, but no matter—Coughlan's singing easily carries the album. It ends with "Seduced": just her voice, accompanied by double bass. Through a good system, you can "see" both her and the bass. One of my desert-island albums, if only for its sheer humanity.
Ballaké Sissoko & Vincent Segal: Chamber Music
Ballaké Sissoko, kora; Vincent Segal, cello
Six Degrees 657036117219 (CD). 2009. Laurent Bizot, prod.; Favien Girard, eng. DDD. TT: 54:01
There I was, driving through Belgium and Germany in the middle of the night, interrupting a short holiday for a professional commitment the next morning, when the car radio played the most beautiful music I'd heard in a long time. It was a radio program about Vincent Segal, a French cellist whose musical interests run wide and deep, including: classical music with the French National Orchestra; Bumcello, a down-tempo electronic duo; and playing on Sting's If on a Winter's Night . . . The music that so confounded me was a 2009 collaboration with Malian kora player Ballaké Sissoko, recorded in Salif Keita's studio in Bamako. Rhythmically inventive, superbly melodic, soothing, uplifting, and exhilarating.