2014 Records To Die For Page 4
---
JON IVERSON
---
Fleetwood Mac: Then Play On: Deluxe Edition
Rhino 8122796443 (CD). 1969/2013. Fleetwood Mac, prods.; Martin Birch, eng. ADD. TT: 69:43
First spotted in the mid-1970s in the girlfriend's parents' living room. I was immediately drawn to the exquisite cover. Turns out it belonged to her musically savvy older sister (who still works for a major record label). Bought a copy when I saw it contained "Oh Well," and quickly fell in love with every track on the album. This is the original bluesy Peter Green Fleetwood Mac, though on this album they stray from their roots as Danny Kirwan enters the fray and Green heads out the door. Then Play On deserves to be on any short list of rock must-haves, and part of any library that covers rock's golden years. Roughly hewn, but straight from the heart. Recently reissued in a superb-sounding Deluxe Edition that restores all the tracks on the original British LP and adds some extras.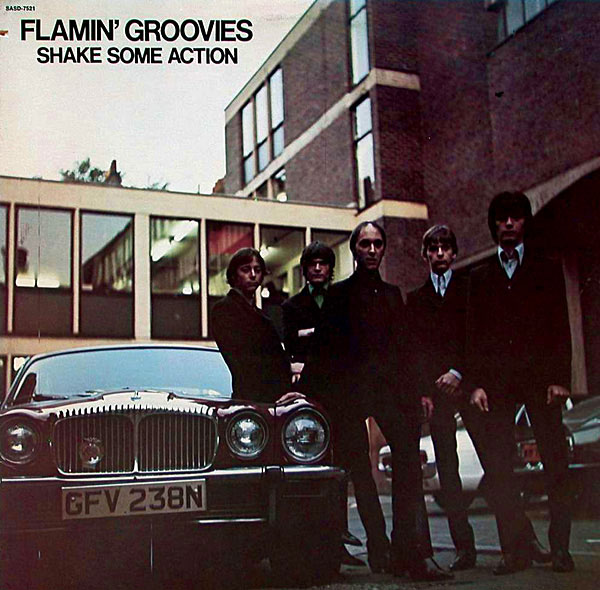 Flamin' Groovies: Shake Some Action
DBK Works DBK 518 (CD). 1976/2005. Dave Edmunds, prod.; Greg Shaw, exec. prod.; Gary Hobish, remastering. ADD. TT: 35:56
So here's an album from some American guys who were imitating English guys who were inspired by American guys. A weird-sounding record, with heavily compressed bass and dodgy recording technique, but lovable nonetheless. The title cut communicates the Groovies' power-pop intentions, which never let up throughout. Plenty of Beatles, Kinks, Stones, Byrds influences on every track, at times almost veering into Rutles territory. The singing and playing are a bit loose, but that's why this one works when other pop imitators fail: The perfection is in the spirit of the songs, not the execution. Solid from front to back.
---
FRED KAPLAN
---
Bob Dylan: Blonde on Blonde
Columbia/Mobile Fidelity Sound Lab MSFL 3-45009 (3 45rpm LPs). 1966/2013. Bob Johnston, prod.; Roy Halee et al, engs.; Michael Brauer, Steve Berkowitz, remix. AAD. TT: 69:80
Mobile Fidelity's 45rpm reissue of Blonde on Blonde adds new luster to my favorite Dylan album, which is to say one of my favorite albums, period. This is the electric-rock Dylan that forced even the folkie purists to readmit the prophet to the pantheon: such poetry, wit, reverie, and rambunctiousness had never before and has never since been unfurled in pop music. As good as my original pressing sounds, it's a shadow of MoFi's wide-groove reissue, which puts Dylan and the band right there: his vocal modulations so tingly, the organ, guitars, and drums so present. (XXI-2)
J.S. Bach: Brandenburg Concertos 1–6
Nikolaus Harnoncourt, Concentus Musicus Wien
Telefunken Das Alte Werk SAWT 9459/60-A (2 LPs). 1964. Wolf Erichson, prod. AAA. TT: 105:00
This was the first recording of Bach's Brandenburg Concertos on original instruments—Nikolaus Harnoncourt's Baroque ensemble, Concentus Musicus Wien, pioneered the practice, to much controversy at the time—and it remains the most searing. Recorded in Vienna's Schönbrunn Palace, with just two mikes plugged straight into two-track analog, it's also the best sounding: lush, bracing, dynamic, swooning, heady. A plea to audiophile-reissue companies: Check out the Harnoncourt Telefunkens—not just the Brandenburgs, but the cantatas and the overtures. They sound better than most RCAs and Mercurys; some 45rpm pressings would be amazing.
---
DAVID LANDER
---
Gerry Mulligan & Paul Desmond: Quartet
Paul Desmond, alto saxophone; Gerry Mulligan, baritone saxophone; Joe Benjamin, bass; Dave Bailey, drums
Verve 314-519-850-2 (CD). 1957/1993. Norman Granz, prod. AAD. TT: 71:29
Paul Desmond: Easy Living
Paul Desmond, alto saxophone; Jim Hall, guitar; Eugene Wright, Eugene Cherico, Percy Heath, bass; Connie Kay, drums
RCA Bluebird 2306-2-RB (CD). 1963–1965/1990. George Avakian, prod.; Joe Lopes, eng. ADD. TT: 59:54
For much of Paul Desmond's career, an alliance with Dave Brubeck tied the alto saxophonist's playing to his prominent colleague's pianism, and after Desmond's death, at age 52 in 1977, a bequest linked him to a string of other pianists. He left his own piano, a Baldwin grand, to his friend Bradley Cunningham, who ran Bradley's, the Manhattan jazz bar, where numerous top-rank artists performed on it for years. Nevertheless, Desmond was by no means conjoined with the piano; his legacy includes some superb albums that exclude it.
One such disc documents a sprightly 1957 quartet session at which Desmond joined forces with the baritone sax player Gerry Mulligan. Trumpeter Chet Baker, Mulligan, and a bassist and drummer had already fashioned a distinctive sound with what became known as a pianoless quartet, and this West Coast Cool compilation echoes it. The two reed players breeze ahead with harmonic and contrapuntal prowess.
The writer Ted Gioia has compared the members of the Brubeck Quartet to the four classical elements: Desmond was air, and may have produced the most beautiful alto-saxophone sound in jazz. That pure, sweet tone permeates Easy Living, the last of five RCA titles that blended the lyrical finesse of Desmond with that of Jim Hall, the jazz-guitar master whose career continues to flourish after more than a half century. Their collaborators include two members of the Modern Jazz Quartet, Connie Kay and Percy Heath, who could play as impeccably as the MJQ dressed on stage. The irresistible opening selection, Robert Wells and Jack Segal's "When Johanna Loved Me," makes this album's appeal instantaneous—Tony Bennett has said that he named one of his daughters after the song.
---
RICHARD LEHNERT
---
Bob Dylan: Nashville Skyline
Columbia CK 9825 (CD). 1969/1988. Bob Johnston, prod.; Charlie Bragg, Neil Wilburn, engs. AAD. TT: 27:07
With all due obeisance to the power, majesty, and brilliance of Bringing It All Back Home, Highway 61 Revisited, and Blonde on Blonde, Bob Dylan never laid his heart more vulnerably open than on Another Side of Bob Dylan, Blood on the Tracks—and Nashville Skyline. The first two are by turns ecstatic and anguished (Another Side was also hilarious). Nashville Skyline is something else. As reviled as it was revered when first released, in 1969—Dylan going country was bad enough, but Dylan going Nashville?—it remains the album of his I would choose had I to choose but one. It's not an acoustic album, but it sure feels like one, and it's the height of producer Bob Johnston's work with Dylan: full, rich instruments and voices. And from the brilliant choice of first track, a boozily heartfelt duet with Johnny Cash on "Girl from the North Country," the two of them never quite agreeing with each other—or themselves—on pitch or timing or lyrics, through "I Threw It All Away" and "Lay Lady Lay" to "Tell Me That It Isn't True" and "Tonight I'll Be Staying Here With You," these songs sound as if they've been lying around forever, just waiting for someone to sing them. Dylan croons smoothly (he'd given up smoking), his voice almost unrecognizably fuller, less nasal and rough than usual—he wears these tunes like well-broken-in leather slippers. For me, the album's highlight is "One More Night," and how Dylan's voice soars in the final verse: He's lonely as he waits through one more long night for his love, he's not sure he'll ever get her back, but he sounds so happy that he still has even a chance. After this album, Dylan almost never exposed himself so vulnerably in song or in voice, and that's our loss and his. But for 27 minutes in 1969 he did it, sounding eager and hopeful and lucky to be doing so, and for that I will always be grateful.
Bruckner: Symphony 9 (with 2012 SPCM Finale)
Simon Rattle, Berlin Philharmonic
EMI Classics 9 52969 2 (CD). 2012. Christoph Franke, prod., ed.; René Möller, Tom Russbüldt, engs.; Alexander Feucht, ed. DDD. TT: 82:10
I reviewed this recording in the October 2012 Stereophile, and wrote at length of the complexities and difficulties of the Ninth's unfinished Finale in the March 2010 issue. No further recordings have been made of this "Conclusive Revised Edition 2012" of the reconstruction and completion of the Finale developed over three decades by the Bruckner scholars Nicola Samale, John A. Phillips, Benjamin-Gunnar Cohrs, and Giuseppe Mazzuca (SPCM), which leaves this one, to my ears, still the most definitive performance of the most fully realized and most thoroughly researched attempt to reconstruct how Bruckner might have completed his final masterwork. But regardless of what one thinks of SPCM's interpolations and fleshings-out of Bruckner's surviving score and sketches, even the sections that are wholly and unarguably Bruckner's own are dauntingly powerful, original, and unlike anything else he ever wrote, even in the Ninth's preceding three movements. They are also harrowingly moving—often hellishly, sometimes joyously, always profoundly. But if a Finale in any form is not for you, the first three movements of this recording comprise a fine "traditional" three-movement Ninth, Rattle and the almost superhumanly accomplished Berlin Philharmonic performing the almost impossible feat of making this work sound immensely monumental and passionately felt and deeply intimate, a personal testament of loss and grief and terror and exaltation—not so much music to die for as music to die and be reborn to: the journey of Bruckner's soul, and of the soul of anyone who cares to follow down this long, dark tunnel to unexpected light. (XXXV-12)
---
ROBERT LEVINE
---
Mahler: Das Lied von der Erde
Christa Ludwig, mezzo-soprano; Fritz Wunderlich, tenor; New Philharmonia Orchestra, Otto Klemperer
EMI Classics 72435 66944 2 (CD). 1967/1998. Walter Legge, Peter Andry, prods.; Douglas Larter, Robert Gooch, engs.; Simon Gibson, digital remastering. ADD. TT: 64:07
Mahler's Das Lied is about nothing less than the Meaning of Life (say what you will), and this recording captures each aspect—expressed differently in each song—in a manner both deep and euphoric. The Oriental influences and expressionism are clear but never overwhelm the sheer Romanticism; Otto Klemperer, perhaps among the most thoughtful of all conductors on record, manages every dichotomy in both text and orchestral texture. Fritz Wunderlich's beautiful sound and intelligent way with the texts are not hampered by the outlandishly high tessitura; only in his 30s, and with a sound both clarion and tender, he's magnificent. And Christa Ludwig was a unique singer, with a rich, creamy sound, impeccable diction, warmth, and feeling—her soft entrance on F in "Der Einsame im Herbst" creates a true sense of yearning, springing from the watery introduction with great color and understanding. And nothing is overstated. As fine as many competing versions are, this one remains simply perfect. The 1998 remastering is gloriously true.
Messiaen: Turangalîla-Symphonie, L'Ascension
François Weigel, piano; Thomas Bloch, Ondes Martenot; Polish National Radio Symphony Orchestra, Antoni Wit
Naxos 8.554478-79 (2 CDs). 2000. Beata Jankowska, prod., eng.; Julita Emanuilow, eng. DDD. TT: 107:26
The Turangalîla-Symphonie is an absolute and stunning object lesson in symphonic overload, and a recording of it is a must for audiophiles, not to mention maximalists, and any lover of the orchestra and its multitudinous colorations. Messiaen's sound world is as odd as the spelling of his name; clusters of sound practically attack the listener. Thirteen brass instruments, 12 winds, solo piano, Ondes Martenots, 68 strings, and percussion—including tubular bells, wood blocks, three types of cymbals, tam tam, maracas, and more—keep the ear in a constant bath of wonderment. "It's a love song," the composer is rumored to have said at one point, and after the work's initial shock wears off and the "love theme" is recognized, there is staggering beauty. The Ondes Martenots surprise at their every appearance, their liquid, eerie, sensual electronic sound both integrated and outstanding. This two-CD set also includes the composer's L'Ascension, an earlier, prayerful, but no less fascinating work. I've heard Turangalîla twice in concert; this recording sounds just as resonant, balanced, and multileveled. Quite an experience.
---
JOHN MARKS
---
Beethoven: Triple Concerto
Brahms: Violin Concerto, Double Concerto
David Oistrakh, violin; Mstislav Rostropovich, cello; Sviatoslav Richter, piano; Berlin Philharmonic Orchestra, Herbert von Karajan (Beethoven); Cleveland Orchestra, George Szell (Brahms)
EMI Classics 9 55978 2 (2 SACD/CDs). 1969/2012. Peter Andry, orig. prod.; Allen Stagg, Carson Taylor, orig. engs.; Simon Gibson, Ian Jones, Andy Walter, Allan Ramsay, remastering. ADD. TT: 111:43
A legendary violinist at the height of his powers (Oistrakh) plays one of the greatest concertos (Brahms) with a major US orchestra (Cleveland) during its glory days under a legendarily meticulous Hungarian conductor (Szell). Brahms's Concerto and Double Concerto were recorded in Cleveland in 1969, in luminous analog sound, and have now been transferred to SACD/CD at Abbey Road Studios and presented in classy hardbound packaging. David Oistrakh made four commercial recordings of the Brahms concerto; his excursion to Cleveland has always struck me as the most successful. His interpretation combines monumental architecture with human warmth of feeling, while his violin sound is best described as liquid gold. (XXII-9)
Various: Archiv Produktion 1947–2013
Early Music from Anonymous (Gregorian Chant) through Bach to Beethoven Dietrich Fischer-Dieskau, Sir John Eliot Gardiner, Nikolas Harnoncourt, Ralph Kirkpatrick, Sir Charles Mackerras, David Munrow, Trevor Pinnock, Karl Richter, Helmut Walcha, many others
Archiv Produktion 529 906-2 (55 CDs). 1947–2012/2013. Various orig. prods., engs. ADD/DDD. TT: 59:26:48
A wag once quipped that lavish boxed sets of reissues on CD are the illuminated manuscripts of the 21st century. If so, this 55-CD, 59-hour brick must be the Très Riches Heures du Duc de Berry. Archiv Produktion, aka the Early Music Studio of Deutsche Grammophon, was set up in 1947. Projects by the likes of Trevor Pinnock and John Eliot Gardiner established Archiv as the pre-eminent early-music label of the 1950s through the 1980s, with a rich back catalog to celebrate. There's no better way to acquire 800 years of music history in one fell swoop. A limited-edition set of selections on five 180gm LPs—which sound fabulous—may still be available. No downloads of any sort are offered.