Nagra PL-P preamplifier
One memorable afternoon during HI-FI '97, Kathleen and my pudgy little self were hustling down the crowded corridors of San Francisco's venerable St. Francis Hotel, trying to make the Nagra press event. The Nagra suite was crowded with buzzing journalists, their anticipation palpable—the new Nagra PL-P preamplifier was about to enjoy its official debut. Suddenly the door to the demo room flew open. The vacuum created by the stampeding hordes nearly sucked the
hors d'oeuvres
off the table.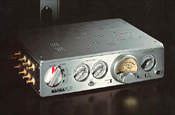 And there it was, cute as a button, resplendent with eight vacuum tubes, all visible through a clear plastic "demo" top cover. The oohs and ahhhs were followed by excited chatter; there was lust in the air.
I supposed that John Atkinson and Wes Phillips each had an eye on it. Almost as an afterthought, I offered to do the dirty deed. They smiled at each other, and Wes replied, "Well, actually, J-10, we were thinking you were just the guy to do the review."
Made my day.
Any day now...
The delivery date kept moving back. Then importer Steve Lee at Canorus explained that they were making some changes to the PL-P based on feedback gathered at the San Francisco debut. These included: adding a mono/stereo switch; gold-plated jumpers replacing DIP switches; adjustable loading of resistance and capacitance; a bypass for the internal moving-coil phono transformers; an RIAA EQ option allowing users to defeat a rumble filter (-3dB at 20Hz); extra power-supply capacitance; and an automatic power-off function when the external power supply is disconnected. Eventually a production PL-P arrived, in a shipping carton that seemed impossibly small.
Better stock up on D cells...
The PL-P was designed by Jean-Claude Schlup, the man behind the Nagra-D's electronics, and it's entirely handmade in Switzerland by Nagra engineers. The case—of hardened, anodized, CNC-machined aluminum—is quite diminutive: just over 12" wide, 3" tall, and 10" deep. The PL-P weighs an almost chuckable 9 lbs; most visitors to our loft were driven to cuddle it. They all stroked the top cover and ogled the traditional Nagra "modulometer" that dominates the front panel.
Being a Nagra, the PL-P is battery-powered, and requires a bit of setup. Removing the precise-fitting top plate (secured with four 2.5mm Allen screws), I marveled at the build quality and workmanship. A battery compartment at the rear houses two "batons" of rechargeable Nickel-Cadmium power cells. Manual: "In an emergency, other forms of rechargeable D-size power cells or alkaline power cells can also be used."
While inserting the power packs, I examined the shielded box (just ahead of the battery compartment) that contains the DC-to-DC converters (footnote 1). Manual: "The internal power-supply regulation circuitry uses proprietary, Nagra-made, Dual DC-to-DC converters to eliminate power-supply ripples and assure a clean power source for all active electronic stages and components." The converters also power the heater filaments and anodes of the tubes.
---
Footnote 1: Presumably a switch-mode power supply.—
JA