The Wilson Alexia and its Elite Companions
Beyond all doubt, the most heralded debut at a show filled with more product debuts than could fit in our
show preview
was the unveiling of the Wilson Audio Alexia loudspeaker ($48,500/pair). Introduced at back-to-back press conferences, the speaker and its elite companions made a stunning impression.
If there's one thing that Dave Wilson (pictured above) knows besides crossover design and time domain alignment, it's the sound of live, unamplified music performed in spaces that do it full justice. Hence he chose, as his analog source, the superb Spiral Groove SG 1.1 turntable and Centroid tonearm ($31,000 total) outfitted with an Air Tight PCM 1 cartridge ($6800). The digital source, a definite contender for state-of-the-art, was the new, four-piece dCS Vivaldi Digital Playback System: the Vivaldi transport ($39,999), Vivaldi DAC ($34,999), Vivaldi Upsampler ($19,999), and Vivaldi Clock (a relative bargain at only $13,499). So good were these two sources that, without looking at the equipment rack, I was unable to distinguish sonic differences between a direct-to-disc LP and a CD transfer of one of Dave Wilson's finest early analog recordings.
The electronics were the wonderful tube babies that Dave himself uses, VTL's Siegfried Series II Reference monoblocks ($65,000/pair). Accompanied by the VTL TL-7.5 Series III Reference line preamplifier ($20,000) and TP-6.5 Signature phono preamplifier with MC step-up transformer ($10,500), the equipment chain was completed by Wilson's cable of choice, Transparent Audio's top-of-the-line Opus MM2 audio cables ($108,625/4-pair cables), power cables and power conditioning (12 pieces total, $24,850), and digital cables (10 pieces $17,600).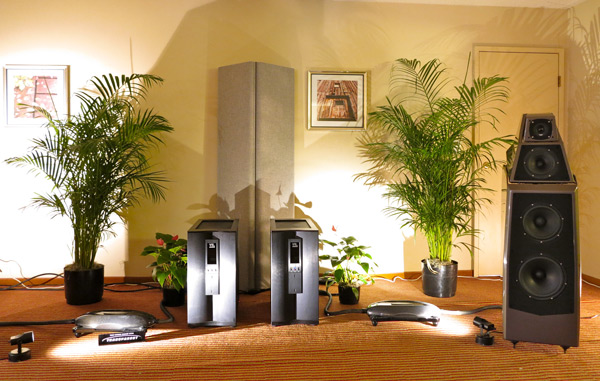 Brief background. In 1981, when Dave applied for his first patent and released the WHAM, the most expensive audiophile loudspeaker at the time, he realized how well the speaker could work in small rooms due to its time domain adjustability. As time went on, he confirmed how much high performance he could achieve with a small speaker. Hence, the Alexia, only slightly larger than the W/P Sasha, has been introduced in order to bring the technological/musical advances of the towering Alexandria XLF (scheduled for a full review in the January issue of Stereophile) to music lovers who simply don't have the space (or budget) for Wilson's flagship. Whereas the geometry of the Sasha's tweeter and midrange unit is fixed, the Alexia's soft-dome tweeter, derived from that in the Alexandria XLF, can be moved back and forward to focus the sound at a specific listening position.
Wilson claims that the Alexia can play louder, with lower distortion, than the W/P Sasha. It cannot, of course, fill large rooms with the same sheer muscle power as can the MAXX 3 (which Wilson Audio has no plans to replace anytime soon) or the Alexandria XLF. But what it can do, without question, is convey musical truth.
Dave played three selections. The first, an International Jam Session on the Alpha label entitled (I believe) Songs of the Earth, sounded gorgeous. Bass and percussion were solid, warm and full; every note was supremely in focus, conveyed without grain or distortion; and the color differentiation between sounds of instruments whose names I do not know was among the finest and most illumined I've heard. As with all three selections played, the unmistakable warmth of the Siegfried IIs suggested that one could listen to this system for hours without fatigue.
The second selection was a CD transfer of Dave's analog recording of my friends, David Abel and Julie Steinberg, performing Debussy's Sonata for Violin and Piano. Performing respectively on a rare Guarneri del Jesu violin and 9' Hamburg Steinway, the duo sounded wonderful. I was especially struck how the Alexias and other components conveyed all the complex sound of the instruments, including their size, and got the ring of piano when notes higher in the range were struck with full force. That's natural ring, as opposed to the irritating ring of tweeters on more loudspeakers than I wish to recall.
Finally came a Direct-to-Disc LP, For Duke, performed by Billy Berry and his Ellington All-Stars and recorded for M&K Realtime in the late 1970s by Steve McCormack. On Billy Strayhorn's "Take the A Train," the speaker and system retained clarity even as Berry's cornet, Scott Hamilton's tenor sax, Frankie Capp's drums, Ray Brown's bass, and two other instruments went at it full force. I can't say that Brown's bass sounded totally tight throughout its range, but I could certainly differentiate pitches. And when Berry's cornet blasted forth at its initial entrance, I could savor its bite without recoiling from the impact. That, my friends, is saying a lot.