Warmth and Detail from Audioarts NYC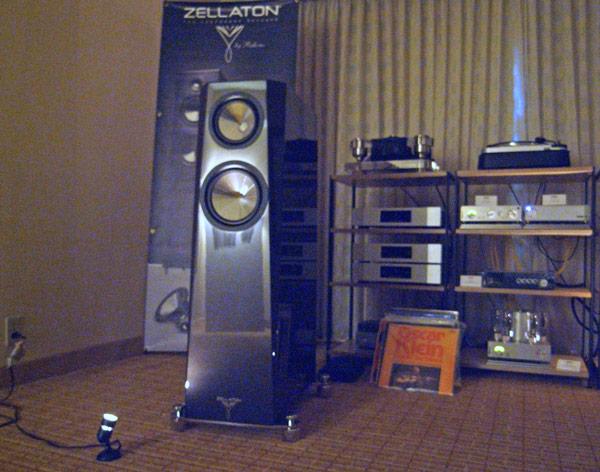 Gideon Schwartz of Audioarts NYC had assembled quite an impressive system, most of whose components I had never heard before. Given the system's price, one would reasonably expect something wonderful, if not extraordinary from Zellaton Studio Reference One loudspeakers ($52,750/pair); Nagra's new Jazz preamplifier ($12,250, with the input and output jacks now on the back instead of the sides), 300B power amplifier ($16,950), and VPS phono preamplifier ($6850); Metronome's C8 Reference Asymmetrical USB DAC ($22,750) and Calypso Reference transport ($43,750); Holborne's Analog 2 Mk.2 turntable ($7495), Dualpivot tonearm ($3475, MC1 cartridge ($1975), and rack ($3975); Van Den Hul's Cumulus 3T speaker wire ($6995/pair) and The Cloud 3T interconnects ($695/set); and a Schopper Thorens fully restored 124 Mk.2 ("priceless").
One of the first things Gideon played was a recording of The King's Singers performing the Beatles' "Eleanor Rigby." Besides the sheer camp value, the way the system nailed the colors of the different voices, and presented each in a manner that clarified each man's contribution without detracting from the impact of the composite whole, was quite impressive. (JA agrees, though he was distracted by having to photograph black speakers in a dark room.) Given the sheer warmth of the portrayal, I could have listened for days… to something else. The alternative, an LP of violinist Salvatore Accordo performing Paganini with the LSO under Dutoit, confirmed how beautifully this system handled highs. I thought that the triangles shone perhaps a bit too much, but that could be the result of a system accurately conveying a recording engineer's preferences. Regardless, the detail and warmth of the system won me over. Anyone got a spare winning lottery ticket?