Totem's Forest Signature and Element Metal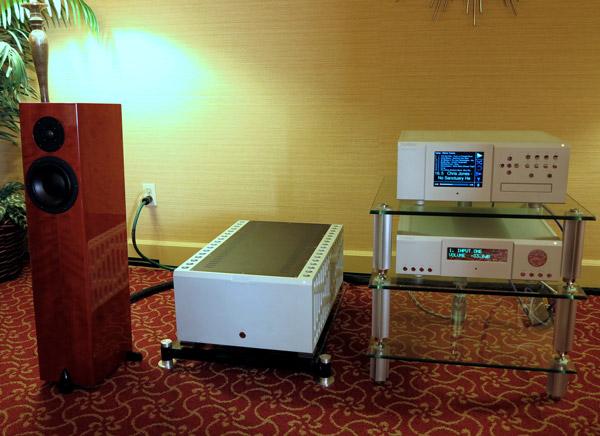 Going all out, Totem Acoustics followed up its
home theater room
with a second room that included two completely different systems. Just finishing up playing when I entered the room, the "Boulder System"—Boulder 2060 power amp with "Made in the USA" XTC amp stand, 1010 preamp, and 1021 CD/Networking player—fed the brand new, just shipping Totem Acoustic "Forest Signature" loudspeaker in Cherry ($6000/pair). This was the same Boulder amp and preamp whose sound helped me wax ecstatic at Music Lovers Audio in San Francisco
22 days earlier
. As for the all-important loudspeaker, it has the same volume as the standard Totem Forest ($4000/pair), but contains better capacitors and drivers, a different decoupling system, and a high gloss polyester finish that takes a week to complete on a cabinet whose angle can be adjusted.
The second "MBL System" (above)—MBL Corona C15 monoblocks, Corona C31 CD/USB player, and Corona C11preamp—paired the Totem Acoustic Element Metal loudspeaker in ICE white ($12,000/pair) with a Richard Gray Power Company 1200 in custom white. Clarus cabling and handsome XTC Rack Designs amp racks and audio shelving held the whole thing together.
As for the sound, it was mighty impressive. "Sounds just great," I wrote in my notes. In a show environment, that says a great deal.