Sony and dCS Shine at Music Lovers SF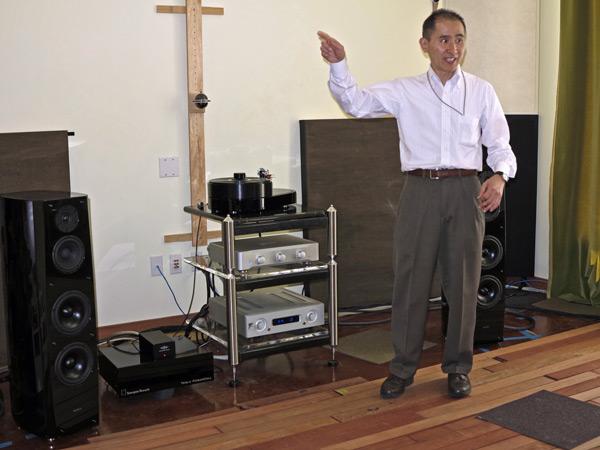 "Sensational" is an adjective far overplayed in "fine audio" circles (to borrow a phrase that Bob Levi of T.H.E. Show Newport Beach has been using). But I know of no better word to describe the jaw-dropping sound of a dCS/Boulder/Sony set-up at a May 4 demo in the Theater 2 room of Music Lovers Audio, San Francisco. With the assistance of a full complement of Transparent Audio cabling, save for an all-important active USB cable from Synergistic Research, the MacBook Pro/Audirvana-source system, featuring the Sony SS-AR1 speakers that so impressed Kal Rubinson in July 2011 was nothing short of sensational.
For me, the demo began when John R. Quick of Tempo Sales, distributor of digital equipment from UK-based dCS (Data Conversion Systems, Ltd.), ran up to me upon my arrival. Enthusiastically greeting me and my two remarkably well-behaved terrier mixes, Daisy Mae Doven and Leo Gleesun, he declared, "Jason, I have great news for you."
"I can hardly keep hold of the leashes, John," I said, quivering with anticipation. "Tell me, please, before I lose my grip."
"The new Synergistic Research USB Active SE cable blows every other USB cable I've tried out of the water. You've got to hear this thing."
Hear it I did. Connected to a small MacBook Pro with 8GB RAM running Audirvana (not the latest beta version released on May 3), and connected via the Synergistic Research USB Active SE cable ($599/1m, $200 each additional meter), Synergistic Research Firewire 800 Active SE cable ($645/1m), and optional Synergistic Research Galileo MPC ($400) to a full complement of dCS Vivaldi gear—Vivaldi Master Clock ($13,499), Vivaldi DAC ($34,999), Vivaldi Transport ($39,999), and Vivaldi Upsampler ($19,999), variously linked by the new Transparent Reference digital AES/EBU ($1,795/1m) and Reference XL S/PDIF ($3,195/1m)—which in turn was connected to a mighty Boulder 2060 stereo amplifier ($48,000) and Sony SS-AR1 loudspeakers ($27,000/pair) by Transparent Reference MM2 balanced interconnect ($4,945/1m) and speaker cable ($6,625/8'pair), with power coming an unknown mix of all-important after market power cables running to a Synergistic QLS Quantum Line strip ($399/6 outlet, $499/9 outlet), this substantial system shattered my conception of how good digital audio can sound. I know them sounds like mighty strong words, if not downright audiophile blather, but it went like this . . .
When I entered the room, Quick was playing a track from Reference Recordings' recent jazz release, Playing with Fire. The bass was tremendous, the sound of the triangle vibrating in space as close to the sound of the real thing as I've ever heard, and the color saturation of instruments so rich and full that I just wanted to wrap my arms and leashes around it and drag it back with me to our casa in East Oakland's barrio.
Being familiar with dCS gear, I immediately asked if John was upsampling to DSD. When he replied, "No, you are hearing straight 16/44.1 PCM without upsampling," I was stunned that Red Book CD (without HDCD decoding) could sound so good.
Next we heard a 24/192 download from HDTracks of Kenny Burrell's Midnight Blue. "The tonality of the sax is mind-boggling," I wrote in my notes. "This system nails the bright edge of the horns without burning my ears." After that, came a not-yet-available Sony Legacy DSD recording of Dave Brubeck whose cymbals in particular sounded startling real and beautiful.
The system was also ultra-revealing of differences. After a Channel Classics DSD download of Jared Sacks' fairly new recording Mahler Symphony No. 1 (Budapest Festival Orchestra, Iván Fischer cond.) sounded a bit too set back, monochromatic, and congested—it sounds that way on my own reference system as well—I asked to compare it to a 24/176.4 PCM file of the Bacchanale from Saint-Saëns' Samson & Dalila sourced from Keith O. Johnson's HRx disc of Exotic Dances at the Opera. I'm well aware of the arguments that DSD recordings sound better than PCM, but in this case, it was the far more atmospheric and color-saturated hi-res PCM file from Johnson that trounced Sacks' DSD extravaganza. Anyone who wants to know why Reference Recordings has been nominated for multiple Grammys need only listen to the tremendous deep bass and enrapturing air that this recording can deliver on a set-up this good.
Then it was back to 16/44.1, this time Michael Fremer's digital transfer of a track from a Greg Brown LP. While straight 16/44.1 on the Vivaldi/Sony/Boulder system again sounded better than any other redbook playback I've ever heard in my long, long, long life, the Vivaldi's ability to upsample to DSD yielded ever more air and exceptionally smooth sound.
Upsampling instead to DXD, which is something the Vivaldi can also do, registered as a further improvement, the sound more atmospheric and bit less artificially polished. I never expected to prefer DXD to DSD, but on this system, DXD sounded the most natural of all. Not that anyone in their right mind would kick either the Vivaldi's upsampled DSD or Red-Book CD playback out of their proverbial bed (unless it was a jealous spouse, significant other or, in our case, canine companion... or maybe the Fire Marshal).
It would have been nice to have switched USB cables to see how much of the presentation's exceptional color saturation was due to the Synergistic Research USB Active SE cable with Galileo wall wart. While I'm saving such comparisons to its imminent arrival via Fed Ex, I point you to this USB cable comparison by Steven Plaskin of Stereophile's sister publication AudioStream.com.
Down the Ladder
Each of the dCS/Sony systems sounded different. In the Reference Room at one end of the elegant four demo-room store, I believe the digital chain I heard, beyond a PC running JRiver, was not the four-piece dCS Paganini system ensconced one of the racks at the side of the room, but rather the less expensive dCS Debussy DAC ($11,499) driving Sony SS-AR2 loudspeakers ($20,000/pair) via Ayre's new AX-5 integrated amp ($9950—see heading photo). A mixture of mainly Transparent cabling held the show together.
It was hard to resist the beautiful tonality from a recording by Mighty Sam McLain, the lovely smoothness of Stevie Ray Vaughan's "Little Wing," the warm sonority of a DSD file of Channel Classics' Schubert Symphony No. 9 (Budapest/Fischer), or the gorgeous warmth of Willie Nelson singing "Georgia on My Mind" from the when-will-they-stop-teasing-us- and-release Sony Legacy DSD collection. The sound was far darker than in the larger Theater 2 room—just as extended on top, but far less brilliant. Since I doubt this was due to Yuki Sugiura's PC set-up or the Transparent cabling, and I know it isn't part of the dCS Debussy's sonic signature, we're left with the Ayre amp. Not that a darker sound is a bad thing. Many people prefer it for its non-fatiguing and non-aggressive qualities.
Blue Coast Records' Cookie Marenco just happened to walk in at the right time with a DSD file of Emily Palen playing solo folks fiddle in San Francisco's Grace Cathedral. Folks, you've got to hear how beautifully Cookie captured the intentionally awesome sense of space in the Cathedral's acoustic. Just as delicious was a flamenco guitar recording by Jason McGuire, recorded in an echo chamber, which the system cooled down just enough to allow mellow listening.
I can't recall what we heard on the AMG Viella 12 W turntable with piano-black lacquer finish and 12J2 tonearm ($17,000) outfitted with an AMG Reference tonearm cable ($1500/1.5m) and Clearaudio da Vinci V2 cartridge ($5500), but I do recall that the warm and somewhat fat sound of the cartridge complemented the Ayre very, very well. A super combo to be sure.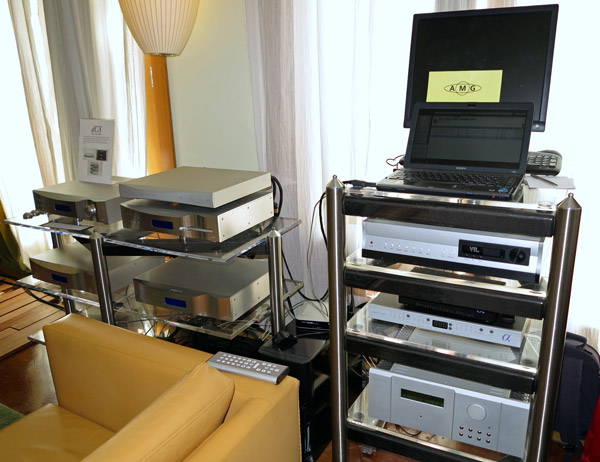 Heaven on Earth?
Music Lovers' smaller Stereo Room may have had the smaller Sony SS-NA2ES loudspeakers ($10,000/pair; review underway by John Atkinson) but it also had the substantial dCS Scarlatti digital stack—Scarlatti DAC ($23,999), Scarlatti U-Clock ($9999), Scarlatti transport ($32,999), and Scarlatti Upsampler ($12,999)—and a Luxman L-550Ax integrated amp ($5400). Cabling, I'm told, was a hodgepodge of Transparent, AudioQuest, and Synergistic. The sound was definitely wetter than in the Reference Room, and exceptionally smooth. If I didn't stay long, it's only because I finally had the opportunity to get a good seat in heaven, aka the adjacent Theater 2 room, where top-of-the-line dCS Vivaldi and Sony, abetted by anything but shabby Boulder, Transparent, and Synergistic, did a dance that would please the gods and goddesses. It certainly left me wanting more, more, and more.