Colleen Cardas Imports Opera & Unison Research
Although plagued by "Noisy Neighbor Syndrome," Colleen Cardas Imports impressed me with the great sound they got from a 45rpm Acoustic Sounds test pressing of Stevie Ray Vaughan playing "Tin Pan Alley," reproduced by the Opera Seconda loudspeakers ($3995/pair). Yes, that characteristic Hilton room mode was still in evidence, but these big two-and-a-half-ways produced an otherwise smooth, sonically compelling balance.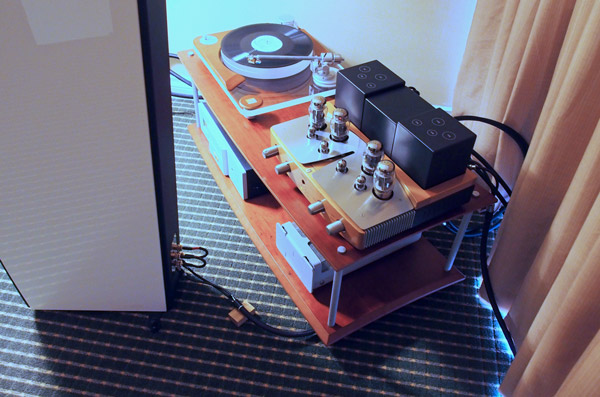 Hiding behind the speakers, because that's the only place there was an AC outlet, was a selection of Unison Research components (the Italian Opera and Unison companies share ownership). Source was the Giro turntable ($3995 with arm and cartridge), CD player the Unico CDE with dual-mono optical DAC upgrade ($4120), integrated amplifier the Sinfonia ($6495). The other products featured were the Pure Audio phono preamplifier $4500) and all Furutech cables and power management.