Another Opening, Another Show
Location, location, location . . . and, from Richard Beers and Bob Levi, a generous helping of brilliant organizing acumen. That winning combination means that, in just its third year, T.H.E. Show Newport Beach has already laid claim to the title of the top consumer "fine audio" show in the U.S.
What exactly being No.1 means is another question entirely. While T.H.E. Show Newport Beach may have been spread over multiple floors in two adjacent hotels, as was T.H.E. Show Las Vegas of old, and offered, in addition to almost 140 exhibit rooms and an invaluable number of seminars, a corridor-long "cigar show," a glitzy car show, wine show, gourmet food trucks, and multiple entertainment stages and markets, it's hard to know if all that = "best." And while attendance is claimed to be very high, it's hard to know how many of the estimated 7500 attendees actually paid to get in, and how many took advantage of either generously distributed comps or membership in the Los Angeles-Orange County Audio Society.
What is certain is that, despite what JA told me was a surprisingly slow Sunday, there were people everywhere on Friday and Saturday. Everywhere, as in all over the place. And that means more than physically. People ran the gamut age-wise as well as interest wise, if less so in terms of the male-female ratio.
If anyone can encapsulate the essence of the Third Annual T.H.E. Show Newport Beach, it is not I. I only attended the first two days, and departed Saturday night in order to perform back in the Bay Area on Sunday. Being true to my Cancer nature, I stuck to my assignment to cover as many floors of the Hilton as possible. Save for exiting the hotel for Friday night dinner, I stuck to the Hilton, and never set foot in the Atrium. I thus must leave it to John Atkinson, who somehow managed to cover the Atrium, Hilton floor 5, and other assorted exhibits between delivering one seminar and participating in two others, to flesh out this report with his own experiences.
I did experience a few consistent trends, not all of them positive. Most disturbing was the tendency on the part of both attendees and exhibitors to treat music merely as a tool for evaluating equipment. "Could you play the first minute of each of the four tracks on this CD-R?" was a line I heard repeated by one visitor whom I encountered more than once in the Lobby level exhibits.
Dismaying were the exhibitors whom, when asked if they could play me something that would show off their systems, replied with the question, "Would you like a female vocal, rock, or classical?" It seemed that Diana Krall, Ella Fitzgerald, Shirley Horn, Sarah Vaughan, and Betty Carter, to name just five female jazz artists, were interchangeable. Classical meant one of the RCA Living Stereo blockbusters, rock one of HDTracks and Mobile Fidelity's best sellers. In all the rooms I entered, the only male jazz vocalists I heard were Louis Armstrong and Johnny Hartman. The joy of discovery, the musical thrills that I referred to in my April "As We See It," "There's No Business Without Show Business," were too often absent.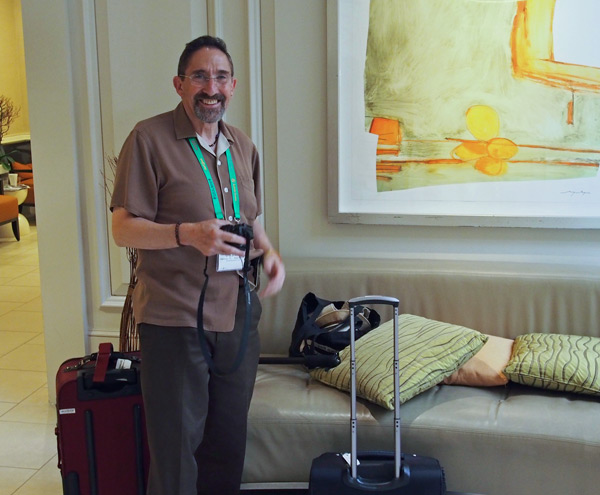 I make no secret of the fact that I'm an opera critic. But, at this show, I don't think I played a single classical vocal other than in Sunny Audio's wonderful Wilson–ARC–Isotek room. It just seemed too out of place. In fact, the only exhibitor I encountered besides Wilson's Peter McGrath who had a huge amount of classical music on his music server was Scott Walker and Ted Denney, who had so much good music to choose from in multiple genres, including hip-hop, that I never needed to scroll beyond the beginning of the "A" entries.
The other disturbing factor was how many rooms had sound that deviated widely from the "real" thing. Yes, as John Atkinson repeatedly pointed out in one of his seminars, there is no "absolute sound." Nonetheless, it was a shock to go from room to room of overly warm, euphonic, over-hyped, and shiny sound to the acoustic realities of the Extreme Guitar Duo or the minimally amplified chamber trio that was playing in the Hilton courtyard during Saturday's lunch.
Just four nights after returning home, I sat in a prime orchestra seat in the San Francisco War Memorial Opera House for the opening night of Tales of Hoffmann, and felt an almost unbridgeable gap between the sound of unamplified singers and orchestra in that venue and the sound I encountered in far too many rooms at T.H.E. Show. At first, the sound in the opera house sounded so much plainer than recordings in Newport Beach . . . until I got my bearings. At which point, many of the artificial constructs of soundstage depth, pinpoint imaging, and three-strip Technicolor sonic splendor fell away, and I was left with the wonder of un-doctored, unedited, and un-equalized on-the-spot creation.
Thank goodness, after perhaps nine days of activity, when I finally listened to music on my own reference system (dCS Puccini and Scarlatti U-Clock, Pass XA200.5 monoblocks, Wilson Sashas, Nordost Odin, Nordost and Magico supports, and Synergistic Research Tranquility Bases and Acoustic ART), I rediscovered the audiophile neutrality that I longed for in far too many rooms. How many engineers and retailers, I wonder, have become so divorced from the real acoustic experience, regardless of genre, that they've become occupants of a synthetic musical universe that they then pass off to consumers as the best sound that money can buy?
Certainly there were rooms at T.H.E. Show that, in terms of tonal balance and overall quality of presentation, gave far more than a taste of the best high-end/high performance/fine audio can deliver. Of the rooms I visited, on a big scale, those from Wilson–Audio Research–Isotek, Magico–VAC–Synergistic Research, MBL, and YG–Tenor–Kubala-Sosna were quite special. On a smaller scale, Sony–Pass Labs–dCS–EMM–Kimber, On A Higher Note, Sanders Sound, and Nola–VAC–Nordost stood out. For sheer seductivity, I'd also add Veloce–Purist–YG and Perfect8–BAlabo.
I'm sure John has his own favorites. Over to you, JA.—Jason Victor Serinus
Mostly I agree with Jason about the sound quality in the rooms he picks out above, though I thought the Nolas were used too close to the wall behind them to be sounding at their best. Of the rooms I visited but Jason didn't, I particularly enjoyed the music in the Red Wine/Bricasti/Harbeth, Empirical Audio/Vapor Audio, Musical Surroundings, MSB, Dynaudio, Audio Element/Ayre/Sonus Faber, and Magico/Constellation rooms. My only regret is that by the time I got to the Optimal Enchantment room on the Hilton's 10th floor on Sunday afternoon, which featured Vandersteen Model Seven speakers driven by Audio Research electronics via AudioQuest cables with source the cost-no-object Basis turntable and which many people had told me sounded great, the exhibitors were already packing up. :-(
And Richard Beers had done a fine job as show organizer. Although the image above came about when someone walked in front of the Pacific Coast Audio/Video set-up just as Jason was trying to snap a photo, it does give you a glimpse of T.H.E. Show's official tote bags that people filled with products in the Marketplace and other venues. Tote bags, a comprehensive showguide, continual live music and a full program of seminars, the show became an event.
What surprised me was how many new products had their premieres at the Newport Beach show. I only sent two Stereophile writers to the show, Jason and myself, thinking that much of what would be demonstrated we already would have seen and heard at the three earlier shows this spring. I was wrong and my apologies to the exhibitors whom we didn't write about. We simply ran out of time. (Although Michael Fremer and Tyll Hertsens were at the show, they were covering it for Stereophile's sister sites AnalogPlanet.com and Inner Fidelity.com, respectively.)
As Jason reports me as saying, traffic was lighter than in 2012 on the show's final day, though this appears to have been compensated for on the first two days of the show. Looking through the showguide, there were 312 brands (313 if you include Stereophile) exhibited in 137 rooms, which makes T.H.E. Show Newport Beach the largest North American show so far in 2013. (For reference, the Chicago AXPONA had 86 rooms and 264 exhibiting brands, SSI in Montreal 70 rooms and 370 brands, and the New York Audio Show 47 rooms and 253 brands. (All figures taken from the respective showguides.)
As I discuss in my "As We See It" in the July issue, as far as attendees are concerned, none of these shows are in competition with one another. They are sufficiently geographically isolated, though I did meet several audiophiles who had been to the three spring US shows and were planning on attending RMAF in Denver in October. But there is no doubt that, given that many high-end audio companies have only a few employees, attending the current number of shows is a burden, given that their primary responsibility is to take care of business at the factory. The high-end caravanserai can only alight at a few stops each year, and that number is fewer than the current number of North American shows, even if you don't count the increasing number of dealer-organized "Music Matters" events. I discuss this in the July issue, but with no clear conclusion emerging, I am afraid.
So, see you at the Rocky Mountain Audio Fest in October. I am sure Rose Silberman (below) will be there!—John Atkinson