TAVES Day 2
The Audio Zone Eliminator speakers ($8900/pair) have a distinctly DIY look, aimed at providing maximum performance with no concession to decor. Bass and midrange are both horn-loaded, the bass using a reproduction of the Electro-Voice DX-15 driver, the midrange a Selenium D330 compression driver, and a Fostex supertweeter. Claimed sensitivity is an astonishing 102dB. The Audio Zone Eliminator is built to order. Audio Zone also offers a variety of amps and preamps (active and passive), at what seem like very reasonable prices (
eg
, 50W Op-Amp Integrated, $1595), all made in Canada.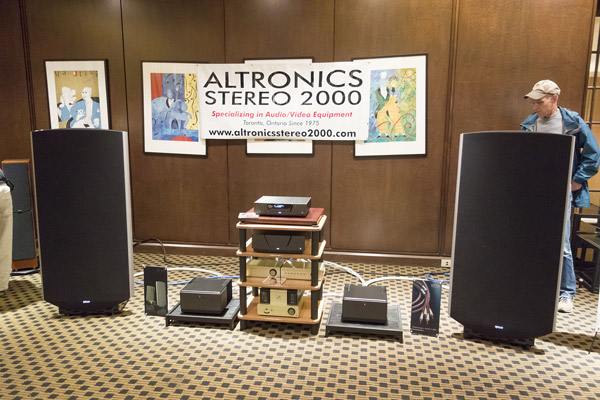 I'm a great admirer of Quad electrostatics, but I've been generally disappointed with their sound at audio shows. I don' know why. Maybe it's the large spaces the speakers are usually being asked to fill, or maybe the setups haven't been optimized—and, as a former owner of original Quads, I can tell you that they're finicky to set up. Also, they're always demoed with Quad electronics and, going back to my experience with the Quad 405 amp, I'm not convinced that their amps are as good as their speakers.
Whatever the reason for the Quads' unimpressive performance at shows, Toronto Quad dealer Altronics Stereo 2000 had somehow licked the problem at TAVES. The speakers were actually set up in quite a large room, open to adjoining spaces, so the speakers' job was not an easy one. And yet, the pair of Quad Reference 2905s sounded terrific, playing loud enough not to sound wimpy, and having that clarity and transparency that Quads are known for. The amps were Quad QMP monoblocks (260W)—descendents of the 405, but sounding nothing like the 405 that I remember.
The Elipson Music Center is a "lifestyle" product; the $2500 package includes a CD player/preamp/amp combo and a pair of spherical speakers that use coaxial drivers. It actually sounded pretty good, but what intrigued me was that the importer of this lifestyle product also imports the Phy-HP driver ($1300, see below), an esoteric item with a cult following that's about as un-lifestyle-oriented as they come.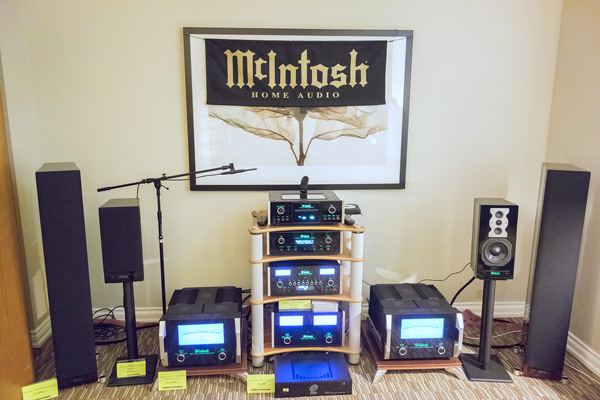 Toronto-area McIntosh dealer Audio Excellence brought to the show a system that they thought would be a good match to their demo space, including a pair of 1.2kW monoblocks ($24,200/pair). Adrian Low of Audio Excellence admitted that this turned out to be overkill in the small room they had, but he said he might have brought these big amps even if he had known how small the room was, because "people want to see and hear the big amps."
Monitor Audio has a new subwoofer/satellite system they call MASS (Monitor Audio Subwoofer Satellite, $1200) that utilizes the C-CAM (ceramic coating) cone technology of their larger speakers. The subwoofer uses a 10" active and a 10" passive driver driven by a 220W amplifier, the five satellites having a 1" tweeter and 4" midrange driver. The satellite that serves as center channel has the same drivers as the front and rear speakers, but it's voiced differently to take into account its positioning in the system One of the satellites is shown here by Monitor Audio's Jeff Ginn.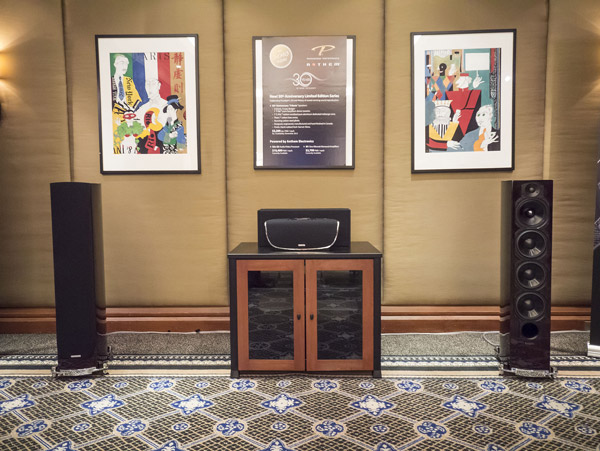 Canadian loudspeaker manufacturer Paradigm is celebrating its 30th anniversary with—what else?—new speakers! The floor-standing Tribute ($6598/pair, $3299 each) has some new, patented technology, including a corrugated surround for the woofer—see below.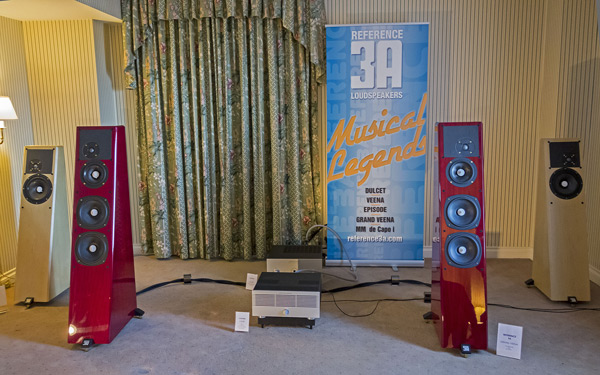 Reference 3A's Tash Goka is a true audiophile: no matter how good the sound of his Reference 3A speakers, he can't help tweaking and tinkering with the design to make the sound even better. The latest version of his Grand Veena is now the Grand Veena B. The B stands for Beryllium, which is now used in the tweeter. The speakers also incorporate the Surreal Acoustic Lens diffusion device that I mentioned in my 2012 CES show report. Despite the various improvements—and Beryllium is not cheap—the price for the Grand Veena B remains $8000/pair.