SweetVinyl SC-1 and SC-2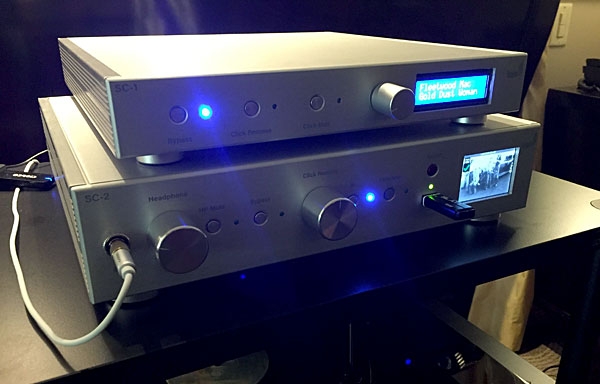 SweetVinyl is a new company from Mountain View, California and was displaying their first two digital products: Sugarcube SC-1 and SC-2.
The SC-1 is a simple 24/192 ADC and DAC that removes clicks and pops from your records, and can be inserted between your phono stage and preamp (or through a monitor loop) and uses an "artificial intelligence" rule-based system to find and eliminate clicks. The company stresses that this is not simply some kind of digital filter, and the SC-1 will not alter the tonal characteristics of the recording.
The SC-2 is an SC-1 with additional features, turning it into an effective vinyl ripping device. There is automatic metadata identification and as SweetVinyl's Leo Hoarty explained, you can either wait for each side of the disc to finish playing before the data is retrieved, or enter the album's catalog number so the data will show up right away. Hoarty added that they use several databases and it is rare that an album is not found.
On the back, in addition to the analog line inputs and outputs, are USB, Ethernet, and HDMI digital interfaces and there is also an onboard headphone amp and volume control. Control is via the front panel or smartphone or tablet app, and Hoarty adds that the SC-2 is not a fixed platform, with new features already on the drawing boards. The SC-2 will retail for $2,500 and should be available in June.