Sunday Afternoon at the Montreal Show with Art
Quebec-based Solen—which distributes parts from a number of different manufacturers, as well as manufacturing their own well-regarded capacitors and other components—has a talent for filling their exhibit rooms with scores of items, including finished products made from the parts they sell. Among the latter at this year's Montreal show was a single-ended triode amp that will soon be available as the Coffin Audio 2A3 SE. Using new-old stock 6SL7 tubes to drive its nominal 2A3 directly heated output tubes, the nicely made Coffin amp uses Solen Teflon coupling caps, and the stereo amp's retail price is estimate to be $CAD6000.
In the system from Quebec dealer Villeneuve Audio were a Simaudio Moon 650D CD player and 600i V2 integrated amplifier, plus a pair of Totem Tribe floorstanding loudspeakers, with all cabling by Bis. AC power conditioning came courtesy of an AudioQuest Niagara 5000. As my listening notes remind me, the sound in this room was "engaging and downright pretty" on an acoustic guitar-plus-voice track that might've been James Taylor."
Those of you who've followed Stereophile's show reporting over the years may remember Tri-Art Audio as a company that makes abundant use of laminated bamboo—which company founder Steve Ginsberg refers to as "Mother Nature's carbon fibre"—in all of their products. That the material's signature look and even its pleasant aroma—the latter from the natural sealing oil used in finishing—so dominate a full Tri-Art system seems almost comical at first: even the tonearm and turntable platter are made of bamboo. But there's nothing funny about what I now think of as the company's house sound: open, airy, timbrally a bit sweet, with tons of detail and a good sense of drive. (I can't help crediting the latter to the company's use of proper paper drive-units, tightly suspended with stiff impregnated-fabric surrounds.) This year's Tri-Art system continued that trend.
Among the Tri-Art components I heard were their B-Series 5 Open loudspeakers ($US4800/pair, with crossovers); B-Series 60Wpc stereo amplifier ($US1995); B-Series passive preamp ($US1295); P-Series CD/DVD player ($US750); B-Series MC step-up transformer ($US1200); and B-Series TA-2 turntable with 9" tonearm ($US2500), all on various Tri-Art stands. Tri-Art also made all of the cabling, with product names that suggest the use of silver wires. (Tri-Art apparently has not yet devised a way to make bamboo conductive, although I would not put it past them.)
In the room sponsored by Montreal retailer Audiophile Experts, Dany Poulin demonstrated a truly great-sounding system built around a pair of Focal Utopia Scala Evo loudspeakers, driven by all Esoteric electronics: N-01 network audio player, G-01 master clock, C-03 line-level preamplifier, and S-03 stereo power amplifier. Into this esoteric context was dropped a $2800 turntable-tonearm combination—the MoFi Ultradeck—which wasn't the least bit embarrassed by the dearer gear. On a Bill Evans LP, the system had a virtually perfect top-to-bottom balance, beautiful spatial performance, a complete absence of grain or other artifacts, and a really fine sense of momentum. Audio-signal cables were from SGS Electro Acoustique, the AC cords were AudioQuest Dragons, and room treatments were from the Portuguese company Vicoustic.
Twice during the show I walked into the sizable conference room sponsored by Sylvain Pichette, apparently the designer-manufacturer of a turntable called the Stable 33.33. Twice! Both times, the room was filled almost to capacity with people who were listening to a talk, entirely in French (I'm not complaining—just saying I didn't get much out of it) by someone whom I took to be Pichette, who spoke with undetectable pauses and literally no full stops—none! Although the associated system—Naim electronics and MartinLogan speakers—appeared to be powered up and ready, never did I hear a bit of music, Jamais!
So I bailed, but not before pushing my way through the crowd the snap this picture, in which one sees an impressive-looking turntable fitted with a Rega tonearm and an Ortofon cartridge; a VPI power supply, not visible in this photo, was also in use.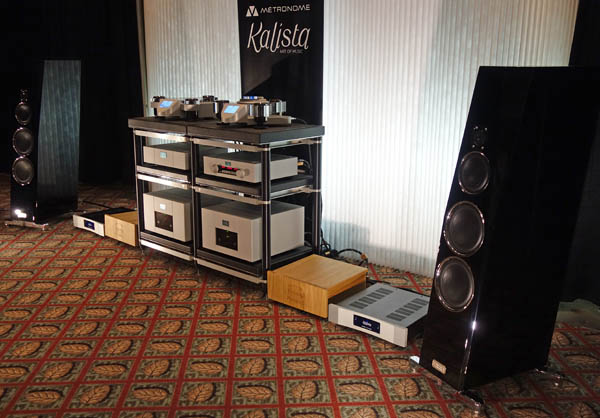 Toronto-based Wynn Audio had an enormous demonstration space, with two full systems; although I listened to both, one of them really held my attention—and was, for all intents and purposes, the best sound I heard at the show. That system comprised a pair of Tidal Contriva G2 loudspeakers ($CAD75,000/pair); Goldmund Telos 1000+ mono amplifiers ($CAD140,000/pair) and Mimesis 22H preamplifier ($CAD130,000); and Metronome Kalista DreamPlay CD transport ($CAD56,800) and Kalista D/A processor ($CAD58,500). All cabling was from Acoustic Revive of Japan.
From my notes: "The system sounded big but subtle. During a violin sonata, both the solo violin and the accompanying piano were perfectly scaled, in absolute terms and relative to one another, and the sound of the recording venue, though distinctly identifiable and utterly believable, somehow blended-in with the sound of the demonstration room itself: that aspect is hard to describe, but I liked it. Violin tone was sweet but also fierce and forceful when need be."
Even though it sounded wonderful, the Wynn system was the archetypal "I don't care what it sounds like—it plays music beautifully" product. I was on my way out of the room when a baroque piece for strings came on: I had to go back to my seat and listen to it.
Incidentally, while I was there, Jean Marie Clauzel, the owner of Metronome, told me that a one-box (if box is indeed the word, which it isn't) version of the Kalista CD-playback system will soon be available, and I have been promised a review loaner. Whee!
As t turned out, the very last system I heard at the Montreal Audio Fest was this relatively modest but surprisingly effective rig, heard in the room sponsored by the retailer Brosseau Audio. In it, a pair of Russell K Red 120 loudspeakers ($CAD4999/pair) were driven by a Hegel H190 integrated amp ($CAD4995), fed by an Innuos Zen 2TB music server. I didn't make note of the piece of music I heard there, but I did note that "a hint of warmth suffused a clear and wide-open soundscape." That sounds to me as though I was having fun.
Three final notes: The first is a thank-you to the always-great Luke Manley, who proved so difficult to photograph in the ill-lit conference room where he gave his presentation (see my Friday coverage) that I had to hunt him down and ask him to strike an appropriate pose in the hallway, thinking I could Photoshop him into place. But that proved unnecessary.
Second is a reminder that the finest restaurant I know of in all of Montreal—and the finest restaurant of my experience, anywhere, ever—is Il Pagliaccio, on Avenue Laurier. Go there, ask for Manuel, and let him choose your wine and food selections for you: You will not be sorry.
Third is a word of thanks to show organizers Michel Plante and Sarah Tremblay and all their assistants, whose tireless work continues to make the Montreal Audio Fest my favorite show: merci!