Stereophile's Products of 2021 Joint Analog Components of the Year
Joint Analog Components of the Year
Clearaudio Concept Active Wood turntable ($3700 and up; reviewed by Ken Micallef, June 2021, Vol.44 No.6 Review)
Thorens TD 124 DD turntable ($11,499; reviewed by Ken Micallef, August 2021, Vol.44 No.8 Review)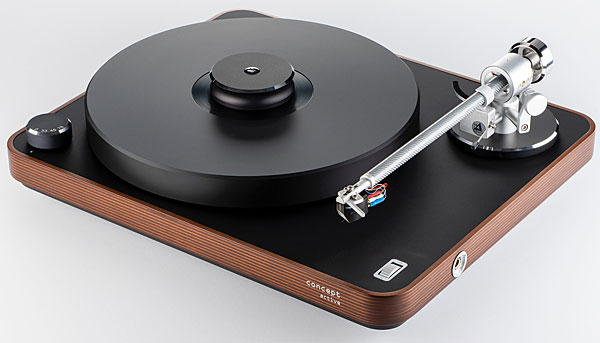 Finalists (in alphabetical order)
Audio Research Reference Phono 3SE phono preamplifier ($17,000; reviewed by Michael Fremer, February 2021, Vol.44 No.2 Review)
OMA K3 turntable ($363,000 w/power supply and tonearm; reviewed by Michael Fremer, October 2021, Vol.44 No.10 Review)
Pro-Ject Phono Box RS2 phono preamplifier ($1999; reviewed by Julie Mullins, September 2021, Vol.44 No.9 Review)
Techdas Air Force Zero turntable ($450,000, basic version; reviewed by Michael Fremer, September 2021, Vol.44 No.9 Review)
While the two co-winners are unquestionably worthy, this was an upset in at least two respects. First, both of the winning products were reviewed by Ken Micallef; this is a category that, year after year, has been dominated by Michael Fremer's reviews.
The other way in which this is an upset is more obvious. While neither of the winning 'tables is cheap—indeed, the Thorens is quite expensive—they are far cheaper than three other turntable competitors.
KM wrote, about the all-in-one Clearaudio 'table, "Its silent backgrounds and energetic release of notes gave music a sense of naturalness, of instruments moving air in space, said instruments located precisely in the concert hall or recording studio. The sound was refined, lucid, and precise." He also found the built-in electronics—a phono preamp and a headphone amp—to be of good quality.
The Thorens TD 124 DD is, of course, an updated reissue of the classic TD-124. But it clearly is not aiming at strict authenticity, in contrast, for example, to the recent Garrard 301 reissue from SME. Indeed, some of the original Thorens's most recognizable features—its aluminum outer platter with lift mechanism and its hybrid belt/idler drive system—have been scrapped. (The DD after TD 124 stands for "direct drive.")
Ken found that the new 124 took what the original was best at and amped it up. On a mid-'60s classical LP, the 124 (with its matching SPU cartridge, designed especially for the 124 DD) "manifested very physical textures in clean, muscular instrumental lines with realistic soundstage depth." He found it had a low noisefloor and "excelled at rhythmic punch and dynamics, producing music with vigor and drive." The combo was "a texture-and-detail champ."
About the Vote
On a preliminary ballot that included three of the most ambitious audio devices ever made, one of them (reviewed last December and apparently a distant memory for some voters) failed to make the finals. Neither of the other two placed. How is this possible? For one thing, some of the less-expensive products were very good. Also important, though, is that some reviewers apparently couldn't bring themselves to vote for products that cost as much as a house. What's more, those who did vote for a megadollar product often voted for only one, so the expensive-turntable vote was effectively split. That left the field clear for these less-expensive products.
In the final vote, the Pro-Ject Phono Box RS2 trailed the two winners by 4 points. The TechDAS Air Force Zero finished one point behind the Pro-Ject.