Shanling MC-30 Music Center CD receiver Page 2
Third: One of the most indispensable albums for any guitar enthusiast is the very first of Joe Pass's many
Virtuoso
albums (JVC VICJ-60256), which finds the artist playing without accompaniment on his trademark Gibson deep-bodied archtop: a characteristically dry sound, without a lot of sustain apart from that which seems to come from the guitar amplifier. The first song, Cole Porter's "Night and Day," opens with a descending G-minor arpeggio; it would be nice if your stereo is good enough to let you hear that Pass is playing it almost in the style of Django Reinhardt: all downstrokes. (Actually, Django used an alternating pick technique when fretting different notes on the same string, reverting to successive downstrokes when moving from string to string.) The Shanling nailed it. Also, you should be able to hear that the G near the end of the arpeggio is the same note, but an octave lower, as the one at the beginning. Don't laugh: I can think of at least two popular turntables that screw that up, even though they have wonderfully high-end "soundstages." Again, the Shanling was just good enough to get it right.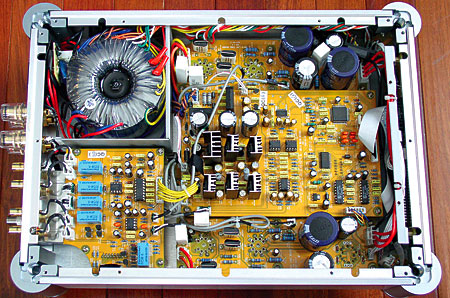 Fourth: Another, very different guitar record is Bryan Sutton's Bluegrass Guitar (Sugar Hill SUG-CD 3975): a contemporary recording of a talented young bluegrass picker accompanied by mandolin, fiddle, string bass, and occasional banjo. Sutton plays a dreadnought guitar with a mahogany body, and, like most flattop guitars, the instrument on this record has a round sound hole—all of which adds up to a more ringing, resonant sound than Joe Pass's guitar, with a great deal more sustain. Interestingly, even the Shanling made it apparent when Sutton was applying a bit of mandolin-style damping with his left hand, as in some of his rhythm comping behind the other players. (You can hear it especially well behind the first mandolin solo on the North Carolina fiddle tune "High Heel Shoe.") Throughout the album, the Shanling made it clear that the lead instrument is what it is—essentially, a Martin D-18—and while the young Sutton isn't yet known as a "tone" player in the manner of a Tony Rice, David Grier, or Russ Barenberg, his fine, distinctly clear sound came through very well indeed.
Fifth: When you listen to Glenn Gould's second (1981) recording of Bach's Goldberg Variations (Sony S3K 87703 et al), you should be able to tell that it's much more effective—and fun—than the first. Within about four bars. During Variation 20 you should be genuinely astounded that a single human being could think, let alone play a musical instrument, in so many different rhythmic streams at the same time. The Shanling got all of that across amazingly well, and surprised me by keeping its head when the playing got really loud. Borderline awesome.
Sixth: Speaking of which, how about Yo-Yo Ma's 1982 recording of Bach's Six Suites for Unaccompanied Cello (Sony Legacy JK 89796 et al)? Some people think his approach too mechanical, too perfect; I can see where they'd get the idea, although I don't think the shortcomings of Ma's very precise playing are that dire. The worst thing I can say about the recording is that some of the dynamic peaks sound a little fake to me, more like gain riding than anything that happened on the other side of the glass. Still, Ma's tone is lovely, and there is unexpected humor in some of his passages. And the believable sense of scale and (for once) satisfying bass depth on this disc were very nice through the Shanling.
Seventh: The only studio album that Jeff Buckley completed in his lifetime is now 14 years old. By comparison, Miles Davis's Bag's Groove turned the same age in 1968, when he was recording the sessions for Bitches Brew, and Buddy Holly's debut album turned 14 in 1972, the year Roxy Music released their first record. But in this musically less fertile era, and notwithstanding the occasional very nice record, Buckley's Grace (Columbia CK 57528) still sounds like the cutting edge in artsy yet visceral pop music. There are more unexpected melodic twists on this record than on any other I know, and Buckley was one of the very few truly accomplished pop vocalists whose style called to mind something other than a high school musical, a halftime show at the Superbowl, or tap dancing.
I despise pronouncements, but here it's appropriate: Grace is a masterpiece—perhaps the greatest pop record of the 20th century's last decade—and you need to own it. Any CD player that boots it and plays it will add to your happiness. The Shanling went further by letting the harmonium keep its texture in "Lover, You Should Have Come Over," by not getting overwhelmed by the dense mix of "Dream Brother," and by not going too far overboard—although it could have done better—on the vocal sibilants, which are a little overdone on this recording. And it could've used more bass.
Eighth: If you're at all like me, God help you, you may have limited patience with most pure, unblended folk musics, howsoever wonderful. (I find much more to enjoy in hybrids such as bluegrass and rock'n'roll.) Consequently, as much as I appreciate the originality of Skip James, Charlie Patton, and Robert Johnson, I seldom last through more than a half dozen numbers in one sitting. The only exception is Bukka White. The songs he recorded after his release from Mississippi's notorious Parchman Farm prison camp, as compiled on his The Complete Sessions, 1930–1940 (Travelin' Man, TM CD 03), are hypnotically compelling, due in part to the sheer relentlessness of White's guitar playing. You want a hi-fi that can get across the idea of momentum and flow in the music, and a really good one will make it obvious when the performer leans into the beat. I heard a lot of very expensive systems in 1984–86, when I was first exposed to the very costly American high-end gear of the day, and not one of them succeeded in that regard. But the Shanling MC-30 did, handily.
Conclusions
When I'm wearing my audio-reviewer pants I don't care about geopolitical this or envirotechnology that or much of anything else. There are some very legitimate concerns out there, of course—and some illegitimate ones, too, which often boil down to nothing more than racism—but those are things that you must address for yourself. Me, I'm just an audio writer.
Most of the time, I find it easy to be fair and circumspect and to bear in mind that, at this time in human history, the global marketplace is hardly a level playing field; but I can't help it if a product such as the Shanling MC-30 Music Center makes other manufacturers and designers look like greedy, incompetent asshats.
In the here and now, divorced from all other concerns, the Shanling MC-30 is obviously—obviously—an extraordinarily good value for the money. The design is ingenious, the build quality superb, the performance beyond merely satisfying.
If you have a child on the way to college who has a serious interest in music, buy him or her a Shanling MC-30 Music Center and a cheap pair of speakers. If you are that young person and have some extra cash lying about, and your parents don't have the good sense to obey my every edict, then by all means: Buy this. That's it—just buy it. Have some fun, apply yourself to whatever music you're listening to, and, if you're a boy, stay the hell away from my daughter.