Road Trip! Page 3
Once we turned off I-40W on I-75S to Chattanooga, JA countered with Snowflake's
Live Volume 1
, tracks 4 and 5; "Scorpio" and "The Message" from Grandmaster Flash ("Don't push me 'cuz I'm close to the (Ford) Edge!" we sang); Trentemoller's "Nightwalker" (very cool); Van Van Van Morrison Morrison Morrison's
Astral Weeks Live at the Hollywood Bowl
; and John McLaughlin's ground-breaking 1969 album,
Extrapolation
. The Ford's Sony system spread the music out before us in an enveloping, appealing, coherent way—not to mention the rather astounding two-guys-on-a-road-trip big-bass fundamentals we coaxed from it.
Rebel's Rest
Finally, we hit I-24W to Sewanee, where we enjoyed a warm welcome from our hosts, Thomas A. MacNab Carlson (footnote 1), a veteran professor in the University's English Department, and his wife, Chris, the University's innkeeper. Tam (after his first three initials) is the man who raised private funds to make the dream music room come true. But our visit to the William Ralston Listening Library and Archive would wait until the morning. Tam and Chris took us to the University's guest house, Rebel's Rest. Indeed. I was quartered downstairs, in the Chancellor's Suite, where Barbara Bush and T. Boone Pickens had stayed. Separately. The next day, I took a fair amount of ribbing from JA about sleeping with them both. "Serially!" chortled he. I'm happy to report that I enjoyed restful repose with no nocturnal visions.
After dropping off our bags, we toured the campus of University of the South, founded in 1857 by Episcopal Bishops with support from Cambridge and Oxford Universities, England. Imagine, if you will, the Oxford of the South—as if that august institution had been transplanted to the warm, sunny environs of Tennessee. No moss or lichen, no 'shrooms growing through the floorboards, no rain or fog, no bats even—everything sandstone clean, tidy, and brilliant in the sunlight. Raoul Duke would have had a coronary.
As the day waned, we found ourselves having a drink on our hosts' veranda, which overlooks the Cumberland Range—as idyllic a spot as you can imagine, had it not been for the South's tough-love insect life. Oh, a New Yawkah? Did they ever make a meal outa me! And JA? Untouched. I simmered in my histamines. Dinner by candlelight, the moon illuminating the trees, the sounds of nature all about us . . . we retired for the evening. Interim ergonomic report: My bod seemed no worse the wear for its long hours in the Edge.
The Million-Dollar Facility
The next morning, after eggs, grits, fresh juice, and coffee, we headed over to the William Ralston Listening Library, which houses a comprehensive collection of recordings left to the college as a teaching resource by this respected Episcopal priest, scholar, and teacher. Adjacent to a dedicated headphone listening room and an elegant entrance gallery, the spectacular, acoustically treated listening room has space for over 10,000 LPs on shelves angled out into the room to prevent standing waves. Along with several images of Toscanini, I noticed a large collection of books about Maria Callas and a biography of Mae West. Tam smiled.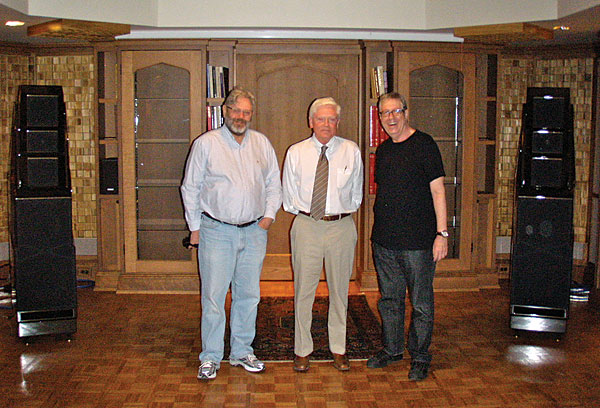 "The entire ceiling is poured-span construction," he explained. "There are no support walls holding up the floors or ceiling. They use 8"-thick poured concrete 'pans,' the ribs of which are 12" deep. The pans are completely filled with Owens Corning 705 fiberglass on all four sides and on top, with acoustical cloth pulled across the surface."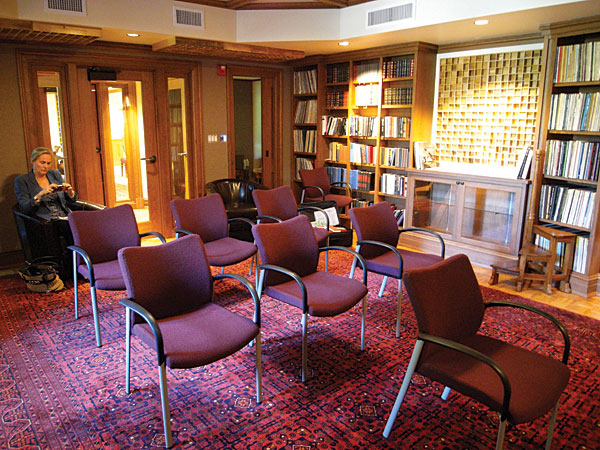 The room was built up using 13/8"-thick QuietRock soundproof drywall with Kinetics Isomax isolation clips—basically, screw-in clips with substantial rubber grommets on which to mount 5/8" sheetrock. Tam especially credits Chris Huston of Rives Audio for the acoustical engineering, with special thanks to Albert Filoni of MacLachlan, Cornelius, and Filoni architectural engineering.
As soon as we entered the beautiful, cherry-paneled room,—through a double-doored soundproof chamber—we were immediately impressed by the relaxing and overwhelming quiet. There's full HVAC air treatment, by the way, baffled and totally silent. Wilson Audio Specialties Alexandria X-2 Series 2 speakers dominate the far end of the room, diffusers from Auralex Acoustics fixed behind and above them to dissipate first and second reflections of the sound. The Alexandrias are powered by electronics from Ayre Acoustics—MX-R monoblocks, KX-R preamplifier, and DX-5 universal player—all connected with Cardas cable. A Grand Prix Silverstone rack at the other end of the room carries the preamp and disc player; it also bears three turntables: a Bauer dps 'table and tonearm, a Koetsu Black cartridge at the business end; and two VPI 'tables, each with VPI's JMW 10.5 Memorial arm: one carrying a Soundsmith strain-gauge cartridge and preamp, the other a mono Koetsu Rosewood Platinum cartridge.
Tam then proudly showed me a storage room behind the speakers, where reside a huge Equi=Tech Balanced Power Supply and storage for 10,000 CDs, the latter organized by the history of music. This arrangement is unique in my experience, and perfectly sensible. "We start with Western music, go through the High Renaissance, then the modern schools in national and chronological order beginning with Bach and the Germans, whom we cover right to their most contemporary composers," enthused Tam. "Then we go to French, Russian, Slavic, Spanish, Italian, and Scandinavian composers up to present day, ending with the English and Americans guffaws from JA and JS, arranged historically by each composer, largest works first, solo last."
---
Footnote 1: Thomas Carlson, The William Ralston Listening Library and Archive, The University of the South, 735 University Avenue, Sewanee, TN 37383. Tel: (961) 598-1346. E-mail:
tcarlson@sewanee.edu
. Web:
sewaneeonline.com/Ralston
.