Road Trip! Page 2
On the Road
The Edge's female voice directed us to I-95 South, toward Washington, DC, and the Ring Road West, then west again on I-66 to Strasburg, Virginia, where we picked up I-81, heading south into the Shenandoah Valley. We played no music till we'd reached Manassas, instead relaxing into the rhythm of the drive, munching miles with maximum momentum. I ignored the adaptive cruise control for now, testing the Edge's dynamic capabilities. The front-wheel-drive Edge is no sports car, but its big chassis comports itself well with no unseemly lurching about, and it's equipped with every electronic aid imaginable, including iPod and phone sync with the Microsoft-powered MyFord Touch system, and navigation and rear-view video via the 8" color touchscreen in the center of the dash. Much of the information is duplicated on 4.2" color LCD displays either side of the speedometer in the nacelle behind the steering wheel, these controlled with two cell-phone–like, five-button arrays on the steering wheel. And after sunset, we found there were low-level courtesy lights with a choice of colors that make your feet and the door latches glow in the dark. (We chose blue.) The Edge was an excellent companion for smooth, easy cross-country cruising. An American Jeeves, what? Tea, sir?
But mind your behind! For reasons unknown to this correspondent (and, I am sure, not at all connected with the brown-trousers moment to which I had subjected him), Editor Atkinson pressed the wrong virtual button, and though it was 97° outside, my seat heater went on. I said nothing at first. Then I squirmed around a bit. Then I announced, Hey! My ass is on fire! Oops. Ford Edge: Highly recommended for keeping your fan deck warm in winter.
Serious Sound
Once we hit I-81S, we got serious about the Edge's Sony sound system. Using his iPhone's spectrum-analyzer app, John had achieved a relatively flat setting the day before we left Manhattan by turning the treble down one notch. We began with files on JA's 160GB iPod Classic, hooked up to the Ford via one of the car's two USB ports: Beethoven's Symphonies 1 and 6 (Roger Norrington, London Classical Players); Beethoven's Violin Sonata 8 (Augustin Dumay, violin; Maria João Pires, piano); and Brahms' String Sextet 2 (Amadeus Quartet). The performer and work information, along with the sleeve art, showed up on the dash display. Very credible, enjoyable sound.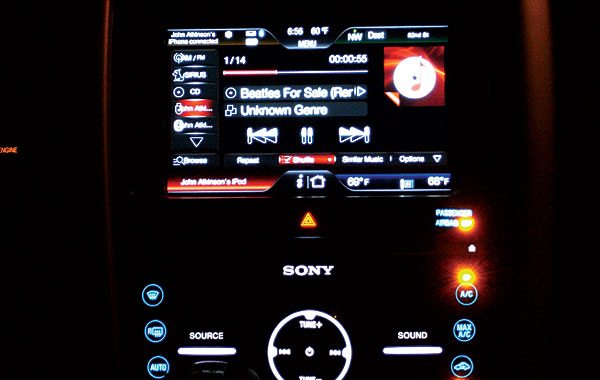 Feeling suitably bewigged and powdered, John switched to a few selections from Miles Davis's Miles in the Sky, then Miles again, doing "So What" from Kind of Blue, followed by Flanger's powerful take on that tune. We had the whole noddin'-heads-to-the-beat thing down cold. Yes, like brothers George and Yortuk Festrunk shoulders wriggling, we are two wild and crazy guys! Next up was The John Atkinson Trio in Montreal covering—all together now—"So What." The jazz CDs I'd brought along included, I dunno, four or five versions of "So What," including alternate studio takes. I don't know why JA and I even talk. We have nothing in common.
The music was keeping us entertained as another minivan crept along in the fast lane in front of us, the Edge's radar keeping me close enough to mash the throttle and get around this incredible stiff, once the opportunity presented itself. In fact, most minivans proved to be obstacles to the clean cleaving of traffic.
John thought some "modern" jazz would do, so he loaded the first of my jazz CDs. How much better can you get than Count Basie and Oscar Peterson in "Rent Party," from The Timekeepers? Or the Count Basie Trio's For the First Time, or Duke Ellington's Blues in Orbit, Such Sweet Thunder, This One's for Blanton, The Ellington Suites, Bags & Train, Bags Meets Wes? It was one deep delight after the other as the landscape flew by and we were ensconced in quiet, well-damped comfort. Glancing at the metadata conveniently displayed on the multifunction center-dash screen while Duke's "C Jam Blues" kept our feet tapping, John grinned and said, "But Jonathan, I thought you were going to play modern jazz!" Oh yes . . . and so we did.
On the road again
We stopped for the night in Staunton, Virginia. cue Twilight Zone theme Everyone at the hotel was so pleasant that it seemed, to this jaded New Yorker, like a cruel joke. As if, should we turn our backs, they'd give us the one-finger salute. But no—everyone was just so . . . nice.
Next day, caffeinated and back on the Edge, as it were, we were commanded by our electronic dominatrix to drive farther south on I-81, parallel to the Blue Ridge Mountains, toward Knoxville, Tennessee, where we picked up I-40W. I hit John with some of the electronica I listen to through headphones while working—either this stuff or, more often these days, the Forever Cool jazz audiostream. Yeah, baby. I began with a medley of Max Sedgley's "Slowly," Duffy's "Mercy," Pete Alderton's "Evil Was Her Name," and Pink Martini's "Hey Eugene!" JA seemed taken with Trance Groove's "Les Zigarillos." I made him sit through the Wolfgang Press's "Going South," DJ Food's "The Ageing Young Rebel," and Gotan Project's "The Man (El Hombre Remix)." I'm also partial to Ulrich Schnauss, Tosca, Rose Smith, Honeyroot, the Dining Rooms (naturally), and Groove Armada.