RMAF 2016: Jana's Day 2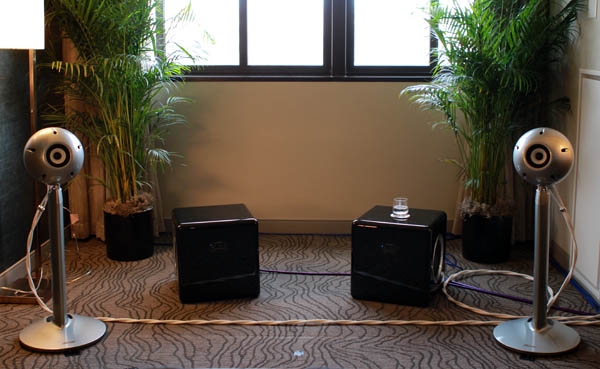 Day 2 began with more of floor 2. My first stop: the Eclipse room.
Before you ask—yes, the speakers look very much like you would expect them to. As in: if you merged an eclipse and a speaker, the result would closely resemble that of an Eclipse TD510ZMK2 speaker. (For size reference, they're like a smaller second cousin to the Devialet Phantom.)
Inside the room: Eclipse TD510ZMK2 Speakers ($5,990/pair) and Eclipse TD520SW Subwoofers ($7,200/pair) powered by a Luxman L-590AX Integrated 30 Wpc Amplifier ($8,490) with a mix CD (courtesy of Philip O'Hanlon, as these are all distributed by his company, On A Higher Note) playing through a Luxman D-06u SACD/CD Player with USB ($9,990).
The TD510ZMK2's sounded heartier than expected, though I cannot honestly comment on how much of that is courtesy of the TD520SW subwoofers. We also listened to the Sgt. Pepper's Lonely Hearts Club Band LP on a vintage Luxman PD 441 Turntable, which was originally announced at the Tokyo Show in October 1976. (It was equipped with a Thomas Schick 12" tonearm with Ortofon 102 mono cartridge on one side and an Abis SA-1.2 with a Miyajima "Zero" mono cartridge on the other.)
I'm usually a total sucker for anything Beatles and vintage, but in this case, I was oddly more attracted to the fine separation and sound quality of the D-06u SACD/CD player.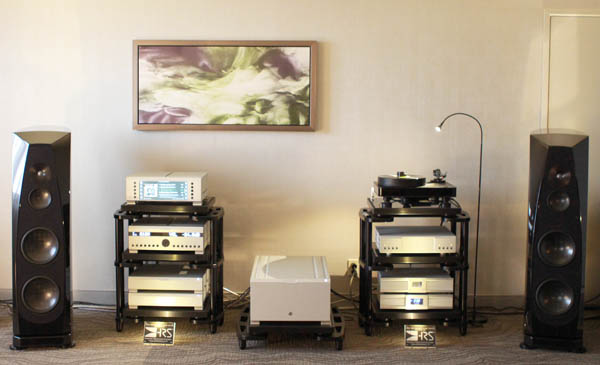 Down the hall, I entered the Boulder/Soundings/Analysis Plus/Rockport Technologies room—a shadowy lair with ample ambience.
The digital system consisted of a Boulder 2160 Stereo Amplifier ($53,000), 2110 Stereo Preamplifier ($55,000), and 2120 DAC ($65,000). All of this played through Rockport Cygnus Speakers ($62,500/pair) and a pair of REL 212/SE subwoofers ($3,995 each), with Analysis Plus Cables (ranging from $1,225-2,800). Audio Physic Magnetic Sound Optimizers MK V ($995) and Iso Tek EVO3 Sigmas/EVO3 Titan ($4,495/$4,995) were used throughout. And all of this was atop of HRS Isolation Stands (the SRX Series—$33,000). I selected Glenn Gould's first (1955) recording of Bach's Goldberg Variations, and we listened to Aria and a random variation.
After a little while, we switched to an Eva Cassidy LP, played on a Dr Feickert Woodpecker turntable with Jelco tonearm and Acoustical Systems Arche Headshell ($8,000), paired with an Ortofon Cadenza Bronze cartridge ($2,300), played through a Boulder 1008 Phono Stage ($13,000).
The attention to detail and deliberate articulation made by both Gould and Cassidy were both spectacularly conveyed through the Cygnus's in a continuous, liquid manner: clean and defined, yet fluidly compelling.
By early afternoon, my inner seminar-binging demon was pining for some more audiophile-panelist wisdom to devour. (That demon is the lover of my system-binging demon, but both need equal TLC in order to maintain their healthy relationship. And it is stimulating to absorb information of another medium from time to time.) Weak and easily swayed, I complied.
Tyll Hertsens of Inner Fidelity hosted the Headphones: The Next Evolution of Products seminar with Paul Barton of PSB Speakers, Dr. Fang Bian of HiFiMAN, Dan Clark of MrSpeakers, Nicolas Debard of Focal, and Jude Mansilla of Head-Fi.org.
As you can probably guess, I was first abducted by the intermediary audiophile world in high school, when I discovered Head-Fi and the endless possibilities of headphones. Upon learning of this seminar and the panelists involved, I knew destiny was calling me!
It started off innocently enough: Where do you see headphones in three years? How will our increasing knowledge in HRTF curves affect headphones? Is there a difference in willingness to accept change between headphone-centric audiophiles and two-channel audiophiles? But then!—Tyll began telling us of the future: smart headphones eliminating language barriers, conversational isolation courtesy of headphones, real live Pokémon experiences (!), streaming virtual concerts, and so on. Oh, the places headphones'll go!
Jude brought it home with a statement about how, no matter how much smart headphones dictate the future, audiophiles and audiophile headphones will always have their place in this world. Bravo.
Next up on the seminar demon's binge list: Brent Butterworth of brentbutterworth.com hosted the How to Read Between the Lines in High-end Audio Advertising seminar, with Chris Connaker of Computer Audiophile, Michael Fremer of Analog Planet, and Jeff Merkel of Merkel Acoustic Research & Design.
The panel discussed motivations for manufacturers to advertise: good will, supporting the press, growing awareness, keeping dealers happy, and of course the ugly, far-too-often-made (by readers) accusation: pay-for-play.
Unfortunately, I couldn't stay till the end, so I'll just leave you with some high-end audio advertising food for thought from the seminar's first half. A crucial point discussed by Butterworth and Fremer: for any major publication, editorial and advertising are separate. (And if they're not, they really should be…) In simpler terms, reviewers don't know who's advertising in any given issue, sales teams have no control over what reviewers say in editorial copy, and manufacturers can have many other motivations to advertise other than the lowly pay-for-play.
In the McIntosh Labs room, a laptop computer was connected to a McIntosh C2600 Preamp ($7,000), which then went through a MEN220 Room Correction System ($5,000), to a pair of MC601 power amplifiers ($7,000 each), played through a Sonus Faber Il Cremonese 3.5-way loudspeaker system ($45,000/pair). Everything was connected by McIntosh cables throughout (approximately $4,000 total).
I can't say much about the specific music playing: the songs on the playlist were in English, but were identified only with text in Chinese—which neither I, nor the McIntosh folks, could decipher.
What I can say is that I was very impressed by the MEN220 Room Correction System, because the Il Cremoneses did not seem to be positioned optimally—and it was a tiny room. (The other half of the room was being used for McIntosh's 7-channel demonstration, with the usual Enrique Iglesias Dolby Atmos music video.) There was still a bit more bass than I would have preferred, but the MEN220 definitely corrected that a bit. I hope I'll have the opportunity to hear and reassess the Il Cremoneses in the future in a different space.
The GamuT/Audio Skies room was by far the most fun—in terms of both listening and atmosphere—on the entire second floor! I walked in to find Jose Ramirez casually dancing to Hugh Masekela's Hope LP. After a few minutes of listening, he asked if I had any requests. After flipping through a stack of vinyl, I chose: "Desafinado," off of the Getz/Gilberto featuring Antonio Carlos Jobim album. Jose started singing along, as expected. Never had I felt so welcomed in this entire show without needing to flash my Stereophile badge to beg someone for information. (And even if I wasn't press, this shouldn't be the case for any show attendee.)
We listened to the LP on a Pear Audio Blue Capt. John Handy/Cornet 2 Turntable/Tonearm ($4,995), with an Ortofon Cadenza Black MC Cartridge ($2,750), an Ortofon ST 80 step-up transformer ($1,679), and a Pear Audio Blue Classic Phono stage ($1,995). This all went through a GamuT Di150 Limited Edition Dual-mono integrated amp ($11,990) to Larsen 8 Loudspeakers ($6,995/pair), with GamuT cables throughout. (I have read about the Cornet 2 Tonearm in both Michael Fremer's and Art Dudley's reviews of it, and have long been craving a listen.)
I loved the entire system immediately, like it was my own. But better. It was that sort of warm, nostalgic sound that made me feel at home. But better. With a deep, full bass, thick, creamy mid-layers, and the gentlest of highs, I realized: this is my favorite room of the show. But better.
Adding to the room's friendliness, a kind show attendee named John Russ saw that I was struggling to find a good angle with my borrowed DSLR, and offered to help; the two pics above are by him.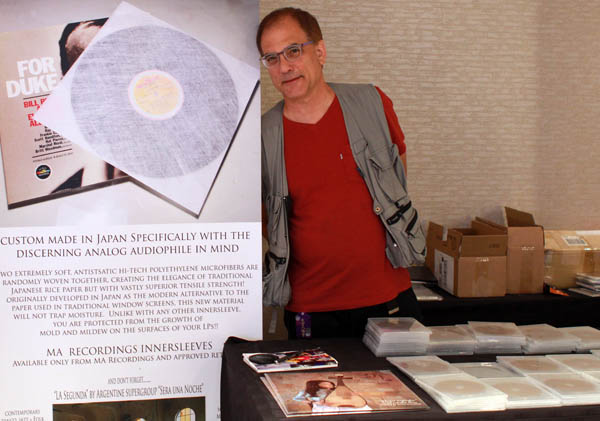 Aside from show reports, my side job at RMAF 2016 was to periodically check on Stereophile's stand in the lobby and make sure the magazine stacks were full. I'd do this a few times throughout the day, and each time, I'd have spontaneous conversations in passing with Todd Garfinkle, producer/engineer/creator/brain behind M•A Recordings, which was on the way to the Stereophile stand.
This time, as the show was coming to an end, I decided to stop by and have a proper listen. Todd told me about how M•A Recordings was started in Japan in 1988, and that his recordings are produced with two omni-directional microphones, which are then fed into handmade recording equipment. Very audiophile.
I requested the Goldberg Variations, which seems to have become my usual. He paired me with Ito Ema, a Japanese pianist I had never listened to before. Ito plays beautifully on her own 1903 Steinway D Concert Grand Piano. The recording was done in Harmony Hall, Matsumoto, Japan, in February of 1994. I am a creature of habit, which means that I usually opt to listen to Glenn Gould's or Murray Perahia's Goldberg Variations, like I'm on classical-music autopilot. And it works for conversational purposes, because most people I've encountered prefer Gould blindly to all others. But Ema's take was a slap of fresh air (yes, a slap), because it forced me to immerse myself in a completely different mindset. Her flow, choice of breaths, and added sensitivity hit me. Hard. Next time I see Todd Garfinkle at a show, I won't wait till the end of the second day to take a listen: the man knows what he's doing.