RMAF 2016: Jana's Sunday at the Show
As I entered the Schiit/Salk room, someone from Schiit asked me, jokingly: "Isn't Schiit too cheap for
Stereophile
?"
I wish I could've channeled Stephen Mejias, who'd probably have said something more wise/cool/all-around-smooth-space-cowboy sounding. I think I probably just chuckled and said something like "no, of course not." Nothing is too cheap for Stereophile. Nothing is too cheap for audiophiles. Our reviewers share their thoughts on components through all price ranges for our readers who shop through all budget ranges.
That being said—I'm cheap. I'm a recent college graduate living in New York City who likes good food and drinks. (Read: Scotch.) Hell, I'm the epitome of cheap! As such, Schiit has long been a company of great interest for me, and that interest was only piqued further after reading Herb Reichert's review of the Schiit Ragnarok Integrated Amplifier.
Back to the Schiit/Salk room. The source was a Salk StreamPlayer Gen III ($1695), through a Schiit Bifrost Multibit DAC ($599), to a Schiit Saga preamplifier ($349), a Schiit Vidar amplifier ($699), and out to Salk Song3 speakers ($2895/pair). The Song3s are controlled and easy to listen to, with a RAAL 64-10 ribbon tweeter, a 4" bamboo-cone midrange, and a 7.5" woofer. Their playlist was cinematically explosive, and had me impressed by the system's dynamic responsiveness.
I left the room thinking, as most people probably have: what a great sounding, affordably priced system! I've confirmed what all before me have learned: Schiit stays true to their word.
My last stop on the second floor: Oppo.
I knew timing was on my side when I walked in and heard, from the entrance, that they were playing Elton John's "Rocket Man." We listened to it the rest of the way through on the Sonica Grand Wi-Fi Speaker ($699) and the smaller Sonica Wi-Fi speaker ($299). Both are to be released before the end of the year.
Ironically, the Sonica was more gratifying to listen to than its larger counterpart. To me, Elton's vocal nuances were communicated more thoroughly through the Sonica, whereas, on the Sonica Grand, the vocals sounded just a tad bloated and fluffy. Obviously the Sonica's treble range is not as pretty as on the Sonica Grand…but that's the usual tradeoff, right? Generally speaking, they were both pleasant wi-fi speakers to listen to, and these are just my nitpickings.
Schiit got me thinking of the Ragnarok, which got me thinking of Herb, which got me texting Herb, which resulted in me tagging along with Herb to the Davone Room.
The funniest (read: most awkward) thing happened in this room, involving two showgoers whom we'll call "Man 1" and "Man 2." (The room was manned by Nate Mansfield, so we'll just call him "Mansfield.") So Mansfield says "what would you like to listen to?" Man 1 demands "Kiss," and proceeds to search on Mansfield's iPad. Man 2 says, in a way-too-angry-for-an-audio-show-but-not-angry-enough-for-mixed-martial-arts-way, "Kiss is stupid. Why would you pick Kiss?! That's the worst thing you could possibly pick!" Et cetera, et cetera. Man 1, of course, says, "I like Kiss," and proceeds to justify himself (unnecessarily, I might add). A brief verbal fight commences. Where is the popcorn with the extra butter, white cheddar, and sour cream and chives, with a vanilla milkshake on the side, when you need it? I was hooked!
Man 1 and Man 2 left, and I seemed to be the only one still captivated. So our listening began. I requested "Painter Song" from Norah Jones' Come Away With Me, because I (unlike Herb) actually love Norah Jones and never get tired of her. (Diana Krall is another story.) We're listening through a Sony HAPZ1ES High-Resolution Audio HDD player ($1,999.99), through a Pass Labs INT-150 integrated amplifier ($6000), out to the good-looking 16-layer beechwood Davone Grande Speakers ($20,000/pair), with Kimber Kables (approximately $5000) throughout.
Next, Mansfield suggests we listen to the track "How Many Times Have You Broken My Heart," with Gillian Welch and Norah Jones, from the album The Lost Notebooks of Hank Williams, and Herb reveals that it's his first time enjoying Norah Jones. (We duked it out later.) The artistic Davone Grandes provided a weaving, sensorial experience with swell imaging. To my ears, the affectionately endearing midrange was the main highlight of the Grandes.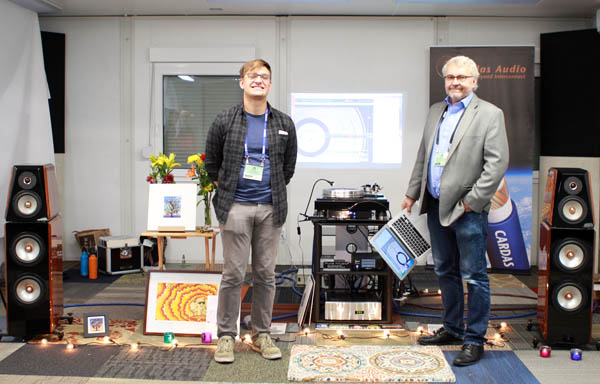 After Davone and a brief lunch (a salt soup with a hint of tomato from the Marriott restaurant), I headed over to the Classic Album Sundays room, where they were scheduled to play Talk Talk's Spirit of Eden at 2pm. In previous RMAF 2016 CAS events, they played Innervisions by Stevie Wonder, Blue by Joni Mitchell, OK Computer by Radiohead, and Lady in Satin by Billie Holiday. I rarely listen to Talk Talk, so I figured this would be my way of creating a memorable Talk Talk experience for myself.
The room was romantic, dimly lit with candles and a string of warm bulb lights on the floor. (I had them turn on the lights to take this photo because it was too dark originally.) To add to the ambience, the CAS room also happened to be the best smelling room in the entire show.
The Spirit of Eden LP was playing on a VPI Classic Signature turntable ($6000) with an Audio-Technica AT-ART 1000 moving-coil cartridge ($5000), through a Channel D Seta Model L phono preamp ($5000), a Lynx Hilo ADC/DAC ($2700), to a Jeff Rowland Continuum S2 integrated amplifier ($9000), to Joseph Audio Pearl 3 loudspeakers ($31,500/pair). In the background, you can see a projection from Channel D's Pure Vinyl software ($299) displaying the track data. (As of this report, Pure Vinyl is covered by four patents—three in the US and one in the UK.)
There weren't too many people in the room, but the experience was everything I expected it to be: immersive, experiential, and wildly compelling. The sound fit the room appropriately—it reached deep into Talk Talk and spit out weird, compulsory waves. My only personal downside was that the volume was too high. I had to leave earlier than I wanted to because I couldn't handle the sheer sonic force, literally. The volume-induced bodily sensations added positively to my emotional experience, but were slightly detrimental to my sonic experience.
After departing from the CAS room, I prowled over to the adjacent CanJam tent. I typically feel more in my native environment when listening to or talking about headphones (portables in general, in fact), because they're where my origins lie. I'm sniffing and panting, in high-adrenaline mode. God says to me, "Jano" (if God calls Herb Herbo, then I am Jano and JVS is Serino. That's why wine is vino, right? Anyone a fan of Sammo, the martial artist?) Anyway, so God says, "Jano, go to Astell&Kern's booth." And I obey.
Astell&Kern + Tidal = Life changing. Happy Jano.
According a press release sent out by Astell&Kern, new firmware was released on October 13, adding Tidal support to the AK70 and AK300 series players initially, and will eventually be available for the AK240, AK100 II, and AK120 II players. They're also adding aptX HD support for streaming 24-bit/48 kHz hi-res audio over Bluetooth. Let me rephrase: Astell&Kern is the first hi-res player manufacturer to do this. How will the audiophile world react?! The controversy!
Playing with the semi-new AK70 ($599) at their CanJam booth got me so hyped about Tidal integration. (For reference, the AK70 is a step up from the AK Jr and was released a few months ago. And it's definitely a step up, well worth the $200 price difference.) I've long been a lusting AK fangirl, and Tidal integration could be the final piece to the puzzle. I didn't have enough time to soak in the full experience, to see if there were any UI bugs, and so on. Smooth sailing so far. But the one thing worth pointing out is that the Tidal interface feels more natural to view and control on the AK300 because of its larger screen size. It shrinks down proportionately to the AK70, but is still very manageable.
I wanted to listen to Astell&Kern's most affordable setup, so I paired the AK70 with their Michelle IEMs ($499, created in partnership with JH Audio), which will be released by the end of this month. The three-way Michelles sport three balanced armature drivers within a ergonomic 3D printed shell. Tired of all the similar music from the past few days, I decided to listen to some J Dilla, Mr. Carmack, D'Angelo, and Diplo for a change of pace. In my dazed notes, I literally wrote "SO TIGHT, FAT BEATS" in all caps. (My notes are sadly much less poetic than Serino's.) By that, I meant that the bass extended just the right amount (where D'Angelo and Diplo come in handy), the highs weren't fatiguing (where Mr. Carmack comes in handy), and the midrange wasn't crunchy (where J Dilla comes in handy). For a handsome portable setup a little over $1000, the AK70 and the Michelles strike me as a hi-res bargain.
At the Questyle booth, I continued along my quest for affordable gear, and asked to audition their more affordable products at the table: the CMA600i DAC with Headphone Amp ($1299) and the QP1R High-Res DAP ($899).
The file source for the CMA600i was a touchscreen tablet with a wide-ranging selection of music. I used MrSpeakers headphones and started with "Piano Man" by Billy Joel—but I was not feeling it. I guess an audiophile might say, "there wasn't enough oomph" or "lack of gravitas." Bad pairing? Who knows. So I switched to a pair of Audeze LCDXCs and had a better experience.
Up next, the QP1R DAP. First impressions: It's attractive, solid, and feels good to hold. Interface doesn't seem the most intuitive to me, but I'd probably have gotten the hang of it eventually. I kept the LCDXCs on (even though this might not make the most sense for a realistic portable experience with QP1R) and listened to "Like a Rolling Stone" by Bob Dylan. The QP1R was fun and lively. No complaints here.
At the HiFiMAN booth, I got to try the HE 1000 V2 ($2999).
The upgrades from the v1 are: reduced weight (slimmer earcups), two additional notches on a tighter headband, three-core conductors instead of two-core within the stock cables, thicker beveled earpads in the rear for larger asymmetrical yield, and polyester earpads instead of velour. I am told that there are no changes to the drivers and that all sonic differences are as a result of the changes in fit.
The change in the headband is immediately noticeable. The V1's were harder to keep in place, and pivoted unintentionally at times. Thankfully not the case with the V2. Sonically, I didn't notice a massive difference (in a noisy CanJam tent), but fit was a monumental difference. (I have a small head, so the V1's always felt a little loose on me, like they could fall off at any moment.) Anyway, it's the same price as the V1, so why not?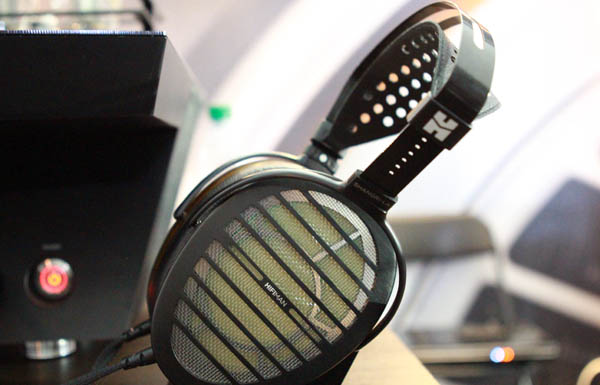 While at the HiFiMAN booth, I also got to try the HiFiMAN Shangri-La Headphones and Shangri-La Headphone Amplifier ($50,000, only sold as a package.) Fancy fancy. A Chinese female vocal song that I was unfamiliar with was playing on them. I don't know what to say. They sounded spectacular as expected, with that same shimmery/liquid/sterile HiFiMAN sound, but I am not confident enough to make a comment beyond that.
HiFiMAN Shangri-La versus Sennheiser Orpheus, anyone? I'd like to see/hear that battle at the next show I visit.