Records to Die For 2021 Page 2
---
John Atkinson
---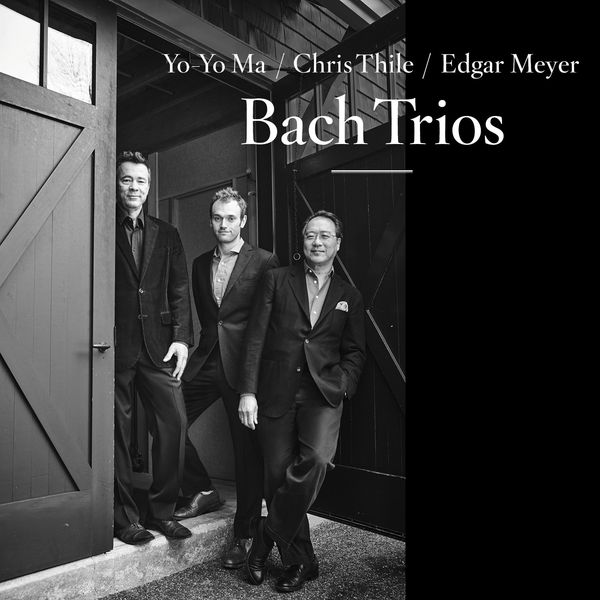 J.S. Bach: Trios
Chris Thile, mandolin, guitar; Yo-Yo Ma, cello; Edgar Meyer, double bass.
Nonesuch 558933 (2 LPs; CD; 24/96 AIFF files available from HDTracks and Presto Music; 24/48k MQA-encoded FLAC file available as a Tidal stream that unfolds to 24/96k). 2017. Ruth E. DeSarno, exec. prod.; Steven Epstein, prod.; Richard King, eng.
With the exception of the Brandenburg Concertos, which were written with specific solo instruments in mind, the instrumental music of Johann Sebastian Bach seems to exist on a separate plane from the actual scoring. From William Malloch's arrangements for string orchestra of the Art of Fuguing on Sheffield Lab, which was originally composed for an unspecified keyboard instrument, to the extraordinary vocal stylings on the first Swingle Singers album, the voices and unoriginal instruments shine the light on the music's meaning from different directions. This album of transcriptions played by three string-instrument virtuosi illustrates that point. Even pieces that I thought I never needed to hear again, like the hymn Wachet auf, from the cantata of the same name, had me mesmerized by the beauty of the music making. My favorite track was originally an organ chorale, Erbarm dich mein, o Herr Gotte (Have mercy on me, Lord my God), where pizzicato double bass and gently strummed block guitar chords accompany the melody played in what sounds like harmonics on the cello. I auditioned the album as both 24/96 files and as an MQA-encoded 24/48 stream. The sound quality, captured in James Taylor's home studio (see the discussion in Ken Micallef's interview with Taylor here), is not quite at the level of the musicianship, being slightly on the dry side. But no matter: Bach: Trios has been in heavy rotation since Jason Victor Serinus recommended it to me.
Rachmaninoff: Symphony No.2 in E Minor
André Previn, Royal Philharmonic Orchestra
Telarc 80113 (CD). 1985. Robert Woods, exec. prod.; James Mallinson, prod.; Jack Renner, eng.; Tony Faulkner, assist. eng.
The opposite to Bach's cerebral scoring is the orchestral music of Sergei Rachmaninoff, typified by my second choice for this issue's R2D4: Rachmaninoff's Symphony No.2 in E Minor, where the emotional impact of the endless stream of glorious melodies is amplified by this master orchestrator's choices of instruments to play those tunes. The album was recorded by Telarc's cofounder, the late Jack Renner, who captured the sound of the orchestra in North London's Walthamstow Assembly Hall with three spaced omnidirectional microphones. The result is a gloriously rich presentation with a wide dynamic range and a soundstage well-defined in both width and depth, but without the solo instruments sounding too big, which can often be the case with orchestral recordings.
---
Jim Austin
---
U2: War
Island Records 90067-1 (LP). 1983. Steve Lillywhite, prod.; Paul Thomas, eng.
I remember proudly telling my older brother, home from college, about my newest musical discovery: U2. "I'm sure they'll be the next Beatles," he replied dismissively.
Well, U2 has now lasted much longer than the Beatles and sold almost as many records. I feel vindicated.
Later U2 records were more accomplished musically and technically, but for raw passion—equal emphasis on those two words—none has matched the one that produced "Sunday Bloody Sunday," "New Year's Day," and "Two Hearts Beat as One."
War is the album that finally dethroned Michael Jackson's Thriller from the top of the charts. War is a much more serious affair, focused on the tangible consequences of, well, war.
War reflected what Bono perceived to be the spirit of the times: "War seemed to be the motif for 1982," Bono told NME in an interview. And yet in some ways, the album is based in romance. "New Year's Day" grew out of a love song Bono wrote for his wife. "Sunday Bloody Sunday" arose from a riff guitarist the Edge wrote after an argument with his girlfriend, when he was "feeling depressed" and "channeled [his] fear and frustration and self-loathing into a piece of music." This is a very good post-punk band exploding into something bigger. A touchstone for rock music.
The Ventures: Knock Me Out!
Dolton Records BST-8033 (LP). 1964. Dick Glasser, prod.; Eddie Brackett, eng.
I haven't been back to the place where I grew up in 30 years, but I do remember well the small record-storage space inside the big old Magnavox stereo console in our living room. It held an odd assortment of LPs: Bobbie Gentry, Mantovani, Glen Campbell, Lynn Anderson, the Troy State University Marching Band, and this. Knock Me Out! is a typical Ventures album: songs from the Beatles ("I Feel Fine"), the Zombies ("She's Not There"), Roy Orbison ("Oh! Pretty Woman"), the Everly Brothers ("Gone, Gone, Gone"), and others given the usual Ventures guitar treatment, with a few original compositions. There are even vocals on the final track.
I say I'm disconnected; maybe that's why I do so love a good '60s vibe. You can find it here.
---
Larry Birnbaum
---
Kanda Bongo Man: Amour Fou
Kanda Bongo Man, vocals; Diblo Dibala, Rigo Star, guitars; Miguel Yamba, bass; Domingo Salsero, drums; Philippe Guez, keyboards.
Hannibal HNCD 1337 (CD). 1988. Kanda Bongo Man, prod., eng.
This Paris-based singer transformed Congolese soukous by speeding it up, adding Caribbean spice, and extending his bandmates' guitar parts. Here, his sugary high tenor is backed by a crack rhythm section with guitar stars Diblo Dibala and Rigo Star interlacing filigreed vamps. Building in intensity from first track to last, the session hits a high point on the buoyantly propulsive, candy-sweet "Amour Fou" ("Crazy Love"). Dibala and Star entwine gripping solos on "E'mame," but the session doesn't climax until the final "Bayembi," where the two guitarists vamp irresistibly in tandem.
Chick Corea: Now He Sings, Now He Sobs
Chick Corea, piano; Miroslav Vitous, bass; Roy Haynes, drums.
Blue Note B0029363-01 (LP). 1968/2019. Sonny Lester, Joe Harley, prods.; Doug Hahn, eng.; Kevin Gray, remastering.
Corea's second album is arguably his finest, a piano trio classic where the three players interact brilliantly. Corea is in superb form, blending bebop and free jazz in his own engaging style on a radiant set of distinctive original compositions. The energy and creativity never flag, from the opening "Steps–What Was," which segues from a driving, off-kilter blues into a Spanish-flavored romp, to the closing "The Law of Falling and Catching Up," a foray into total abstraction.
---
Phil Brett
---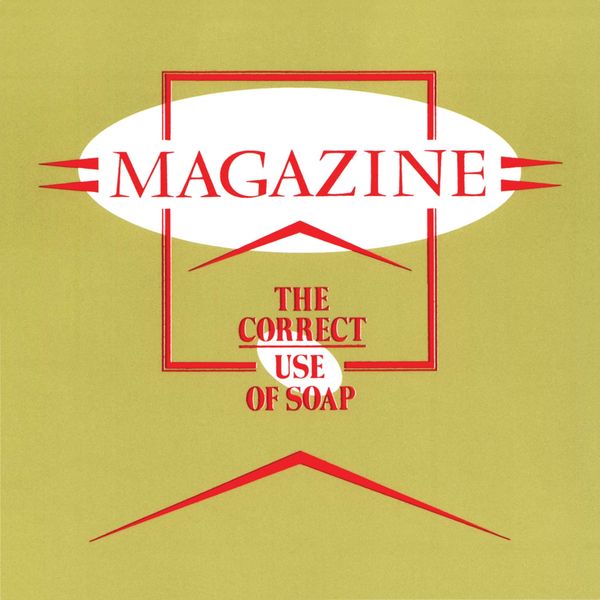 Magazine: The Correct Use Of Soap
Virgin 5782370B (LP). 1980/2018. Martin Hannett, prod.; George Piros, eng.
Following their second album's worrying closeness to prog rock, Howard Devoto steered Magazine toward this jerky, edgy, but highly accessible post-punk masterpiece. Catchy but slightly unnerving, lyrically nodding toward Kafka and Orwell, every song is a sublime cameo of paranoia. Barry Adamson's funky bass, John McGeoch's screechy guitar, and Dave Formula's synths bounce off Devoto's distinctive, deadpan singing across 11 songs. The result is like claustrophobia's greatest hits. Add some neurosis and the very apt album title, and this defines me in these pandemic times.
The Style Council: Our Favourite Shop
Polydor 825 700-1 (LP). 1985. Paul Weller, Peter Wilson, prods.; Roger Wake, eng.
There are albums that grow on you slowly, and there are those that grab you right from the start. This gem hit my turntable in 1985, and to my then-housemate's considerable irritation, it didn't leave it for weeks. Literally. After the Jam, Paul Weller had formed The Style Council, combining soul, jazz, and politics in a loose ensemble. Those who like their music politics-free or their protest singers to be unshaven folkies sneered at The Style Council. Both missed a treat, because this is perfect protest pop. I still love it. I changed my housemates, though.
---
Tom Conrad
---
Keith Jarrett/Gary Peacock/Jack Dejohnette: Yesterdays
Keith Jarrett, piano; Gary Peacock, bass; Jack DeJohnette, drums
ECM 2060 (CD). 2001/2009. Manfred Eicher, Keith Jarrett, prods.; Yoshihiro Suzuki, eng.
As I write this, the sad news of Gary Peacock's death and Keith Jarrett's crippling strokes is still fresh. It feels like a good year to choose a Jarrett "Standards Trio" album as an R2D4. This ensemble's body of work is so enormous and so consistently strong that you could throw a dart and hit an R2D4. Yesterdays was beautifully recorded live in Metropolitan Festival Hall in Tokyo in 2001. Jarrett is in the zone. "Shaw 'Nuff" is insanely fast affirmational bebop. "Stella by Starlight" is an extravagant double-time revelation. How good was Jarrett? "Stella by Starlight" was captured during the soundcheck.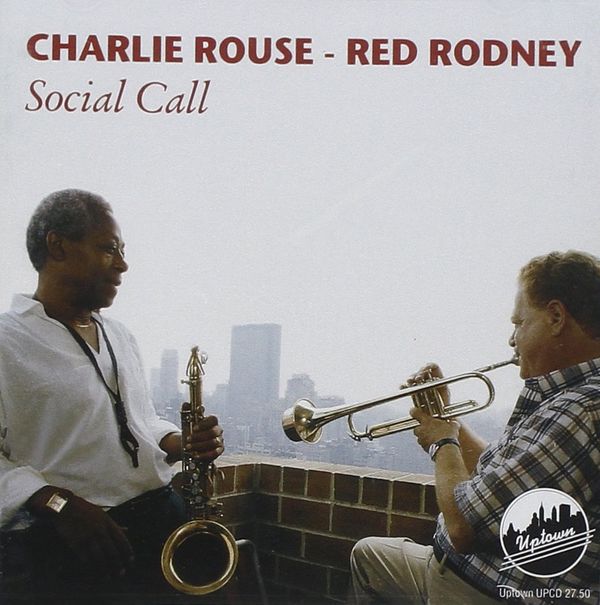 Charlie Rouse/Red Rodney: Social Call
Don Sickler, arr.; Charlie Rouse, tenor saxophone; Red Rodney, trumpet, flugelhorn; Albert Dailey, piano; Cecil McBee, bass; Kenny Washington, drums
Uptown UPCD 27.50 (CD). 1984/2003. Robert E. Sunenblick, MD, prod.; Rudy Van Gelder, eng.
What are R2D4s for if not foisting off on an unsuspecting public obscure artifacts even the nerds have forgotten? It's stunning to be reminded of how good the second-line players who came out of bebop were. Rouse and Rodney made Social Call in 1984, when they were 59 and 56 respectively, two alpha males still breathing fire. They manhandle with finesse great tunes from back in their day like Miles's "Half Nelson" and Dameron's "Casbah." Rouse's gritty, warm tenor saxophone tone is a wonder to hear again. And Rudy Van Gelder's fine recording will scorch the cilia in your ears.
---
Brian Damkroger
---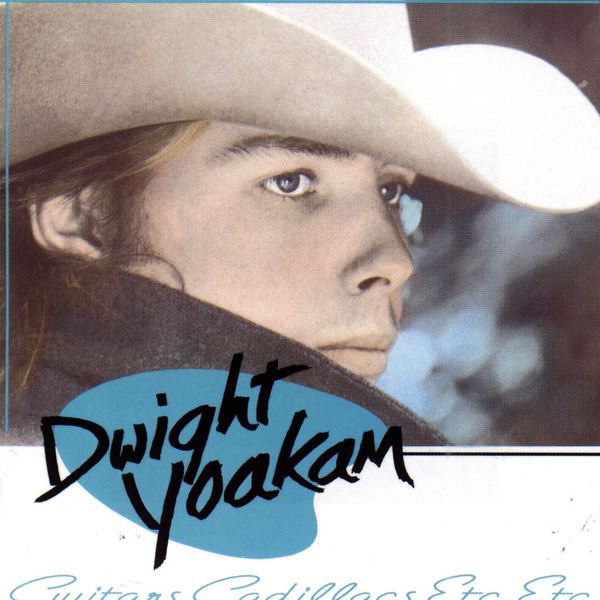 Dwight Yoakam: Guitars, Cadillacs, Etc., Etc.
Reprise 9 25372-1 (LP). 1986. Pete Anderson, prod.; Brian Levi, Dusty Wakeman, engs.
I was floored when I first heard the song "Guitars, Cadillacs" on one of the FM stations in Boulder, Colorado. It was cool—really, really cool, kind of like the Blasters' "Marie, Marie," but with stunning, impossibly twangy vocals unlike anything I'd ever heard. A few songs later, the DJ went through his playlist, I went through a process of elimination, and voila, I'd just heard the title cut from Guitars, Cadillacs, Etc., Etc., the debut album from someone named Dwight Yoakam.
I'd soon learn that the album was dynamite, stem to stern. Yoakam's work has since devolved into some sort of unfortunate honky-tonk morass, but Guitars, Cadillacs, Etc., Etc. remains a really cool exemplar of foot-tapping, boogie-in-your-seat rockabilly music.
J.S. Bach: Suites For Solo Cello: No.2 in D Minor, No.5 in C Minor
János Starker, cello
Mercury Living Presence SR90370 (LP). 1963. Harold Lawrence, prod.; Robert Eberenz, eng.; George Piros, tape-to-disc transfer.
This is a wonderful album, to my ears as near perfection as one can come. The music is gorgeous, but that's only part of it. There are numerous lovely interpretations of these works, but when I listen to Starker's performance, I know deep inside that he's found the musical truth. It quickly becomes impossible to imagine another perspective. The recording process also feels inherently right. It almost vanishes completely as it seems to bend time and space to crank the calendar back to 1963 and place me in Studio A at the Fine Recording Company. I'll say it again: This is a wonderful, nearly perfect album, one that I don't want to be without.