Records to Die For 2017 Page 5
---
Paul Messenger
---
The Incredible String Band: The 5000 Spirits or The Layers of the Onion
Elektra EKS 5287 (UK LP). 1967. Joe Boyd, prod.; John Wood, eng. AAA. TT: 50:10
All latter-day hippies ought to have a copy of this splendid album, which features psychedelic cover art by The Fool and brilliant recording quality, thanks to the excellent taste of producer Joe Boyd. Clive Palmer had left for India, and now on this, the ISB's second album, the duo of Robin Williamson and Mike Heron took center stage in songwriting, singing, and the playing of sitars, gimbris, and the ubiquitous guitars. They formed a successful folk-oriented live act, with or without girlfriends, until 1974, and continued as solo artists thereafter—but I don't believe they ever bettered this album. (Vol.17 No.12, Vol.33 No.9)
Paul Simon: The Rhythm of the Saints
Warner Bros. WX 340 (UK LP). 1990. Paul Simon, prod.; Roy Halee, eng. ADA. TT: 44:34
Graceland may have been the first of Paul Simon's collaborations with overseas musicians, and may have attracted all manner of (sometimes political) attention, but I've long felt that this follow-up of four years later, based largely on Latin American rhythms, was very much its equal, though it attracted less attention. Although Simon's exploration of complex Latin rhythms is particularly interesting, this longstanding key member of the songwriting elite also maintains his high compositional standards throughout this impressively varied recording. It doesn't set a particularly high standard of recording quality, but it's remarkably homogeneous, considering the many recording locations and musicians used. (Vol.14 No.2, Vol.19 No.2)
---
Ken Micallef
---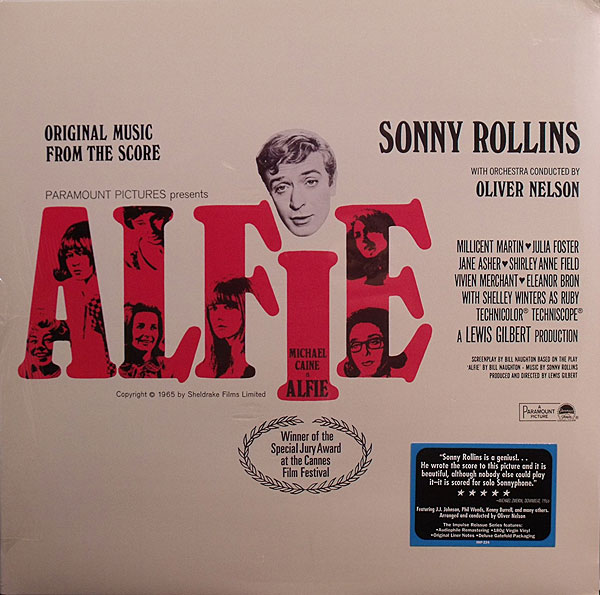 Sonny Rollins: Alfie: Original Music from the Score
Sonny Rollins, composer, tenor saxophone; Oliver Nelson, arr., conductor; Phil Woods, alto saxophone; Bob Ashton, tenor saxophone; Danny Bank, baritone saxophone; Jimmy Cleveland, J.J. Johnson, trombone; Kenny Burrell, guitar; Roger Kellaway, piano; Walter Booker, bass; Frankie Dunlop, drums
Impulse! A-9111 (LP). 1966. Bob Thiele, prod.; Rudy Van Gelder, eng. AAA. TT: 32:50
Sure, you know the popular hit single composed by Burt Bacharach and sung by Dionne Warwick; this is the other side of the Alfie soundtrack. Sonny Rollins realized one of his most refined albums with Alfie, which, like the film, traces a day in the life of Alfie Elkins (Michael Caine). This emotional album is a feast for the audio senses and a wide-ranging work of diverse moods, with some of Rollins's most incandescent soloing. From the swinging opener, "Alfie's Theme," to the atmospheric ballad "He's Younger Than You Are" and the chaotic "Street Runner with Child," Alfie is a tour de force, and one of the greatest and least appreciated albums in jazz. (Vol.18 No.2)
Tower of Power: Back to Oakland
Warner Bros. BS 2749/Direct-Disk Labs SD 16601 (LP). 1974/1976. Tower of Power, prods.; Jim Gaines, eng.; Emilio Castillo, reissue supervisor. AAA. TT: 43:05
The fourth album by the blue-eyed "Soul Vaccination" crew, Tower of Power, Back to Oakland is a nearly perfect combination of extraordinary musicianship, fervent compositions, and emotional R&B crooning. ToP are renowned for their innovative use of funk rhythms based on the James Brown school, but Back to Oakland rose far above the funk and funk fusion styles then popular: The album's sublime songwriting and lavish production made it a masterpiece of mid-1970s horn-band funk. From the agitated funk burner "Squib Cakes" and the wistful jazz waltz "Time Will Tell" to the time-twisting juggernaut "Can't You See (You Doin' Me Wrong)," Back to Oakland is timeless Bay Area soul.
---
Fred Mills
---
Primal Scream: Screamadelica
Plain PLAIN 1061DLB (2 LPs). 1991/2016. Andrew Weatherall, Hugo Nicholson, Jimmy Miller, Andrew Innes, Hypnotone, prods.; David Burnham, eng. ADA? TT: 62:03
In 1991, a middling Scottish combo primarily known for its Byrds and Stones influences released an album that changed the face of British rock. Screamadelica, produced for the most part by Andrew Weatherall, of visionary techno team The Orb, mixed Detroit-styled heavy garage with then-burgeoning acid house, stirring in dollops of dub and pinches of psych, to create a heady mélange as danceable as it was gritty. Freeing the ass first, so to speak, so the mind would definitely follow, "E" optional (but suggested). Originally released on LP by Creation (UK) and on CD by Sire (US), Screamadelica got the expanded, boxed-set treatment in 2011—but this latest iteration, on two gorgeous discs of red-and-yellow-swirled vinyl, nicely returns it to its warm, analog, LP roots. (Vol.23 No.2)
Game Theory: The Big Shot Chronicles
Omnivore OVCD-174 (CD). 1986/2016. Mitch Easter, prod., eng.; Cheryl Pawelski, Pat Thomas, reissue prods. AAD. TT: 79:54
Although common wisdom advises that Lolita Nation, Game Theory's sprawling two-LP set of 1987, is the Cali power-pop kings' masterpiece, real fans favor its '86 predecessor. Omnivore's expanded and remastered reissue of The Big Shot Chronicles mounts a compelling argument that with this album, songwriter-guitarist Scott Miller (R.I.P.) reached an early, dizzying creative peak. The music, intuitively abetted by college-rock wunderkind producer Mitch Easter, is simultaneously serene and muscular, dropping sonic references to the likes of Big Star, Velvet Underground, and Todd Rundgren (among the bonus tracks: a cover of the Runt's classic "Couldn't I Just Tell You") while staking out a unique and permanent position in the Amerindie underground. Unlike many records from the mid-'80s, this one has absolutely stood the test of time.
---
Thomas J. Norton
---
Bear McCreary: Outlander, The Series: Original Television Soundtrack, Vol.1
Madison Gate 043396 406490 (CD). 2015. Bear McCreary, Joe Augustine, prods.; Laurence Schwarz, Ryan Sanchez, engs.; Pat Sullivan, mastering. DDD.? TT: 50:27
Film and TV composer Bear McCreary first made his mark in the early 2000s, with the reimagined Battlestar Galactica. With his score for the Starz TV series Outlander he took on a very different challenge. This fantasy, based on the novels of Diana Gabaldon, tells the story of an English woman thrown back in time from 1945 to the Jacobite uprising in 1740s Scotland. Season One calls for Celtic themes (some classic, others new) heavy on Uilleann bagpipes, fiddles, accordion, pennywhistle, and bodhran, backed by orchestral strings, vocals, and percussion. The result is haunting and compelling. It's also beautifully recorded, and, though mastered at a high level, sounds neither too bright nor compressed. The booklet, with notes by McCreary that provide extensive detail about the creation of the score, is a rare and welcome bonus.
Jonas Kaufmann: An Evening with Puccini
Jonas Kaufmann, tenor; Jochen Rieder, Filarmonica Della Scala
Sony Classical 8887 513025 9 (BD). 2016. Brian Large, dir.; Barry Clark-Ewers, prod.; Carlo Assalini, senior eng,; Matteo Costa, audio recording eng. DDD. TT: 115:00
Jonas Kaufmann, the go-to tenor of the early 21st century, is apparently opera's current matinee idol—if, at one of his performances, you wait for the fat man to sing, you'll still be waiting next Tuesday. His real gift is his magnificent voice, which is fully on display in this special concert. Most of the Puccini favorites are here, including the most overperformed aria of recent decades, "Nessun dorma," from Turandot. Be sure to check out the encore repeat of the latter, with an endearingly human development near the end of this long concert. The excellent sound is offered in both lossless DTS HD-Master Audio surround and 2.0 stereo PCM. The first-rate video is a bonus, and important for the full experience. But you'll need a BD or DVD player—this hasn't been released on CD.
---
Herb Reichert
---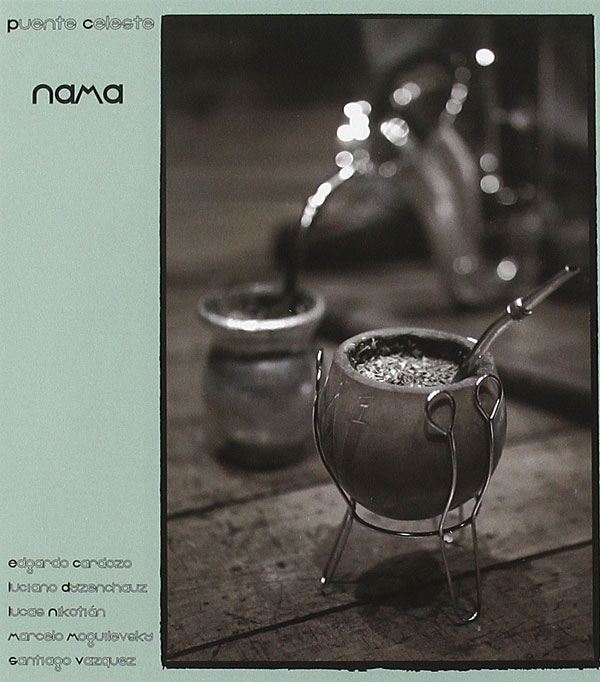 Puente Celeste: Nama
M•A Recordings M084A (CD). 2010. Todd Garfinkle, prod., eng. DDD. TT: 60:58
When I find a tin of gold doubloons, I will buy every album ever released by M•A Recordings. Each title is genuine art, not audiofool pap. The music ranges from Romani "Muzika Orijinal" to Ito Ema playing J.S. Bach's Goldberg Variations on a 1906 Steinway grand. Puente Celeste means Celestial Bridge, and this five-man group, assembled by Argentine percussionist Santiago Vazquez (of Será Una Noche fame), will give you a preview of that bridge's heavenly destination with their most quirky and sophisticated music, neither jazz nor pop. Each cut is a surprise package of musical invention. Nama, with sound to die for, was recorded at 5.6MHz with a Korg MR-2000 DSD one-bit master recorder.
Macy Gray: Stripped
Chesky JD389 (LP/CD/MP3). 2016. David & Norman Chesky, prods.; Nicholas Prout, eng. DDD. TT 51:07
One of her recordings went triple platinum in 1999. She won a Grammy in 2001, for "I Try." When I played an LP test pressing of Stripped for my girlfriend, bb, I told her, "I think you'll like this singer. I met her at a Chesky recording session. She used to be a backup singer, and now David is giving her a whole album. She sings with deep, authentic soul." Then bb yelled at me: "Backup singer?! You fool! That's Macy Gray! I own every record she ever made!" (Sorry. I never heard of her.) This recording completely defies Holt's Law (the better the recording, the worse the musical performance): these are five-star performances in five-star binaural sound.
---
Kalman Rubinson
---
James Matheson: Violin Concerto, String Quartet, Times Alone
Baird Dodge, violin; Esa-Pekka Salonen, Chicago Symphony Orchestra; Color Field Quartet; Laura Strickling, soprano; Thomas Sauer, piano
Yarlung YAR25670 (CD). 2016. J. & Helen Schlichting, prods.; Bob Attiyeh, stereo eng.; Tom Caulfield, multichannel eng. ADD/DDD. TT: 75:59
The two-channel version of this release, fine in its own right, is available on CD and on three individual LPs: Yarlung YAR65005-670V, YAR25668-670V, and YAR25669-670V. However, my real motivation for this R2D4 listing is the DSD256 five-channel version, downloadable from www.nativedsd.com.
With no prior knowledge or expectations of James Matheson's music, the slashing opening of Taut, energetic, the aptly titled first movement of his String Quartet, hooked me. Not only was the music gripping and appealing, the multichannel sound was completely involving. Matheson is a living composer for whom direct and emotional communication is not compromised by an unintelligible style or obscured by adherence to dated ones. His String Quartet is dramatic, his Violin Concerto virtuosic and witty, and oh, the lovely songs of Times Alone linger in my mind after the last notes fade.
The multichannel tracks of the String Quartet and the song cycle were recorded in November 2015 in DSD256 by Tom Caulfield, using his array of five carbon-fiber DPA 4006A microphones and a Merging Technologies Horus A/D converter. These are among the most vividly realistic recordings I have heard, and striking in the similarity of what I hear to the photographs of the Los Angeles recording sessions. The Violin Concerto was recorded in concert in December 2011 by Chris Willis, whose multitracks were downmixed to stereo using Yarlung's SonoruS Holographic Imaging processor. The five-channel surround mix was created from that. It's still excellent, but not nearly as convincing as the sound quality of the other works.
Willie Nelson: Night and Day
Willie Nelson, guitar, piano; Mickey Raphael, harmonica; Johnny Gimble, fiddle, mandolin; Jody Payne, acoustic guitar; Bobbie Nelson, piano; B. Spears, bass guitar; Paul English, drums; Billy English, percussion
SurroundedBy Entertainment SBE1001-9 (DVD-A). 1999/2000. Willie Nelson, Jim Mageras, prods.; Larry Greenhill, eng.; Bob Ludwig, surround mastering. ADD(?). TT: 35:20
This is one of my reference recordings; I've used it many times in my reviews of multichannel equipment. One reason is the absolutely beautiful depiction, in 24/96, 5.1-channel sound, of each and every instrument. In this very immersive mix, the players surround the listener—it's nothing like what you'd hear in a concert, but nonetheless, the sense of an ensemble performing in a real space is maintained, and seems completely natural.
The other reason to cherish Night and Day is that the arrangements and performances of this eclectic collection of songs are equally natural, engaging—and danceable. Willie Nelson released this entirely instrumental recording on a small label at a point in his career when any income derived from his singing would have gone directly to the IRS. Rather than being a way to skirt such garnisheeing, Night and Day seems the result of Nelson's need for expression—it is one of his most personal albums. Tragically, the hi-rez DVD-A is now out of print and commands high prices—but the CD is equally enjoyable for the music.