Records to Die For 2017 Page 4
---
Jon Iverson
---
Yello: Toy
Polydor 4782160 (24/48 PCM download). 2016. Yello, prods.; Boris Blank, eng. DDD. TT: 61:04
This is the thick, frosty chocolate milkshake of your sonic dreams. Toy will light up any audiophile system (and your earbuds) with an aural sweetness and luxuriant flavor that push out the soundstage walls for miles and reach as deep down into dark-chocolate depths as recordings can go. All of which would be a terrible waste if there weren't so much rich, creamy songwriting at the heart of these frothily arranged tunes. And yes, there are whipped cream and several cherries on top: Malia, Fifi Rong, and the resonant Dieter Meier take turns on vocals.
The Tikiyaki Orchestra: Stereoexotique
Future Primitive FP-003 (CD). 2007. Jim Bachi, prod., eng. DDD. TT: 40:30
Lounge and exotica have always held revered places in audiophileland, but you've never heard them mixed—along with spaghetti western, space-age bachelor pad, and spy themes—into as potent a concoction as in this musical mai tai. The drums and tropical percussion are saturated with deep, dark rum tones, while pineapple-flavored notes wrung from wooden and steel xylophones float and vibrate throughout. There's also twangy, lime-infused surf guitar, along with syrupy-sweet Hawaiian-steel glissandos and Curaçao-laced piano, all finished off with minty electric organ. Garnish and serve with a straw and a tiny, brightly colored umbrella.
---
Fred Kaplan
---
I've been doing this bit every year since 2008, there are only so many records I'd be willing to
die
for, and I think I've covered pretty much all of them. So let me twist the assignment, in a way suitable for this season of holiday cheer and political drear, to the records I most
live
for—those albums that most incite music's charms to soothe a savage breast (and excluding those I've listed before).
Duke Ellington & His Orchestra: The Far East Suite: Special Mix
Bluebird 66551-2 (CD). 1967/1995. Brad McCuen, prod.; Ed Begley, eng.; Orrin Keepnews, reissue prod.; James Nichols, remastering. ADD. TT: 61:16
Never mind that it should have been called The Near East Suite (inspired, as it was, by a journey through that part of the globe)—this is one of Duke's finest albums, a glimpse of what fusion might have been, and heady, kaleidoscopic balm for the soul. I still think you can usefully divide the world into those who melt at Johnny Hodges's solo in "Isfahan" and those who don't. Four alternate takes are included, and the sound—an improved mix from the original four-track analog tapes—is excellent. (Vol.18 No.10)
Keith Jarrett & Charlie Haden: Last Dance
Charlie Haden, double bass; Keith Jarrett, piano
ECM 2399 (CD). 2014. Keith Jarrett, prod.; Martin Pearson, eng. DDD. TT: 76:07
At the end of particularly bruising days, I find myself spinning this disc (or Jasmine, recorded at the same sessions, and one of my R2D4s for 2013) as much as any other. These piano-bass duets, mostly on standard ballads and pared down to the essence of the song, are less grandiloquent than most of Jarrett's treatments, more attuned to Haden's spirit: intimate, shiversome, transportingly gorgeous. The mix puts you right there in Jarrett's small backyard studio. (Vol.38 No.8)
---
David Lander
---
Buddy Collette Big Band: In Concert
Buddy Collette, woodwinds; Al Viola, guitar; Fred Katz, cello; Gerald Wiggins, piano; Richard Simon, bass; Ndugu Chancler, Chico Hamilton, drums; 15 others on woodwinds, trumpet, trombone
Bridge 9096 (CD). 2000. David & Becky Starobin, Anne McLean, prods.; John Tyler, mix; Adam Abeshouse, remastering. DDD. TT: 56:04
William "Buddy" Collette was a gifted composer and arranger as well as a saxophonist, clarinetist, and flutist. A West Coast Jackie Robinson of jazz, in 1949 he integrated the orchestra on Groucho Marx's radio and TV quiz show, You Bet Your Life, and helped effect the merger of the separate black and white locals of the Los Angeles musicians' union. Collette grew up in L.A.'s Watts district alongside Charles Mingus, who switched from cello to bass at his suggestion. In 1955 and '56, Collette was part of the Chico Hamilton Quintet, and for decades was a presence in his hometown's recording and television studios. In 1998, L.A.'s mayor designated Collette "A Living Los Angeles Cultural Treasure." This CD was recorded at a 1996 Library of Congress concert in Washington, DC, where a consort of longtime colleagues joined Collette to play a program of selections composed and mostly arranged by him. Brimming with bold solos, it's a basket of multihued musical gems.
Martinu: Cello Sonatas 1–3
János Starker, cello; Rudolf Firkusny, piano
RCA Victor Red Seal 61220-2 (CD). 1990/1992. David Frost, prod.; Tom Lazarus, Louise de la Fuente, engs.; Robert Rapley, Rudy Chalupa, John Klepko, editing. DDD. TT: 54:21
Maybe Czech composer Bohuslav Martinu never wrote religious music because he was a sexton's son who grew up in a church-tower apartment. Nevertheless, his catalog is diverse, comprising a sweep of works ranging from chamber pieces and ballets to operas and symphonies. In the early 1920s, Martinu moved to Paris, where audacious artistic sages were leading disciples in various directions. He ultimately espoused the neoclassicism reflected in these three lovely sonatas, composed in 1939, 1942, and 1952. The pianist Rudolf Firkusny, also Czech, performed the first of them in Paris, with Pierre Fournier, before fleeing Nazi-dominated Europe for New York City, where Martinu sought refuge soon afterward. Firkusny helped the composer settle in and continued to champion his compatriot's music, which almost always included the piano. The graceful ensemble playing delivered by Firkusny and cellist János Starker in this studio recording is everything you'd hope for from two top-ranked virtuosi.
---
Michael Lavorgna
---
Nick Cave & the Bad Seeds: Skeleton Tree
Bad Seed Ltd. BS009V (LP). 2016. Nick Cave, Warren Ellis, prods.; Kevin Paul, Jake Jackson, engs. DDD? TT: 39:44
Nick Cave continues to grow as a singer-songwriter. On Skeleton Tree, Nick Cave & the Bad Seeds' 16th studio album, he tackles love, loss, and pain. From the song "Distant Sky": "They told us our gods would outlive us / But they lied."
Jacques Coursil: Trails of Tears
Jacques Coursil, trumpet; Perry Robinson, clarinet; Mark Whitecage, alto saxophone; Bobby Few, piano; Jeff Baillard, keyboards; Alex Bernard, Alan Silva, bass; Sunny Murray, José Zébina, drums
Sunnyside Communications B004ETVB1K (CD, Bandcamp download). 2010. Bruno Guermonprez, prod.; Jeff Baillard, Yvan Brard, Marc Escavis, Hubert Marniau, Thomas Vingtrinier, Tony Viscardo, engs.; Christophe Hauser, mix. ADD? TT: 39:54
This is one of the saddest, most beautiful records I've heard. Jazz trumpeter Jacques Coursil tells tales of suffering: "Every time someone is suffering, there is someone there who is making them suffer. It's a common story, as much your story [or] my story."
---
Richard Lehnert
---
Van Morrison: Veedon Fleece
Exile B0011365-02 (CD). 1974/2008. Van Morrison, prod.; Jim Stern, Dahaud & Jean Shaar, Elvin Campbell, Alastair McMillan, engs. ADD? TT: 56:36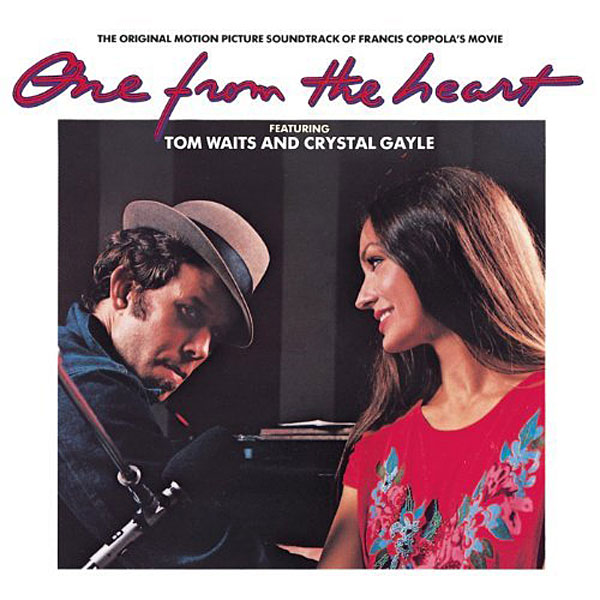 Tom Waits & Crystal Gayle: One from the Heart
Columbia/Legacy CK 85813 (CD). 1982/2004. Bones Howe, prod., eng., mix, remix; Biff Dawes, eng.; Chris Bellman, mastering. AAD. TT: 50:18
At the worst times in our lives, most of us seek sustenance and comfort in music. But at such times, I've found, there is also music I can't bear to hear, because I love it not wisely but too well—music that so plumbs the wells of pain and loss that it only deepens them. Here is one of each.
Forty years ago, I read a record review in which the writer said that he owed his life to Van Morrison, whose music had greatly eased his passage through a long, dark night of the soul. Veedon Fleece (1974) is a long, dark night of an album—perhaps the most inward-looking of Morrison's career, and the most mysterious. The atmosphere is often slow, subfusc, diffuse, but sometimes ("Fair Play," "Country Fair") filled with the light of a pastoral peace. Most mystifying are the lyrics—impenetrably personal stream-of-consciousness musings, sketches of (apparently) Irish scene-setting, free associations on the English Romantic poets. Veedon Fleece also contains some of Morrison's most warm, gentle, loving songs: "Come Here My Love" is the most tender lyric crooning, and "Comfort You"—well, in my own soul's dark night, I wept in relief each time this song came 'round: Things would turn out all right. Here words and music combine in a perfectly matched gesture of compassion, warmth, and full-hearted generosity.
Another of the album's many centers is the long "You Don't Pull No Punches But You Don't Push the River," the philosophical principle of the title (the song's refrain) beautifully embodied in sound: Morrison's voice sailing in falsetto above the dark, pulsing flow of the beat, then diving low and guttural to work against the current before at last succumbing to it in a whisper. "Bulbs" is so full of ebullience and muscularity that it makes me smile every time; and throughout "Cul de Sac," Morrison can be heard working himself up and through one blind alley of expression after another until he at last lets loose and screams in release and frustration, rage and joy. It's the most potent, most dramatically and musically justified instance of sheer barbaric yawp on record that I know of—and it makes Morrison's "roaring" in "Listen to the Lion," from St. Dominic's Preview of two years earlier, sound downright kittenish. This is his roar, as never heard elsewhere.
In addition to two alternate takes, the 2008 remastering slightly brightens the top and deepens the bottom, but the mild dispelling of murk is a mixed blessing: Part of the appeal of the album's sound was always the emergence from mystic gloom of the instruments and Morrison's voice, glowing no brighter than a peat fire. Everyone should have such problems. This album is Morrison's unknown, little-acknowledged masterpiece, secret sharer of the vision and deep lyricism of Astral Weeks. But for me, Veedon Fleece is the destination for which Astral Weeks provided only the map. (Vol.27 No.2)
Tom Waits's original soundtrack score for Francis Ford Coppola's One from the Heart (1982) is that other sort of recording: so powerful an expression or evocation of deep feeling that I have to think twice before listening to it. It's unique in Waits's discography: his only duet album, it's perfectly poised between the often self-indulgent, terminally sentimental barroom melodrama of his earlier records and the fiercely unsentimental, surreal, deeply Weill-influenced, hubcap-and-accordion experimentation of everything from Swordfishtrombones (released the following year) to the present.
Although One from the Heart was the pivot point on which the first of those aesthetics swung toward the second, it bears little resemblance to either. In terms of sound quality and arrangements, for strings and/or small jazz combo, it's by far Waits's most polished production. His choice of country star Crystal Gayle to sing three songs solo and duet with him on four others (Waits sings six by himself) sounds odd on paper but wonderful in the ear: Waits's rough gravel and Gayle's smooth, pure, liquid clarity make the album a patchwork of sandpaper and velvet: one voice scratches an itch of sound and feeling that the other then caresses. Remarkable—and supported by Waits's smoothest, most accomplished piano playing ever.
It's the songs that are so striking. I think they're the strongest Waits ever wrote, and, unusually for film music, were composed long before Coppola's cameras rolled. In his liner note, the director says, "I originally told Tom [Waits] and Bones [Howe, the album's producer] 'What I really want you guys to do is make an album called "One from the Heart" and then I'll make a movie that goes with it.'" Coppola envisioned the voices of Waits and Gayle as the Greek gods Zeus and Hera, looking down on, commenting on, and seeing in their own marriage the relationship of the film's protagonists, low-wage workers in Las Vegas (played by Teri Garr and Frederic Forrest).
The songs voice the inner, unspoken monologues and dialogues spoken in, by, and from the hearts of those characters, from attraction to mutual projection to the humdrum details of living together through breakup, loneliness, despair, reconciliation. They are unfailingly melodic, with lyrics rich in extended metaphor and wry understatement. "Broken Bicycles" and "Take Me Home" are examples of perfect songcraft, as are "Old Boyfriends" and "This One's from the Heart"—any could be a standard from the 1930s. They give these two singers—masters of styles that would normally seem mutually exclusive—much to work with. Bob Alcivar's string and orchestral arrangements are exquisitely tasteful—Nelson Riddle with most of the sugar leached out—and in the intimate jazz settings, Jack Sheldon's trumpet evokes Chet Baker's ghost.
So many of the personas through whom Waits has long sung have sounded beyond hope, or terminally defended from risking hope. But One from the Heart is an accurate title: This record has an unfailing sincerity, and Waits's singing a deeply felt authenticity, that I've heard from him on no other. Here there is hope and—most surprising of all in a Tom Waits album—a sweetness one can believe in. If, in the depths of my own least hopeful days, I didn't dare hope enough to risk hearing this album again, that's my failing, not his.
---
Robert Levine
---
The Band: The Band
Capitol 25389-2 (CD). 1969/2000. The Band, John Simon, prods.; Joe Zagarino, Tony May, engs., mix. ADD. TT: 71:48
Although my first musical love affair was with folk music—Ed McCurdy, Pete Seeger, Odetta—I soon switched to classical, and my contact with Americana was limited to Aaron Copland. Still, I made plenty of room for every new release by the Beatles, Stones, Who, and Pink Floyd. But something happened to me when I first heard the Band's Music from Big Pink: it was as—or more—authentic than the folk stuff or Copland. And then, in 1969, the "Brown Album"— The Band—came out, and I could barely stop listening to it for months. I still play it every few weeks. My love for it comes not just from its authenticity (yes, I know: four of the group's five members were Canadian), but from its tight perfection, which appears to be spontaneous; its ever-changing lead singers, each with a specific flavor; and its amazing palette of colors. The fiddle at the start of "Rag Mama Rag," a song that still makes this withered body want to get up and boogie; the stratospheric vocal harmony on night in the chorus of "The Night They Drove Old Dixie Down"; the fake Jaw's harp and Levon Helm's flawless diction in "Up on Cripple Creek"; Richard Manuel's gorgeous singing in "Whispering Pines," with Garth Hudson's organ ostinato adding a hymn-like flavor . . . I can't go on any more—my word count is way over. Let's just say that, 30 years ago, I moved to Woodstock. Coincidence? And oh, yes—this 2000 remastering is splendid, and includes alternate, previously unreleased versions of six of the songs, plus the outtake "Get Up Jake." It all sounds like a certain part of America as it should be. (Vol.20 No.2, Vol.23 No.12, Vol.29 No.2)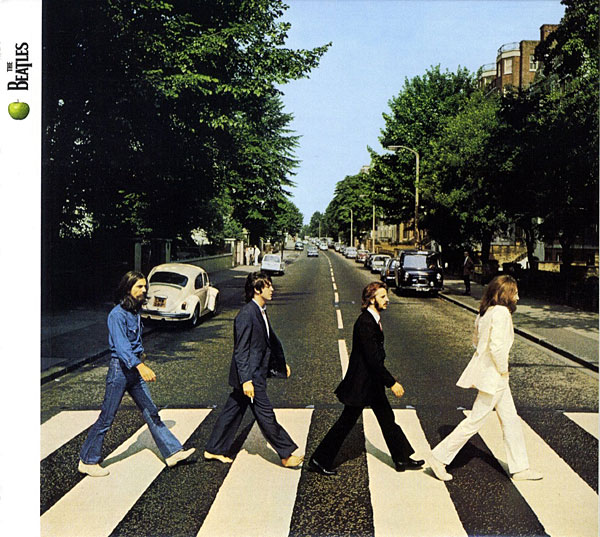 The Beatles: Abbey Road
Capitol CDP 7 46446 2 (CD). 1969/1987. George Martin, prod.; Geoff Emerick, Phillip McDonald, engs. AAD. TT: 47:16
How can I have never chosen a Beatles album? The only two things I waited on line for in the 1960s were a new Beatles album and a new part of Decca's Ring cycle. At first I thought the "White Album" would be my choice, but it's not as flawlessly put together as Abbey Road—which was, catastrophically, the last album that all four Beatles worked on in the studio. And it's very much a studio work—flawlessly engineered, with all the doo-dads possible that are impossible in a live performance. I love the Moog. I love the mood changes, from sexy to silly, with silly sometimes used as a palate cleanser: What could have followed the ravishing "Something" other than the foolish "Maxwell's Silver Hammer"? And find me a song, now overexposed of course, more stunning than George's "Here Comes the Sun." Or a collection of sounds more gorgeous than the lads' harmonies in "Because." And what on earth is "You Never Give Me Your Money"? How was it conceived?? Okay—every track on this album seems new every time I hear it. Bravo, fellas. (Vol.11 No.2, Vol.33 No.2)
---
Sasha Matson
---
Thad Jones/Mel Lewis Orchestra: All My Yesterdays: The Debut 1966 Recordings at the Village Vanguard
Thad Jones, trumpet, arr., composer; Mel Lewis, drums; others
Resonance HCD-2023 (CD). 1966/2016. George Klabin, prod., eng.; Zev Feldman, prod.; Fran Gala, mastering. AAD. TT: 2:05:58
In 1966, college sophomore George Klabin recorded the first performances by the Thad Jones/Mel Lewis Orchestra, at the Village Vanguard nightclub in New York City. The core of that band continues there to this day, performing on Monday nights as the Vanguard Jazz Orchestra. Unbelievably, these recordings weren't officially released until 2016—by that same George Klabin and his label, Resonance Records. The sound is clear and cookin', and the music is at the apex of creative big-band writing and performance. Great book, too. If you love jazz, get yourself to the Vanguard on a Monday night—see you there! (Vol.39 No.5)
The Grateful Dead: Fillmore West 1969
Grateful Dead/Rhino R73193 (3 CDs). 1969/2005. David Lemieux, Jeffrey Norman, prods.; Bob Matthews, Betty Cantor, engs. AAD. TT: 3:23:01
Deadheads speak of different years from the band's career as if they were different wine vintages. For me, 1969 is that peak bottling. The Dead settled in at the Fillmore West for a long weekend in February–March 1969, playing basically the same set for each show, to record the core of what became Live/Dead. In 2005, the complete recordings from that weekend were released on 10 CDs. This album is a three-CD "best of" sampler with spectacular sound quality. Original engineers Bob Matthews and Betty Cantor were using one of the first 16-track tape machines to record incredible, on-fire performances, by Garcia and Lesh in particular, to make this some big powerful magic.