Recording of November 2017: Marseille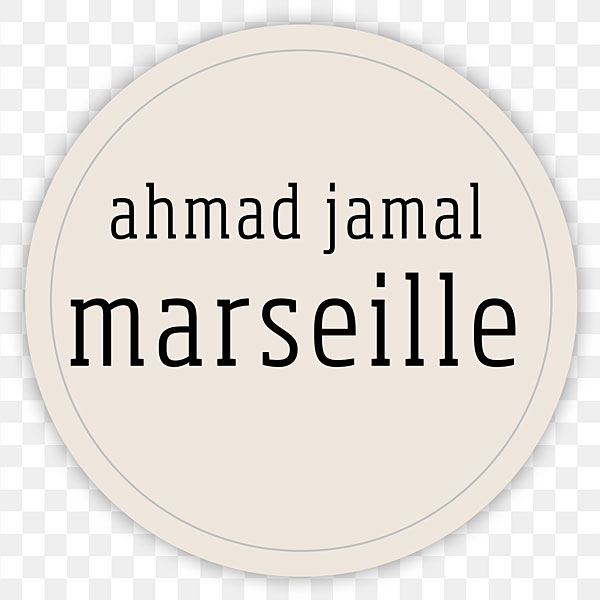 Ahmad Jamal: Marseille
Ahmad Jamal, piano; James Cammack, double bass; Herlin Riley, drums; Manolo Badrena, percussion; Abd Al Malik (track 4), Mina Agossi (track 8), vocals
Jazz Book/Jazz Village [PIAS] JV 33570142.43 (2 LPs). 2017. Ahmad Jamal, Seydou Barry, Catherine Vallon-Barry, prods.; Vincent Mahey, eng. ADA? TT: 59:33
Performance *****
Sonics *****
While cities like New York, Detroit, and Philly all get more press for their jazz history and connections, Pittsburgh has a rich history as the birthplace of many notable swing and bebop jazz players. Bassist Ray Brown, drummers Art Blakey and Jeff "Tain" Watts, tenor saxman Stanley Turrentine, trumpeter Roy Eldridge, and the one and only Billy Strayhorn, famed collaborator of Duke Ellington and composer of "Take The 'A' Train," all came from The Burgh.
Perhaps it had something to do with the fiery smelting and refining of the elements used to make iron and steel—nearly all signs of which have vanished from modern Pittsburgh, in favor of universities and hospitals—but in jazz circles the city is best known for having an especially strong connection to that most central of jazz instruments, the piano. Pittsburgh's African-American jazz pianists are an all-star group that includes such luminaries as Earl Hines, Erroll Garner, and the still very active and musically vital Ahmad Jamal. Even more than his cross-state brethren, Philadelphia's octogenarian/non agenarian Heath Brothers, Jamal, at 87, continues to play and compose at a phenomenally high level. His latest album, Marseille, shows the pianist so admired by Miles Davis working his usual groove-centric way through a program of mostly originals with enormously appealing playfulness.
In the title tune, different versions of which comprise three of this album's eight tracks, Jamal pays tribute to France, a nation that has always warmly received his music over the years. In the first version, set to a steady, almost military marching beat on snare from drummer Herlin Riley, Jamal stretches out, slowly unfolding ideas with an uncommonly sensitive and tasteful touch. In the second pass through the tune, French rapper Abd Al Malik speaks a French translation of lyrics, written by Jamal, that at one point declare, "Marseille, your voice keeps calling me / Marseille, Marseille lives on eternally." The third version closes the album, and features actress and singer Mina Agossi in a nod to the cool, dreamy traditions of French chanson singing.
"Sometimes I Feel like a Motherless Child," a spiritual I've always associated most with singer Jimmy Scott, especially the version on his album The Source (1970), here becomes a lighthearted scamper centered on the melody's chords and Riley's smart, snappy beat. Jamal's unexpectedly exuberant vision for this piece, complete with a prominent quote from "Jean-Pierre," from Miles Davis's We Want Miles, is the album's highlight. Playing this lively from a man approaching 90 is nothing short of astonishing.
Rhythms, in fact, are at the core of everything Jamal is trying to say and do on Marseille. In "Pots en Verre," funky Latin rhythms from percussionist Manolo Badrena fashion a performance that recalls Jamal's early-1970s soul-jazz period. The album's rhythmic zenith comes in Jamal's "Baalbeck," in which his piano, with dramatic extremes of light and shade, darts in and out as James Cammack's fingers run up and down the neck of his double bass and Riley and Badrena, playing with and against each other, put nearly all their percussion instruments to good use. It's a powerfully rhythmic example of modern quartet jazz at its best.
Another oft-recorded jazz standard, "Autumn Leaves," usually performed as a bittersweet ballad, is also taken at a playfully upbeat tempo. It's a rare and unique experience to hear this well-known tune—driven by Cammack's assertive bass lines and Badrena's percussion accents—rendered almost unrecognizable, and in such an exhilaratingly good way.
Marseille was beautifully recorded by engineer Vincent Mahey at Studio Sextan, in the Paris suburb of Malakoff. The balance of the sound of the piano—obviously the central focus—with the various percussion instruments that are so vital to the record's success is nearly perfect throughout.
With Marseille, Ahmad Jamal has made one of the most inspired and well-recorded studio recordings of his entire illustrious career. Another triumph in the canon of Pittsburgh jazz. Absolutely sublime.—Robert Baird