Recording of March 2017: I Go Back Home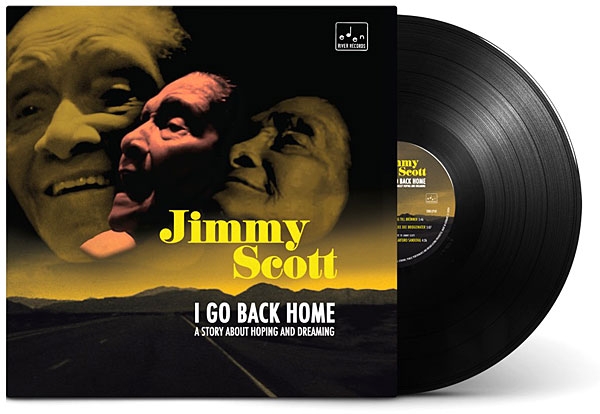 Jimmy Scott: I Go Back Home: A Story About Hoping and Dreaming
Eden River ERR-LP-01 (2 LPs). 2016. Ralf Kemper, prod., mix; Geoff Gillette, James Caruso, Sean O'Dwyer, Robert Kirkpatrick, engs.; Phil Ramone, mix prod.; Lawrence Manchester, Veith Semrau, mix. DDA? TT: 56:58
Performance ****
Sonics ****
In 1992, just before Christmas, I sent out 24 copies of Jimmy Scott's newly released CD, All the Way, to friends, musical and otherwise. Most did not respond, but the eight or ten who did were on fire. "What is this?" "Who is this?" "How did I not know about this woman until now?"
Even in the world of music, where byzantine tales of success and failure are commonplace, the story of singer Jimmy Scott has an unusual amount of pathos. Orphaned at 13, when a drunk driver hit his mother and tore off her arm as she walked, the Cleveland, Ohio native was then stricken with Kallmann Syndrome, a genetic condition that stifles puberty and can, as in Scott's case, prevent the voices of teenaged boys from changing. The combination of his slight stature and high voice often led people to think he was a woman, and made his career in music a hard one. Although Scott worked with Charlie Parker and Lester Young, among others, fame eluded him.
The most crushing blow came in the mid-1950s, when Scott signed an ill-advised contract with the notorious Herman Lubinsky, of Savoy Records, a move that effectively hamstrung Scott's recording career until Lubinsky's death, in 1974. Falling in Love Is Wonderful, a record made for Ray Charles's Tangerine label in 1963, was taken off the shelves when Lubinsky threatened legal action. It wasn't released until 2002, on Rhino Records.
The Scott saga took a turn for the better in 1991, when, after years working on the loading dock of a Cleveland hotel, Scott sang a cappella at Doc Pomus's funeral. A number of record executives were in attendance, and in no time Scott was signed by Seymour Stein to Sire Records. Three albums followed. The first, All the Way, was produced by Tommy LiPuma and recorded by Al Schmitt at New York's Power Station (now Avatar Studios). It features top-drawer material by the likes of the Gershwins and Cole Porter, and an all-star band consisting of Kenny Barron, Ron Carter, and David "Fathead" Newman, among others. Filled with anguished, unforgettable performances—the finest examples ever recorded of Scott's crying tone and elongated, contorted phrasing—it remains the undisputed high point of Scott's entire recorded oeuvre.
Guest appearances on Lou Reed's Magic and Loss and in David Lynch's then-hip TV series, Twin Peaks, made Scott a multimedia star. Dream (1994) and Heaven (1996), his two follow-up albums for Sire, also had their moments. Holding Back the Years (1998, Artists Only!), an inevitable attempt to have Scott sing rock tunes rather than jazz standards, worked best when the material lent itself to Scott's sepia-toned approach, as in John Lennon's "Jealous Guy" and the John-Taupin classic "Sorry Seems to Be the Hardest Word." As Scott's voice began to wane, the sadness naturally inherent in his vocal quality and phrasing became even more poignant. Although he talked more than he sang, Moon Glow (2003), the second of two records produced by Todd Barkan and released on Milestone as Scott approached 80, remains one of the most inspired, mournful swan songs ever made.
Now comes one final project, organized as a soundtrack to a documentary film, both made for the German label Eden River. The label's founder, Ralf Kemper, was, as so many others have been before him, drawn by Scott's siren song, and recorded Scott's parts in 2009, five years before the singer's death, in Las Vegas, at the age of 88.
As a longtime fan who interviewed him many times and shared some memorable hours with him, I have to say that Jimmy Scott was, in a word, a character. I saw him perform many times, particularly during the Sire years, when a performance at the Fairmont Hotel, in San Francisco, had me sobbing like a child. But sadly, his vaunted vocals skills—utterly unlike anyone else's, and admired by the likes of Billie Holiday and Sarah Vaughan—were fading as the 21st century dawned. A consummate pro, Scott in his later years could talk-sing his way through standards, and on I Go Back Home he often does just that. But what's best here, even though many of these takes were done from a wheelchair, Scott still had a surprising amount of vocal power left in the tank. Although his vocals here come in short bursts rather than in spinning out the endless lines that were his specialty, he rises to the occasion on a number of tracks, beginning with "Everybody's Somebody's Fool," which was his first hit with Lionel Hampton's Band, in 1950.
One sure thing throughout these sessions is the core band of pianist Kenny Barron, bassist Michael Valerio, and drummer Peter Erskine. Scott has a number of vocal and instrumental duet partners, most of whose parts were recorded elsewhere and later flown into the mixes. As usual with this increasingly common practice, some of these tracks work better than others. (The late Phil Ramone, famed producer and engineer, was responsible for the final mixes.) Till Brönner's breathy trumpet solo in "If I Ever Lost You" is a highlight, as is Dee Dee Bridgewater's vocal in "For Once in My Life." Scott superfan and actor Joe Pesci takes two stabs at singing duets with Scott, aping his vocal style; in a swinging version of "The Nearness of You," the results range from passable to "for God's sake why?" While Pesci's name may lend star power to the project, perhaps a spoken-word tribute on one track might have been a classier, more appropriate addition.
Bridgewater's and Pesci's vocals were recorded live in the studio with Scott. The album was recorded in Pro Tools, mixed to analog on ½" tape at 15ips, and generally sounds well integrated, with decent amounts of presence and detail. The LP masters were cut at Abbey Road, and the LPs were pressed at Optimal, in Germany.
While this is not the inimitable singer of the mid-1990s, let alone his vocal peak of the early '60s, I Go Back Home is still Jimmy Scott, and every scrap of his singing remains a rare treasure of a voice that now is forever silenced. There will never again be a singer with his singular gift for phrasing. Congrats to Eden River for capturing his final artistic statements.—Robert Baird